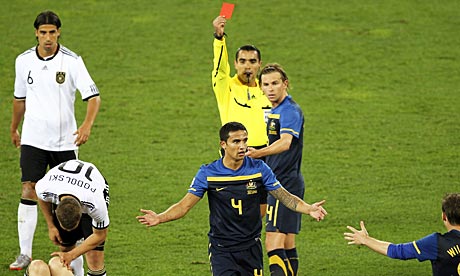 When the Ghanian and Porstmouth striker Kevin Prince Boatang laid a rather suspect tackle on Chelsea's Michael Ballack in the 2010 FA Cup Final it resulted in Ballack being ruled out of the 2010 World Cup. Those of us in Australia saw this as a fantastic result for the Socceroos. The German captain and star stringpuller would have been a major pain for Australia in the World Cup but his absence meant in our ignorant minds we had hope that Australia could escape with a draw in the first game of the tournament. Following a dominant display in qualification through Asia some Australians were confident. Most pre-Soccer Australia fans were wary.
They were wary for a reason. This German side even without Ballack was a force to reckoned with. This was the first time the side would go to World Cup under Joachim Lowe, a man so smartly dressed you'd think he was the one ZZ Top wrote the song about. After being an assistant in 2006 he had taken this side to the final of Euro 2008 and would not roll-over for these Australian upstarts.
Australia sauntered into the tournament on the back of that qualifying campaign.  They had an ageing side with some  players that perhaps had gone one year too long, including Craig Moore and Scott Chipperfield. Reserve keeper Brad Jones had to pull out of the side due to a family emergency which let the A-League's Eugene Galekovic live the dream whilst 8 other players not there in 2006 would get their chance in 2010.
The game would be played in the brand new Moses Mabhida Stadium in the coastal city of Durban and was befitting of the most well supported teams in the tournament. Before the game Mark Bosnich claimed his spy (Graham Arnold) within the side had told him Australia would play without a striker and Richard Garcia would make a shock start. We knew we would be defensive under Verbeek but this was more than defensive, this was parking the haul pack.
Socceroos fans tried to put the thought of Australia going for a 0-0 draw and nothing else by partaking in pre-game festivities, watching the other group game where Ghana defeated Serbia and wandering along the beach to the stadium but upon arrival at the stadium they discovered Bosnich's rumour was accurate. The line up would be the predictable Schwarzer-Wilkshire-Moore-Neill-Chipperfield-Valeri-Grella-Emerton-Culina-Garcia-Cahill. Germany on the other hand had a side bursting with talent and were ready to make a huge impact first up much like they had done in 2002 and 2006.This was the youngest German side since 1934 with star youngsters topping the already impressive young team they had in the 2006 World Cup.
In front of an electric crowd Australia were the ones to actually have the first chance of the match after only a couple of minutes when a ball for a corner was headed towards goal by Cahill (who else) but unfortunately the ball was blocked by one his own teammates. The loose ball fell to Garcia who tried to slice the ball in but German captain Phillip Lahm cleared the ball. A massive chance for the Aussies. Maybe Verbeek had pulled a masterstroke.
Well, no. It would be telling because just after only 8  minutes Germany were ahead 1-0. The brilliant young midfielder Mehmet Ozil killed Chipperfield for pace and sent a wonderful ball through to Bayern Munich's star youngster Mueller who laid it off for Podolski to ram home from the edge of the area. Schwarzer only getting a finger tip to the stinging shot. This wasn't the start Australia needed.
Germany now had the ascendency after Australia had muzzled them up to the goal. Ozil was playing out of his skin but was booked after 12 minutes for diving – going down screaming when there wasn't a player near him. 20 minutes in Brett Emerton found some room and managed to get two crosses in in two minutes but Cahill and then Garcia couldn't control their shots and both went harmlessly over the cross bar. Apart from that though it was all Germany dominating possession and looking for a way through the Dad's Army defence.
It should have been 2-0 on 24 minutes when the goal machine Miroslav Klose somehow missed after being given the ball on a plate by Podolski with Craig Moore claiming it was offiside and being booked for abusing the referee. It seemed only a matter of time before it would be 2-0 and that was the case on 27 minutes when Lahm sent in a great cross to Klose who scored with one of his trademark headers past Schwarzer who had made the error of coming off his line to get to the ball. This wasn't good. The half continued with German domination with Ozil having one shot cleared off the line by Neill while they played pass to pass in the midfield around the normally stoic Culina and Grella. The first half finished 2-0 and Australia in massive trouble. Verbeek's tactics had blown up in his face.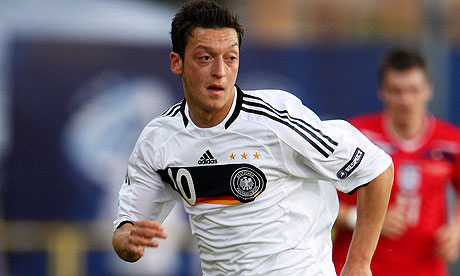 To give credit to Verbeek he made changes at half time. He had to. Grella was subbed (unthinkable to think of in 2006) and the attacking midfielder Brett Holman came on. Australia needed to somehow get back in to this match but on the big stage against a major side trying to make a statement it would be a mammoth ask. Verbeek also seemingly told the Socceroos to be more physical as within a few minutes Neill was booked for a harsh tackle on Klose. The Germans looked liberated without the older Ballack in the side. That tackle at Wembley the month before may have been a blessing in disguise for the Germans.
Australia had a rare 10 minutes of domination (or at least equalisation) with Germany with a penalty claim turned down after Mertsacker handled the ball in the area. Then Holman spun around his marker and had a shot go wide as the Australians up in the upper echelons of the stadium found voice and believed that they could conjure the ghosts of 2006 and take a heavyweight to the limit. Then on 56 minutes the gate was shut on Australia.
A loose ball was collected by Schweinsteiger who was clattered in to by Cahill and left a mess on the ground. A definite foul and Cahill knew it with frustration boiling over in a split second decision. The Mexican referee though it was more than that and instantly produced a red card. Australia's star was off and was surprised to say the least. The Australians in the stadium winced, abused the ref and then winced again when informed that new state of the art stadium had run out of beer. Australia had another 34 minutes to try and find a way back in the game.
Australia were now in damage limitation. The young former Perth Glory starlet Nikita Rukavystya came on for Garcia to add pace but it was all Germany. On 68 minutes it was 3-0 when Muller was put through by Podolski with the former turning Chipperfield inside out and putting it past Schwarzer. Chipperfield was made to look very ordinary. Australians thought that would be it and Germany would simply hold onto their lead when Klose went off for Cacau but it was the substitute who made it 4-0 two minutes after the third goal. German flags everywhere. Vuvuzelas making the experience just that bit more painful.
It was scintillating football to watch with Ozil announcing to the world he was the next superstar. The trouble was it was against Australia. More Australian fans too distraught to watch made for the bar. They also found out the stadium had run out of beer. Germany ran out the game 4-0, although Australia could count itself lucky it wasn't more. A complete rout of Australia and by far their worst World Cup finals result ever. Australians walked out of the stadium bewildered, angry for the selections and wondering what they could've spent that money on if they hadn't come to South Africa to watch Australia get belted.
A memorable moment even if it was horrific for Australia. Despite going on to draw and win their next two games Australia would go out on goal difference because of this 4-0 loss where Pim Verbeek's aura was truly removed. Fingers were pointed by the likes of Slater, Foster and Bosnich at Verbeek as the blame game also shifted to older stars like Moore and Chipperfield being exposed. We should perhaps focus on the fact that we were taken apart by a side that would do the same to both England and Argentina later in the tournament.
RTR FM Presenter. Glory Guerrillas Producer and Co-Host. Contributer to Football Nation Radio and Football West. Worships at the feet of the mighty Cats, Socceroos, Matildas, West Perth, Glory and Glasgow's Green and White most of the time.