By 'an unbiased supporter'
Like a good footy fan I don't mind a bit of biff. Two combatants squaring off, throwing and evading blows while facing each other. Sometimes one or both hit the deck. It's even better when they do it in a ring. I used to love watching Johnny Famechon.
What irks me, really ****** me off, is when fearless players, like Knackers, Daisy and Sunshine, do their thing and end up in the adjudicator's book. You know, flying in the ball direction into an on-coming pack, or flinging themselves where angels fear to tread etc. Often they are targeted all day with aggro off the ball. Just watch Sunshine line up next week.
A couple of weeks ago Daisy went into a pack and knocked himself out; a whacker in front of me accused him of a dog act! Opposition players converged and started on him when he's on the deck! Fair dinkum, where do they come from? Knackers streams down the middle, two bounces and, after a 55 metre, centimetre perfect drop punt to Gladys, is dropped with a late tackle involving his jaw against his opponent's elbow. Sunshine is body punched, scragged and takes a low one as they jostle at a centre bounce. What happens if any or all square off or up and get caught in the act?
Provocation is no excuse for retaliation (Phil Cleary) and umpies are directed to report players if they are seen to commit any reportable offence. The conventional wisdom is to absorb it, be a man, take one for the team. Better sides will always be subjected to this sort of tactic by less capable teams and less capable coaches. It's a contact sport mate! And so the rhetoric goes.
There is a right and a wrong. Right?
What if we could provide an alternative call for the umpire to make their task even more difficult and turn the right or wrong principle over to the province of the so-called victim, the original provocateur?
1. Umpire enquires of the 'victim' if they committed the original act to deserve a square up. If yes, he is also reported. Perpetrator and victim are invited into the centre ring for one-on-one, mano-a-mano for one minute. Perpetrator has the call of acceptance. No reports made against either player if declined.
2. If no, play resumes and 'victim' comes under heavy video scrutiny post-match. If found to be telling a pork pie during the game, immediate suspension of 4 games.
I've seen and experienced enough to know violence is not the solution, but sometimes I don't mind a bit of biff.
he Tigers (Covid) Almanac 2020 will be published in 2021. It will have all the usual features – a game by game account of the Tigers season – and will also include some of the best Almanac writing from the Covid winter.  Pre-order HERE
To return to our Footy Almanac home page click HERE.
Our writers are independent contributors. The opinions expressed in their articles are their own. They are not the views, nor do they reflect the views, of Malarkey Publications.
Do you enjoy the Almanac concept?
And want to ensure it continues in its current form, and better? To help things keep ticking over please consider making your own contribution.
Become an Almanac (annual) member – CLICK HERE.
One-off financial contribution – CLICK HERE.
Regular financial contribution (monthly EFT) – CLICK HERE.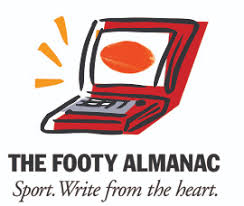 Grumpy retired Bloods supporter with two grand daughters who are 5th generation swannies. VicLander into Broadbeach Cats; International member of Vietnam Swans, and passing interest in Jakarta Bintangs and Ottawa Swans.