…SOCRATES
The Doctor is in. There were few like Socrates in the history of football. A magnificent playmaker of tall stature and natural athleticism, Socrates was part of some amazing (albeit unsuccessful) Brazilian sides and his off field vices and political philosophy also made him a cult figure for the average fan.
Born in 1954 as Sócrates Brasileiro Sampaio de Souza Vieira de Oliveira, he did not debut for Brazil until he was 24 years old. Rather than continue with his medical studies (that he would eventually complete) he chose the make an attempt at becoming a professional footballer. This was just so he could play in the World Cup.
He was determined to make it sacrificing much to get there with the exception of beer and fags, two things that he would never completely give up like a suburban footballer. Prompted by coach Tele Santana's constant berating of his habits in the press, Socrates did cut down from two packs a day in 1980 but the smoking culture throughout the side (at least half the squad smoked) was going to stay. Something which agonised reformed smoker Santana.
At the start of 1982 Socrates had returned from holidays overweight and struggling with fitness. With the help of assistant coach and fellow political nationalist Gilberto Tim he kicked the smokes and booze, training the house down with a strict fitness regime to get selected for the World Cup in Spain that June. Socrates appeared in that tournament at peak fitness and form. Santana rewarded his hard work with the captaincy.
This Brazilian side at Spain '82 was the best since 1970. While the press labelled them as 'Joga Bonito' Socrates referred to them as 'organised chaos' because of the fact the players made it up as they went along most of the time. Socrates fed off spontaneity his whole life and was one of the reasons he never made a fist of it playing in Europe. Even in Florence he found it all a bit too uniform.
Brazil would, of course, crash out to eventual champions Italy in a massive shock. They had the talent of the 1970 team but not the discipline.
In between World Cups Socrates continued to play with Corinthians, founding the 'Corinthians Democracy Movement' as a protest against the military dictatorship. He had the players hold the power, putting everything to a vote rather than having the coach call the shots. They also never had sponsors, only the word 'Democracy' on the back.
A player who tried to bring change through football and not a weapon.
Back on the smokes, he returned to the World Cup in 1986. This time he wore a headband with a different slogan in each game in a defiant backing-up of his political beliefs. One was for Mexicans to stand tall following a decimating earthquake. Another was in response to American bombing of Libya, "Yes to Love. No to Terror." Another was "No violence" or one that simply said "Justice."
Brazil again failed, crashing out to France on penalties after being seen as favourites. After 70 games in the famous gold shirt he was done. His brother Rai would win the World Cup with Brazil in 1994.
Following retirement from all football in 1989 he wrote essays and philosophised about politics and the way of the world. His dismay at the new generation of stars not using the World Cup to highlight injustices in the world was a common theme as he tried to rally the troops. He also made the controversial call that Brazilian players hid behind religion rather than realising their social importance. This made him more remembered in Brazil for politics rather than his amazing skill as a footballer.
Perhaps because Socrates was middle class and educated he knew about what was going on in the wider world. A lot of the other Brazilian players grew up in poverty and knew only of football and survival. They were happy to kick a ball around and take in the bonuses that came with it.
Socrates would die suddenly in 2011 aged only 57. A life of alcoholism finally caught up with him. While he had practised what he preached as a social commentator he had not as a doctor. A unique specimen if there was one who tried to always relay an important message leaving a lasting legacy.
…SONGS
Something that can be seen as traditional as face paint in national colours, or complaining about the new ball being used for the World Cup, is competing teams releasing a World Cup song in the months leading up to the tournament.
A large majority of them have been largely forgettable and to the level of an awful Eurovision Song Contest entry (Germany's effort in 1994 for example if you dare look for it on youtube). At least with Eurovision an awful song used to be followed with a witty Wogan put down.
Even Australia had the SBS reality show 'Song for the Socceroos' in 2006 to pick a song that would be the official song for the Socceroos at the World Cup in Germany. The winning song sank without a trace.
One country that has kind of done it right when it comes to music is England. Subsequent releases after a 1966 hit were lacking the success of that first effort before Keith Allen (comedian and father of laddette pop star Lily) linked up with the band New Order to form EnglandNewOrder. They came up with a song for the upcoming 1990 tournament in Italy.
With the track recorded, the original name of the track to be called 'E for England' but the English FA thought it might be construed as a song promoting the now ballooning use of the drug ecstasy so the name was changed to 'World in Motion'.
The track featured the usual New Order 'sound' with samples of Kenneth Wolstenholme's commentary from the 1966 Final also spliced in. The track featured then stars Peter Beardsley, then Liverpool captain and now ex Perth Glory coach Steve McMahon, Paul Gascoigne and Jamaican born star John Barnes who managed to show off his rapping 'skills' in the song.
The rap and use of New Order gave the track its X factor. It was a memorable football track even if the lyrics were non-sequential random comments that made no sense, much like Blondie's hit 'Rapture'.
Some part novelty, some part New Order classic. The single was a huge hit and was number one in England as the excitement built for the upcoming World Cup. It also made football a bit more cooler for the mainstream with the sport still reeling from hooliganism and seen as a working class sport. It was the beginning of a massive turning point for the English game that ushered in the Beckham era.
The track also surprisingly made the US Top 10 and was even a big hit in Ireland (who would play England in this World Cup) and West Germany. The song also made 21 in Australia. The music video also featured the band and England squad miming through the number with the members of New Order admitting in interviews years after that they were 'coked off their heads' when they shot the video with the footballers.
It was the first indication of the wave of 'Cool Britannia' that would come along a few years later and a team football song that was actually a worldwide chart topper.
…STOICHKOV
At USA 94, Bulgaria (who had undone France at the last minute to qualify) surprised many by knocking out the defending champions Germany and making it to the semi-finals. They featured top players like their captain and top line goalkeeper Borislav Mikhailov, the bald and slightly unhinged Yordan Letchkov and the unforgettable Trifon Ivanov. Ivanov was a man who looked so rough there were rumours he had been raised by a pack of wolves on the outskirts of Sofia.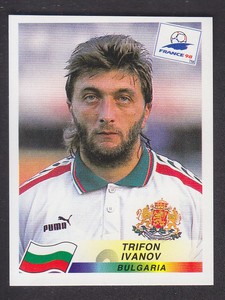 In Bulgaria you should 'Stay on the road and keep off the Moors.'
There were many great players in the team but one man who probably wasn't surprised and probably expecting Bulgaria to take all before them was the irrepressible Hristo Stoichkov. The 28 year old with the killer cross, patience to befriend Romario, talent to miss most training sessions and ability to score from anywhere already had a cult following coming in to the tournament.
He had again scored more than 15 goals for Barcelona in the season before USA 94 and was at his peak coming in to the tournament even with his smoking habit and hair trigger temper. In his first season at Barca he had in fact been suspended for two months after stomping on a ref's foot during a heated argument but he was still part of four consecutive league titles and a European Cup victory at Wembley.
After being humiliated by the brilliant Nigeria in their first match Bulgaria returned fire onto the awful Greek side 4-0 in the next match with two goals from Stoichkov. He then scored again in a 2-0 win over the now Maradona-less Argentina to get second spot in the group and confirm their progress in to the second round.
It was in the knockout stages that Stoichkov really shone as a match winner with the goal against Mexico in the 1-1 draw. They eventually won on penalties in front of what was virtually a Mexican home crowd. The quarter finals was where Bulgaria truly shocked the world, knocking out the defending champions Germany 2-1 at Giants Stadium. An amazing freekick from Stoichkov equalising for his side.
In the semi-finals they came up against a Baggio-inspired Italian side and even Stoichkov's goal wasn't enough to outweigh a Baggio double and the Bulgarians were out 2-1. That loss that was compounded with a 4-0 loss to Sweden in the third place play off with the team exhausted from their slash and burn campaign.
Stoichkov's six goals tied with Oleg Salenko and he shared the golden boot for the tournament that earned him European footballer of the year for 1994. Not a bad effort for a work-shy nut-job.
It was a wonderful achievement by the Bulgarians but this tournament also showed everything that was great about Stoichkov. His burst of pace (against Mexico), his unbelievable ability with dead balls (against Germany and Greece) and his short temper (every game) was something to not be forgotten quickly.
He would go on to play in Euro 96 and France 98 but by 1998 he was well on his way to retirement and was good for a bit of comic relief. Following his time in Europe he went to the MLS for a spell and also coached which was both funny as it was pathetic.
In these days of more and more media safe players talking in clichés and acting normal on the pitch we see less and less Stoichkovs every four years but we can look back and see the efforts of this rough diamond and his countrymen in 1994.
Do you love the Almanac concept?
And want to ensure it continues in its current form, and better? To help keep things ticking over please consider making your own contribution.
One off financial contribution – CLICK HERE
Regular financial contribution (monthly EFT) – CLICK HERE
Become an Almanac (annual) member – CLICK HERE
RTR FM Presenter. Glory Guerrillas Producer and Co-Host. Contributer to Football Nation Radio and Football West. Worships at the feet of the mighty Cats, Socceroos, Matildas, West Perth, Glory and Glasgow's Green and White most of the time.