The Tsundoku Files: Brave?
'You're very brave opening a business at the moment, the way things are….'
If I had a dollar for every time I'd heard that in the last few months I probably wouldn't need to open the business.
I know people generally mean well when they say this, but every time I hear it I can't help but think of Sir Humphrey's advice to Jim Hacker in Yes Minister. 'Brave' was always damming in Sir Humphrey's mouth.
So what has persuaded us to open a second-hand book shop in the middle of a pandemic, having never before run our own business? Circumstances just seemed to lead us down this path. My wife Marion and I had been selling books for The Book Grocer company for the last few years. We'd both been lifelong readers, but now we really had the bug. Covid-19 had wrecked that company's previous business model, forcing them to reinvent themselves as an online business. When our store closed at Easter, Marion and I were out of work.
Given our age and disposition, options weren't exactly falling out of trees. We both had a couple of near-job experiences, but ultimately no cigar. Thoughts turned to creating our own opportunities.
Once you really start looking, you can be surprised what turns up. Because we lacked capital, second-hand books were always going to be our best option. Chances to buy good stock soon presented. Then the right shop space turned up. Serendipitously, we found ourselves taking possession of Everybody Knows Books on July 1. Now we had to fill it.
One thing about book shops is that aside from the books and bookshelves, everything else is negotiable. But you do need a lot of books. In our case, most of those books were sitting in a storage unit in Ballarat's west. We all have our mountains to climb. Some people climb Everest. For me, it became emptying 400 boxes of books out of that god-dammed storage space. In the contest between me and the storage space, I won. Barely.
Anyone who has ever worked retail knows that in many ways it is one big behavioural studies experiment. While setting up the shop, the findings kept presenting themselves, whether we were consciously testing or not. Like the rings on a tree, layers of old retail signage tell a tale. Once the Pilates studio we were replacing had removed their signage, our shop's earlier incarnation as a computer store was revealed. Covid shutdowns had delayed our own signage, but we were soon to be convinced we weren't wasting our money.
The first manifestation of a recurring phenomenon appeared out of the quickly gathering dusk on our third setup day. Working away, we were startled by a bearded vision in black robes. Somehow, an Orthodox priest of some denomination had managed to enter the store unheard. He wanted to know if we sold security cameras. The closest thing we had was a book on surveillance culture. Thereafter, barely a day passed without a little ritual repeating. Someone would enter the store, gaze meaningfully around all the bookcases and books, then ask if we fixed computers. As pleased as I was when our own signage arrived, a small part of me misses that strange ritual.
Of course, for the last 20 months we have all been living our lives as best we can around whatever lockdowns are happening. Ballarat has fared better in this regard than our Melbourne comrades, but life has still had many interruptions. Taking possession of the shop at the beginning of July, our first actual day of trading had to wait until the 28th. Since then, we have managed to trade just one month in three. We had planned for a rocky start, but no business model really allows for only trading every third day.
Still, we never expected to get rich selling books in the first place. No one really should. But we regret nothing. Each day has brought its own small adventures and entertainments. Book stores have always been some of our happiest places. Owning one is a delight. Hopefully we can persuade enough customers to think likewise. Brave or foolish? I suppose we're about to find out.
Until next time.
---
Postscript:
What's Tsundoku? To quote that peerless source, Wikipedia: 'A Japanese concept of acquiring reading materials but letting them pile up in one's home without reading them. It is also used to refer to books ready for reading later when they are on a bookshelf.'
I take this to be all about the anticipation of the pleasure that reading brings. This should be every book seller's motto. We aspire to become Tsundoku sensei.
For more from John, click HERE.
To return to our Footy Almanac home page click HERE.
Our writers are independent contributors. The opinions expressed in their articles are their own. They are not the views, nor do they reflect the views, of Malarkey Publications.
Do you enjoy the Almanac concept?
And want to ensure it continues in its current form, and better? To help things keep ticking over please consider making your own contribution.
Become an Almanac (annual) member – CLICK HERE.
One-off financial contribution – CLICK HERE.
Regular financial contribution (monthly EFT) – CLICK HERE.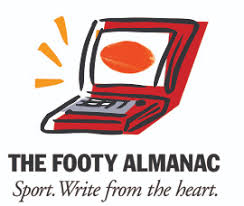 John Butler has fled the World's Most Liveable Car Park and now breathes the rarefied air of the Ballarat Plateau. For his sins, he has passed his 40th year as a Carlton member.