The truth about the North Melbourne Football Club
Football is a wonderful world where claims and comments can almost always be backed up by facts and stats.
There's plenty denial surrounding the truth of the North Melbourne Football Club. Too many can't handle it, and others don't want to put reality into perspective.
The AFL world constantly paints a picture of North Melbourne as a struggling club. The "below average" facilities, lack of star quality, a low membership base, a future in Tasmania… and while the truth may be really hard for some people to hear, here it is: They're actually doing a brilliant job.
Let's start on field.
Up until 2017, on field had been pretty hard to target. Four final series in five seasons, back to back preliminary finals from outside the top four and that's just the start.
Since 2007, North are sitting seventh overall for games won during the home and away season. Of the six teams sitting above them, only Adelaide have not made a Grand Final in that period. For a side that supposedly isn't much of a threat, that's a pretty good impact on the competition.
2014 and 2015 were sensational seasons, particularly 2014 as it produced one of the most complete and well rounded home and away seasons the club has had for a long time – and then to back it up in that final series the way they did was sensational. Then to do it all again a year later and make yet another Prelim against the odds, that's a mighty effort. If North's list lacks the star quality like every critic says it does, then the effort is even better. You didn't see Carlton, Collingwood, Richmond, St Kilda and Essendon doing that… did you?
I know what everyone expects me to say about 2016: Winning nine games to open the season and just three more after that raised a lot of eyebrows. But I'll tell you who they defeated – they defeated everyone they needed to, mostly everyone they were expected to and enough to make the top 8. Astonishing, isn't it? In a season like 2017 where Melbourne missed out at the last chance, but lost to North twice and Fremantle during the season, it proves that you need to win the games you should… and that's what North did. Won games against sides they should have defeated – surprisingly, that counts for more than you might expect. Also knocked over the eventual premiers and top eight placed Adelaide. Looking outside the top eight and St Kilda missed out on a spot just due to poor percentage, but North defeated them twice: how's that for a little perspective.
Now let's talk about 2017. I sound like a broken record, but again I'd like to draw on this point: North were expected to fall down the ladder as they looked to re-building its list… and they did… so why is there constant hysteria surrounding the bottom four finish? They showed a lot of promise and put in a lot of really good performances despite the lack of class, towering injury list and little experience. Tanking questions were asked not once but twice – prior to round 19's meeting with Melbourne and round 23's clash with Brisbane. The response? Won both games, avoided the wooden spoon and was the only side in the bottom five to finish the season with a win. Also knocked over Adelaide. That was nice.
What about the coach? He's just had his contract extended until the end of 2020. He's done everything we asked him. 11 debutants, 2 new Roos, punished the underperforming and made the most of his limited troops and never ending list of injuries. The man is dedicated to the club, the players and a future together. Is he a good coach? You could ask the Suns that question.
At pick 47, Ben Brown is proving to be more valuable than most taken before him – 3rd in the Coleman and an AA squad nomination just highlighted his superb season. Shaun Higgins' numbers are edging on elite and despite battling injuries, Jarrad Waite's still in career best form when taking the field. Jack Ziebell thrived in his first season as captain and stood up when it was demanded of him. Ben Cunnington, Andrew Swallow and Scott Thompson all had strong seasons, Luke McDonald was nominated for the league's 22 under 22 squad. Ryan Clarke's numbers keep getting better and all this was done with an injury list including Mason Wood, Marley Williams, Ben Jacobs, Sam Wright and Jamie MacMillan.
Now off the field.
In 1991, Carlton tried to buy the club out, in 1996 the AFL tried to merge the Roos with Fitzroy, at the end of 2007 the league were ready to send them up North and in 2017 Craig Hutchison was sending the Roos to Tasmania on the basis of absolutely nothing… but we're still very much here and at home at Arden Street.
Financially, the club is preforming stronger than ever. Sensational facilities at Arden Street, debt free and not bringing in a single dollar through the pokies.
The media team is leading the way in the AFL, a strong community focus and influence, a team of outstanding women working alongside great men to build on the rock solid foundation of the club.
If the club is struggling and is so poor then how did they manage to throw a legitimate $10 million over seven season offer to Dustin Martin AND still have the room to lure in Josh Kelly, too? In my eyes, and I'm sure many others, that's hardly a sign of financial struggle.
On social media, so much obsession surrounds the irrelevance of North Melbourne that this actually brings North into relevance. Hilarious.
When it comes to the great love of my life, I often compare them to Chumbawamba's song 'Tubthumping':
"I get knocked down, but I get up again… You are never gonna keep me down" – those lyrics are basically North Melbourne in a nutshell.
A club build on pride, passion, spirit and a never say die attitude, they often fall in the centre of uneducated, poorly researched and just really bizarre ridicule.
Are we perfect? Absolutely not. The club has the lowest membership base in Victoria and supporters need to learn how to get to football matches and support the side. We also have psychological problems involving games decided by less than a goal. But we'll learn, get better and grow because every side faces problems and tackles them the same way we will have to.
But while those surrounding the club keep talking, we keep hustling and keeping walking: something many others fail to do.
No one will keep North Melbourne down.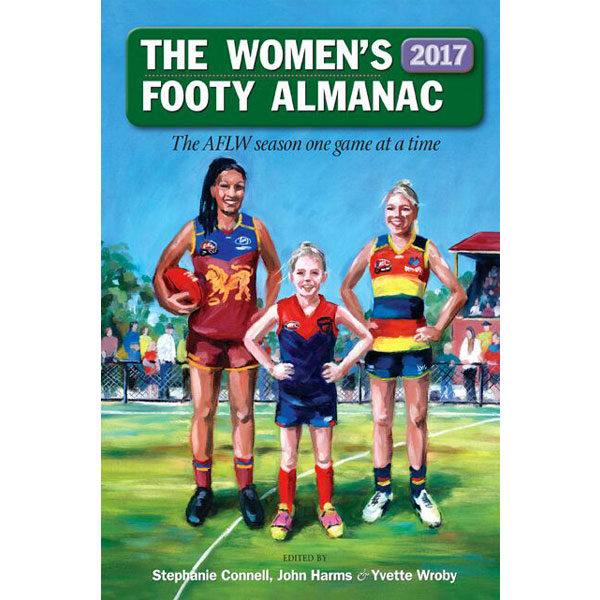 Read more about The Women's Footy Almanac 2017 HERE.
You can order copies now. $25 which includes postage.
Purchase via The Almanac Shop.
Or contact us directly via email to place an order.