A quick update on how this works:
Example: Team A scores a total of 2,500 points in a season compared to the league average of 2,000. Its attacking ratio (points for) is then 2,500 divided by 2,000 to equal 1.25. If Team A has 1,800 points scored against it compared to the league average of 2,000. Its defensive ratio (points against) is then 2,000 divided by 1,800 to equal 1.11.
Update: The original analysis only looked at points for and against and while that is the crux of winning and losing, I thought I would expand it to look at other match statistics where teams might excel and that very much influence those scoring abilities (to try and be a bit nicer to Ross Lyon). I have included stats such as inside 50, clearances, disposal efficiency, goals per inside 50 etc. I have also reversed the defensive ratio so that a better than average score is now above 1.0 and a below average score below 1.0. The inclusion of other stats has reduced the size of the premiership window area, but the Premiers of the last 6 years have all fallen inside this reduced space.
The results have been plotted onto a chart with the Y Axis (vertical) plotting the points against ratio (under-performing below 1 and over-performing above 1) and the X Axis (horizontal) plotting the points for ratio (under-performing below 1 and over-performing above 1). A typical scattering of results should generally run from bottom left (under-performing) to top right (over-performing) and the top teams with both ratios in top right hand quadrant.
Do You Get The Picture?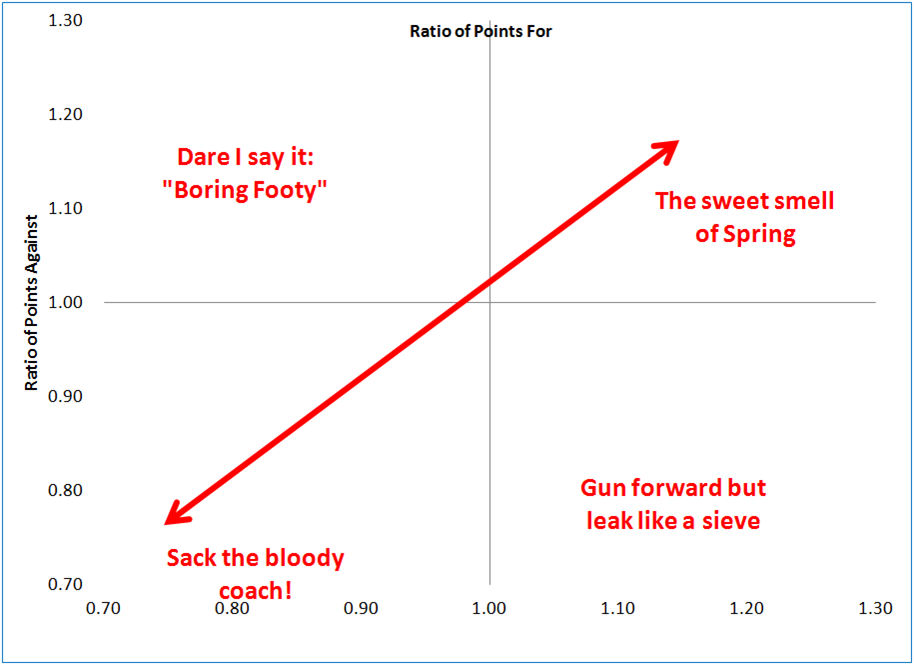 The Big Improvers in 2014 (to Round 15)
Port Adelaide: Clearly the Power have taken another two steps forward from where they left off last year with Ken from Camperdown at the helm. They are sitting snugly inside the Premiership Window after Round 15.
Gold Coast Suns: The Gold Coast Suns have moved into finals contention in their fourth year in the competition and perhaps cemented themselves a place in the eight with their round 14 win over Geelong. They have continued to improve their offensive ratio in 2014, although there has been a slight decline in the defensive ratio. They may not go far this September, but they remain a team on the rise.
Melbourne: Paul Roos has begun to work his magic at Melbourne and so far this has paid off in a big way in defensive terms (anyone surprised?) but the Dees still have some way to go in regards to improving their offensive ratio.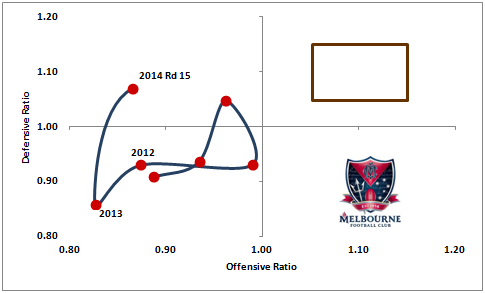 GWS Giants: In 2014 the Giants have finally made it onto the chart (at least within the parameters that I have set)! They have improved by offensively and defensively, although most improvement has been offensive. There is still some way to go, but like the Suns before them, they could be set for rapid improvement in the near future.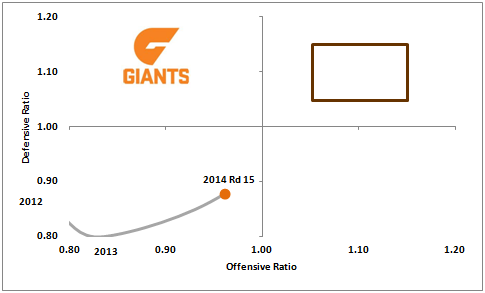 The Big Losers in 2014
North Melbourne: After round 15 in 2013, North Melbourne sat in 10th place with 6 wins and 8 losses. This year it finds itself in 7th place having reversed the win loss to 8 and 6. Yet we list North as having been a big loser so far in 2014 as the offensive ratio has moved from being in positive territory to being negative for the first time since the 2010 season.
Richmond: A cynic would not be surprised by the downfall of the Tigers this year, it is writ into their recent history. Most likely over the next three to four years they will finish 9th two or three times. While in round 14 they were tussling with the Saints for last place, statistically they have not shifted as much as the Kangaroos, with an offensive ratio in positive territory and slightly below on the defensive ratio. This season may be shot but maybe they can bounce back next year?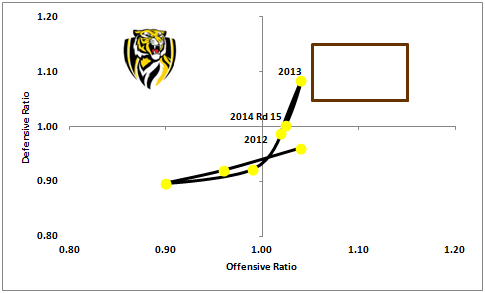 Carlton: Since Mick Malthouse has arrived at the club, the Blues have lost ground in their defensive ratio, something that Mick's structure was suppose to improve. It didn't slip much in 2013 with the Blues losing narrowly on many occasions (not as tragically as the Roos), but is far more apparent in 2014. Just how low will the Blues go before they can turn this around?
How Are The Top 8 Placed?
If I have not included your team in the graphs above, or you just want to have a play around with the data, you can look at all teams and years by clicking the link below:
STATISTICAL PREMIERSHIP WINDOW INTERACTIVE DATA
The Premiership Window Index
The changes I have made to my analysis have allowed me to calculate what I refer to as the Premiership Window Index (PWI) that calculates total offensive and defensive capabilities into one number. For example, last year Hawthorn had an offensive ratio of 1.14 and a defensive ratio of 1.05 which equals a PWI of 1.20 (1.14 x 1.05). Using the PWI I have ranked teams and compared this to actual ladder positions, which I present below for 2012, 2013 and up to Round 15 for 2014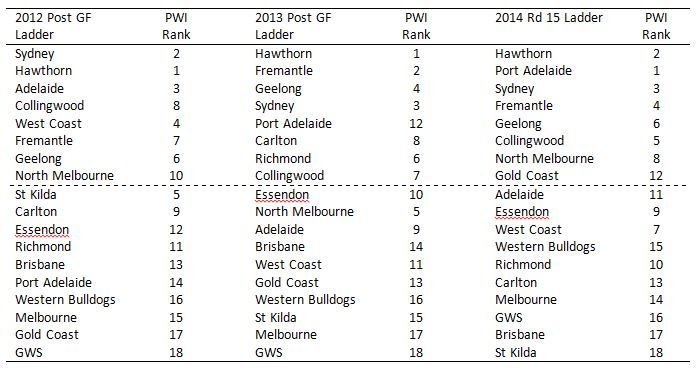 A high PWI may not place you in the window if it is not balanced between offensive and defensive measures and as such, while this provides a useful (and reasonably accurate) ranking, I think the statistical window is still the best indicator. It should be noted that given there can be some big fluctuations in results from round to round, the data should become more reliable as the season moves on.