In 1991 Geelong fans in WA formed the Perth Cats. A place for those who were pro-Pivitonian to get together before and after games in Perth, watch the few games we got on TV and basically have a haven.
After some 715 regular AFL games which included 437 wins, 6 draws, 226 losses, 28 finals wins, 29 finals losses, 8 Grand Finals, three premierships, five shattering Grand Final losses, three Brownlows, four Colemans, three Norm Smiths, 30+ Carji Greeves and countless heroes, legends, club men, walking injured, wannabees, never weres and up and comers, I decided it was time for all time Perth Cats Team of 1991-2021.
Leaked week by week to the Perth Cats faithful during the season on our Facebook page, the final team here is chosen on performance, skill, leadership and, sometimes, even cult status. On the eve of the bizarre event of Geelong playing a final in Perth for the first time ever here is the team:
THE 1991-2021 PERTH CATS ALL-TIME TEAM
RIGHT BACK POCKET: TOM HARLEY – The leader of the new generation that went on to so much. That safe third defender as the body aged and an insulter of the AFL's main sponsor when thanking Ford on the dais in 2007.
FULL BACK: MATTHEW SCARLETT – Whispering Death. A scattered mind and second generation Cat who became one of the better defenders of the era that curried no fanfare.
LEFT BACK BOCKET: COREY ENRIGHT – A late draft pick who became one of our greatest and record games holder. The country boy with the that kick out of defence that was straight to the point every time.
RIGHT HALF BACK: BRENTON SANDERSON – The curious soul who was happier lost in a cosmopolitan city rather than sinking Bintangs at the end of the season. An important player who took his final chance in the mid-nineties being one of the leaders through dark times.
CENTRE HALF BACK: HARRY TAYLOR – The Northampton boy told he was too slight for East Fremantle Colts. Someone who could talk about everything from tactics in World War 2 to processed meats. That mark in the 2009 Grand Final gets him in this team alone.
LEFT HALF BACK: KEN HINKLEY – The quiet country product who couldn't handle inner-city Melbourne at Fitzroy and ended up at Geelong. A top club man and excellent defender.
RIGHT WING: JAMES KELLY – Broke his leg against the Eagles at Subi in 2004 and bounced back across the midfield for the Cats and Bombers. One of the tireless workers in a team of tireless workers.
CENTRE: PAUL COUCH – The much-missed laconic boy from Boggy Creek. The tap down to Couchy and bullet left foot to a leading forward was a such a joy to watch.
LEFT WING: PETER RICCARDI – A dashing winger who changed his game as his pace left him and was part of some big moments during the down years where the club was in big trouble. A shame his body couldn't keep going past 2006.
RIGHT HALF FOWARD FLANK: STEVE JOHNSON – The unpolished diamond. A player who was everything Wangaratta, both good and bad, almost never having a career due to his drunken shenanigans. A big game player with the arrogant self-belief to match.
CENTRE HALF FORWARD: TOM HAWKINS – Came to the club as a podgy kid with big expectations and met them…eventually. Big goals in Grand Finals and a colossus in later years with his brute strength.
LEFT HALF FORWARD FLANK: JIMMY BARTEL – Eventually overcame a terrible upbringing and issues with Mark Thompson to be the player across the midfield and drifting forward. The clutch moment king.
RIGHT FORWARD POCKET: PAUL CHAPMAN – Chappppyyyy! Another who dealt with family tragedy and channelled his aggression into his game and those dodgy hamstrings. Another clutch player and not a mixer of words who helped take the side to another level.
FULL FORWARD: GARY ABLETT Snr -One of the big moves by Malcolm Blight that paid off. 1993-95 was Ablett's world in the Coleman and other forwards just lived in it.
LEFT FORWARD POCKET: GARY ABLETT Jnr – Someone who met the massive burden of being the son of god and defeated it with aplomb. Probably our greatest ever if not for his jolly up in Queensland for a spell. The little master.
RUCK: BRAD OTTENS – Left the madness of a rudderless Richmond as a forward to come to Geelong and make his mark as a top ruckman. Mr September if it hadn't been trademarked by Clark Keating in the early 2000s. We can call him in 'Mr Back in 1-2 Weeks' in honour of Neil Balme.
RUCK ROVER: JOEL SELWOOD (c) – The boy wonder who became Captain Marvel. An unchallenged leader in the league and one of the bravest players to go around. This team's captain.
ROVER: GARRY HOCKING – More a ruck rover of course but getting 'in and under' as a rover would suit him too. A bit of a loose unit in his early years with his tribunal bookings but his ability was never questioned. Captain for brief periods of time along with being cat food for a week or so. One of Geelong's greatest ever midfielders.
INTERCHANGE: BEN GRAHAM – The biggest kick in the land and a tremendous player who linked the generations.
INTERCHANGE: CAM MOONEY – The big angry Cat whose emotions matched the fans at times before that glorious 2007 season. Got everything he could out of his career and grew up mentally right in front of us.
INTERCHANGE: CAMERON LING – A source of humour initially before becoming one of the best taggers and an integral part of the team. Kicked much loved goals late in two Grand Finals and captained one of the flags. Mayor of Geelong application still pending.
INTERCHANGE: JOEL COREY – One of the most underrated players in the club, not only just over the past 30 years. Had everything. Said nothing. Left nothing behind.
With the finals now in Perth, it would be something for the Cats to somehow do it all here in our anniversary year. Well done to all the volunteers and committee that have made the Perth Cats what it has been over 30 years, and especially the 21 or so with whom I've been going down to watch the odd game.
GO CATS!
To read more of Dennis Gedling's pieces on the Almanac click here.
The Tigers (Covid) Almanac 2020 will be published in 2021. It will have all the usual features – a game by game account of the Tigers season – and will also include some of the best Almanac writing from the Covid winter.  Pre-order HERE
To return to our Footy Almanac home page click HERE.
Our writers are independent contributors. The opinions expressed in their articles are their own. They are not the views, nor do they reflect the views, of Malarkey Publications.
Do you enjoy the Almanac concept?
And want to ensure it continues in its current form, and better? To help things keep ticking over please consider making your own contribution.
Become an Almanac (annual) member – CLICK HERE.
One-off financial contribution – CLICK HERE.
Regular financial contribution (monthly EFT) – CLICK HERE.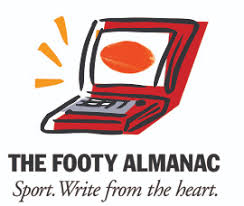 RTR FM Presenter. Glory Guerrillas Producer and Co-Host. Contributer to Football Nation Radio and Football West. Worships at the feet of the mighty Cats, Socceroos, Matildas, West Perth, Glory and Glasgow's Green and White most of the time.