The mind of Steve Johnson: a giant Cat
I don't personally know Stevie J. I couldn't tell you how he likes his coffee or what his favourite colour is. I couldn't let you know his favourite band or biggest pet peeve.
But I could tell you one thing.
Steve Johnson had a football mind of his own. And a good one, too.
He was one of those kids that was blessed. You know, the ones that just show up one day, kick a few miracle goals and go home, no questions asked, even though EVERYONE wanted to know how he did it.
Selected at pick 24 in the 2001 draft, Steve Johnson headed from Wangaratta to Geelong to begin a fulfilling 14-year Cats career.
From 2002 to 2006, Johnson averaged 21.6 goals per season, which a small crowd down the highway marvelled at.
Yet, he wasn't your traditional goal kicker. He'd snag them from nowhere, like he was three steps ahead of the play, somehow. He just knew how, when and at precisely what angle to place the ball, so it could dribble through magically.
That's another thing I know about Stevie J. He was full of magic.
In a game full of convention and discipline, he was unconventional, broke rules and designed his own plays. That's when the magic happened.
And yes, his magic came in dribble kicks and pocket snaps, but there were also the long bombs from fifty, that he'd beg Mooney, Chappy and even Hawkins to give him.
They'd oblige, but they, too, would marvel at the one step Johnson had just torpedoed into the air and straight through the sticks. They'd always made the right choice when they gave it to Stevie.
He was part of a very gifted team playing exuberant football in 2007.
Johnson was a vital puzzle piece that finished off not just a power house forward line, but a team who was challenging to go all the way.
Mixed in with the big guns Cam Mooney and Nathan Ablett, as well as pocket rockets Paul Chapman, Matthew Stokes and Shannon Byrnes, Steve Johnson found his own throughout the 2007 season.
Stevie J kicked 41 goals, leading up to an all-important finals series that would decide the club's fate.
His Grand Final performance did not disappoint. 23 disposals and 4 goals later, Johnson was crowned Norm Smith Medallist for his best-on-ground performance. Banished by his teammates at the start of the season, this was the ultimate redemption for a stray who had found his way home.
And to top it all off, he was selected in the 2007 All-Australian Team.
His 2008 season was another outstanding one, with Johnson kicking 53 goals and picking up another All-Australian Selection.
Over the next four years, Johnson would average 55 goals a season and would go on to be All-Australian again in 2010.
In the 2011 preliminary final against West Coast, Johnson went down with what looked like a season-ending knee injury.
With only a quarter remaining and a grand final next week, all hope was lost for Johnson as the crowd fell silent. Geelong were not a complete puzzle. They had lost the spark, the ignition.
The magic man himself was the disappearing act.
Then suddenly and abruptly, the crowd raised and the cheers began. Johnson had returned up the race and onto the bench. The spark had reignited. The magic man had reappeared. Just.
By some magical miracle, the next week, Johnson went on to kick 4 goals and collect 14 touches in the Cats premiership win over the Magpies.
By the end of 2015, Geelong and Steve Johnson had decided that it was time to part ways.
After a stellar 14-season career, a VFL Premiership and Reserves Best and Fairest in 2002, three AFL Premierships, three All-Australians and a Norm Smith Medal, Steve Johnson had done more than enough.
But it was the one percenters and the little efforts that made Johnson a Geelong hero.
Because no one can master that look-away handball, or the one-step snap from any pocket.
No one can master the way he played; like a little kid in the schoolyard – fearless and ferocious, mixed with a grin that you loved to hate, or hated to love.
No one can match his style of game, because it was just so 'Stevie J'.
And no one can replicate that dribble kick and create extraordinary moments out of ordinary plays, just like Johnson did.
That's where he had a mind of his own.
You were a bodacious competitor who played by your own rules.
And you always did it in your own inimitable style.
We were honoured to follow you… 'All the way with Stevie J'.
So for this, we say thank-you. You made the last decade at Geelong a really memorable one freak.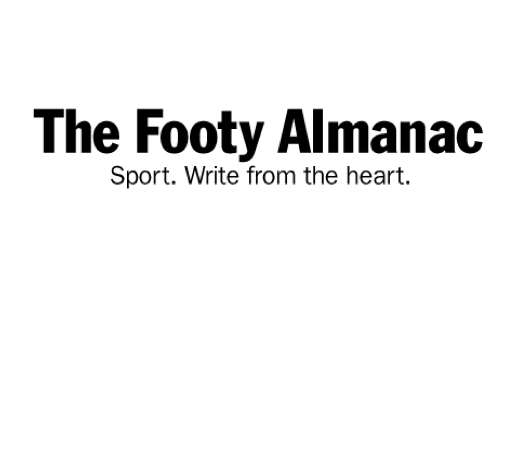 Anna 'Pav' Pavlou is a current student and a born and bred Melburnian who has a passion for sport and sharing people's stories. She is an intern journalist for AFL VICTORIA and writes for The Roar, the Victorian Amateur Football Association (VAFA Media), the Mongrel Punt and is a Melbourne Cricket Club contributor. She also appears on North West FM 98.9 radio show. Most winter weekends you'll find her down at the Ross Gregory Oval in St Kilda, supporting Power House FC, who play in Division 2 in the VAFA. She works as the Division 2 writer for the VAFA. She completed work experience with 3AW Radio and has been published in The Age as well as with Carlton FC and Geelong Cats. Check out her website below for more sport pieces!