This is the second in a trilogy of pieces on the 1996 Fitzroy Lions/Brisbane Bears merger by William Westerman.
On Wednesday, 3 July 1996, Andrew Ireland, the chief executive officer of the Brisbane Bears, had one of the most consequential phone conversations of his career.
It had already been a historic week, given the Fitzroy drama taking place. It was public knowledge that, for several months, the Lions had been negotiating a merger with North Melbourne. On the brink of insolvency for years, Fitzroy had seemingly bowed to the inevitable and accepted that a merger was their only way to save themselves from total extinction.
Then came Friday, 28 June, when news broke that one of Fitzroy's creditors had appointed an administrator to oversee the affairs of the club. It was as unprecedented as it was scandalous – a manager from Ernst & Young running a 113-year-old Melbourne institution. The AFL provided a $100,000 indemnity to allow the Lions to play that weekend, but no-one knew what would happen after that. Then, on Monday evening, the AFL Commission had given the club until midday on Friday to finalise a merger with North Melbourne, or else it would be cut adrift – the Lions gained four days on life support.
In Brisbane, Ireland had followed events as they unfolded. The 43-year-old had been in and around football for much of his life and was no stranger to the drama that came with it. On 24 September 1977 he had been among Collingwood's best in a drawn Grand Final with North Melbourne, the VFL's first since 1948. Then, in March 1990, he had taken up a position as chief executive at the Brisbane Bears. Some months earlier, the club's co-owner, Christopher Skase, had departed after his Qintex empire collapsed spectacularly. Gold Coast businessman Reuben Pelerman stepped into the breach, but within two years he had released the club from private ownership, whereupon it reverted back to a traditional membership-based structure.
Since those turbulent days, Brisbane's fortunes had improved. At the time Ireland joined the club, it was still based at Carrara Oval on the Gold Coast. Its facilities were well below par: portables were used as administration offices, change rooms and gyms, while the board room was a builder's hut with a table in the middle. 'It didn't instil confidence,' noted Robert Walls, who had taken over as senior coach in 1991.
Several key figures at the club, including Ireland, pushed for a move to the Gabba, and, after securing a multi-stage redevelopment deal with the Queensland Government (which would, among other things, see the ground's greyhound track removed), they finally relocated in 1993.
On the field, the playing list also began to improve. The AFL had been unimpressed with the club's recruiting policy of targeting senior players rather than taking advantage of their priority draft picks and special recruiting zones. As such, the league's chief executive officer, Ross Oakley, informed the Brisbane board that unless they began drafting young talent the AFL would revoke their concessions. Over the following years, Brisbane gained Justin Leppitsch, Nigel Lappin and Chris Scott from the national draft and acquired Michael Voss, Clark Keating, Darryl White and Jason Akermanis via their Queensland-Northern Territory recruiting zone. It was the foundation of something great.
The fruits of this transformation were on display in 1995, when, under Walls, the Bears made finals for the first time. Finishing eighth under the McIntyre Final Eight System, they played top-of-the-ladder Carlton at the MCG. Despite losing to the eventual premiers, the Bears gained many admirers. When club captain Roger Merrett put them in front during the third quarter, neutrals jumped to their feet and roared in support. Similarly, as the players were leaving the ground after the final siren, those in the Great Southern Stand gave them a standing ovation.
Even Walls' decision to leave the club at the end of 1995 did not derail the club's momentum. The board was able to secure their first preference, former Richmond coach John Northey, and 'Swooper' was genuinely excited about the prospect of coaching the impressive Bears side. 'I'll still have to work very hard', he said in October 1995, 'but they're very settled here, coming off a good season and with very good youth.'
Through the first half of 1996, the Bears had been doing well, ensconced in the top three and even spending Rounds 5 to 8 on top of the ladder. Most notably, Michael Voss, who was turning 21 that year, had become one of the game's best young players. Having debuted in 1992, he was proud of how far the club had come since the dark days on the Gold Coast. 'We had shed the 'Bad News Bears' tag and were an emerging force', he later reflected. Brisbane had finally won respect.
Off the field, the club recorded its highest membership tally – 10,267 – which was better than the Sydney Swans and only fractionally less than Footscray. While not necessarily recording massive profits, the club was not drowning in red ink either. All in all, Ireland could be happy with where the Brisbane Bears were sitting.
* * * *
Yet for the club's president, commercial property developer Noel Gordon, there was unfinished business. Well-built with a receding grey hairline, glasses and a large droopy moustache, Gordon was originally from country Victoria. After spending a decade in Victoria Police (playing football for the Carlton Thirds and singing in a rock band during his spare time), in 1981 he moved to Queensland to further his business interests. A prominent and enthusiastic Bears supporter, following Pelerman's arrival, Gordon was asked to be the chairman of the board of directors, a position he retained once Pelerman departed.
Recent on-field success aside, Gordon understood that his club remained fragile, a frontier club in a non-traditional Australian rules state. Indeed, he believed that even the AFL itself had not fully come to terms with establishing the game in Queensland. To buttress his club's position, Gordon saw the AFL's merger policy as his golden opportunity. The policy was intended to encourage weaker Melbourne-based clubs to merge with each other, but Gordon believed that he could convinced a Victorian club to merge with Brisbane instead. If this were to occur, the Bears would gain more supporters, several quality players and whatever other incentives the AFL decided to throw in, while the partner club would avoid eventual insolvency (a fate that league administrators believed would inevitably befall Melbourne's weaker teams).
While there were several merger candidates, Fitzroy was a logical contender. Not only were the Lions struggling on and off the field, but they were known to have seriously considered merging with Footscray and Melbourne. In April 1995, before Brisbane's Round 3 game against Sydney, Gordon floated a test balloon. Without consulting any other board members, in an interview with Bruce McAvaney he proposed a Brisbane/Fitzroy merger, even suggesting a name – the 'Brisbane Lions' – and that it could play in Fitzroy's current club colours.
His comments made the club's vice president, Alan Piper, uneasy and the following week he took Gordon to task. As late as one year ago, Piper probably would have been happy to merge with Fitzroy. By 1995, however, the situation had changed. Not only had the Lions become a weaker on-field unit, but the Bears had grown stronger as a football club and as a 'brand' in Brisbane. While Piper believed that a merger might yield a modest Melbourne supporter base, it might only provide Brisbane one or two quality players while simultaneously throwing away the Bears' name and its colours. Brisbane should only consider this, he argued, unless there was a substantial financial benefit involved.
At Brisbane's next board meeting, Gordon was admonished by the other members for giving the impression that he had been speaking on their behalf when he proposed the idea of merging with Fitzroy. Yet despite Piper's reservations, the question of a merger was still worth exploring. 'If there is an opportunity to progress the possibility of a merger with an appropriate club', the vice president told the meeting, 'then I think we should. But it should be done privately and formally.'
Soon, the incentive became more substantial. By 1995, the AFL was desperate to secure its first merger, and, having previously offered only modest inducement schemes, in June the AFL Commission and the club presidents agreed to make $6 million, plus playing list increases and salary cap expansion, available to the first two clubs to merge before 31 October 1995. This was a significant amount. By comparison, the best financially performing Victorian club in 1995, Essendon, reported a profit of $1.04 million. Securing a merger became all the more enticing.
In light of this development, the Brisbane board surveyed the landscape. To the best of his knowledge, Ireland believed that talks were underway between Essendon and North Melbourne, Carlton and St Kilda, and Melbourne and Hawthorn. One board member, Graeme Downie, suggested that the Bears put a proposal to all the financially weaker clubs, but Piper argued that the likes of Footscray or North Melbourne would reject it out of hand. The only club desperate enough to consider merging with an interstate team was Fitzroy, but Piper pointed out that Brisbane was not their preferred partner. 'We haven't got enough to offer', he argued. 'They have a point. If they come here their history will be forgotten in a year or two.' Fundamentally, Piper just could not see where Brisbane fit in the various merger equations.
* * * *
By 31 October, no club – Brisbane or otherwise – had finalised a merger, and the AFL's $6 million carrot lapsed. The league let it be known, however, that the money was potentially still available, although any football department concessions needed to be worked out directly with the AFL Commission.
For his part, Gordon's interest in merging with Fitzroy had not abated and at the start of 1996, the Lions looked to be in financial trouble yet again. Indeed, newspaper reports indicated that the AFL was so concerned about Fitzroy's financial state that it had asked for proof that the club could survive the season. If these reports were true, Fitzroy might be inceasingly amenable to an offer from Brisbane. On 21 February, Gordon called Fitzroy's president, Dyson Hore-Lacy, and broached the subject. Given Fitzroy's position, Hore-Lacy could not dismiss him. Gordon promised that the negotiations would not go public, and discussions were soon underway.
By now, Gordon and Ireland had realised that, as a relatively new club, they had an advantage in the merger race. Each Victorian club had over a century of tradition and heritage to protect, and, as such, if negotiating a merger, their boards might find it too hard to let go of certain aspects of their club identity. Conversely, despite being rightly proud of all the Bears had accomplished, Gordon and Ireland believed that they could trade their identity relatively painlessly in order to offer more to a potential suitor. Their only stipulation – and it was a tricky one for a Melbourne-based club – was that the team remain in Queensland.
Even still, Gordon recognised that negotiating a merger with another board was not going to be their biggest challenge; 'the problem', he had remarked in 1995, 'is going to be when you have to sit down in front of 5,000 members and try to convince them.' It was an astute observation.
By late April 1996, Brisbane had presented Fitzroy with the basic elements of their merger offer: a club name (the 'Brisbane Lions'), a logo (a Fitzroy lion) and a jumper (a design predominantly comprising Fitzroy colours). They were also offering two or three positions on the club board and hoped to gain certain on-field concessions from the AFL. After Anzac Day, Gordon and Ireland flew to Melbourne to meet with Oakley. They wanted to know whether the $6 million was still on the table and whether, in principle, the AFL would support a Brisbane/Fitzroy merger. Oakley told them that neither he nor the AFL Commission would be involved in any negotiations; the two clubs would need to work out the details between themselves and then present an agreement to the Commission for its endorsement.
Before they could reach that step, however, Hore-Lacy needed to build support and consensus among Fitzroy's members and shareholders for a deal that was likely to be unpopular (as the Lions were not going to be merging with another Melbourne-based club). Indeed, despite the superficial aspects such as colours and logos, it was definitely not a deal weighted towards Fitzroy. Yet given the club's predicament and the lack of other options, the Lions had to treat it seriously.
As Hore-Lacy surveyed his members, on 3 May, Gordon and Ireland provided the AFL Commission with the details of its proposed merger. They also requested that the league guarantee the 'Brisbane Lions' six games in Melbourne per season (so Fitzroy supporters could still see their team semi-regularly) and that the club could recruit eight players from Fitzroy's current list. The Commission agreed to consider the proposals, adding that it hoped all parties might sign an agreement by Friday, 10 May. When Gordon, Piper and Ireland returned to the Commission on 9 May, they were informed that their requests were acceptable.
Friday arrived, and Gordon, Piper and Ireland met with Hore-Lacy and two other Fitzroy board members at the Collin Street offices of Blake Dawson Waldron. In a cordial meeting, Brisbane's representatives ran through the full merger agreement, including the concessions the AFL Commission had approved the previous day. Hore-Lacy politely heard them out and then said that they would give Brisbane a final answer on Monday.
That Sunday, Gordon called Hore-Lacy to confirm that Brisbane were Fitzroy's preferred merger partner. A relaxed-sounding Hore-Lacy assured him that the Bears were still in contention, but Gordon was concerned: the Fitzroy president was too comfortable for a man whose beloved club was on the verge of insolvency. Brisbane's president soon discovered the reason for Hore-Lacy's contentment. That morning, the Melbourne newspapers were reporting that Fitzroy and North Melbourne were deep into their own merger negotiations – clearly North Melbourne was much more to Fitzroy's liking (indeed, it would later emerge that on Saturday the two boards had signed a heads of agreement).
On Monday, Brisbane's solicitor, David Dunn, received a call from Hore-Lacy, letting him know that the Fitzroy board had decided not to pursue a merger with the Bears. Dunn was disappointed, but accepted the situation and duly informed his clients. It was evident that the ability to stay in Melbourne was far too attractive a prospect for Fitzroy to turn down.
* * * *
Fitzroy's rejection of Brisbane in favour of North Melbourne seemed to be the end of the matter. The season carried on, and Brisbane's good on-field form continued. In Round 12, they defeated Melbourne at the Gabba by 77 points, Craig McRae and Alastair Lynch kicking 11 goals between them. The win kept the Bears in third, where they had been for several rounds.
As the club was preparing to fly to Melbourne for its Round 13 game against St Kilda, the news broke that an administrator had taken over Fitzroy. Brisbane's board immediately recognised this as an opportunity. Board member Graeme Downie was an insolvency expert and knew the legal process well. The administrator, Michael Brennan, not only had the full power of the club's board and could execute a merger agreement (if he believed it was in the interest of the club's creditors), but he was obligated by law to secure the best financial arrangement available. To this end, Brennan had told journalists that he was open to any and all merger offers, not just from North Melbourne.
Furthermore, by Wednesday, newspapers were reporting a growing rift between Fitzroy and North Melbourne. There now seemed every chance that the Fitzroy board might, if North Melbourne were driving too hard a bargain, begin looking elsewhere. Admittedly, it was unlikely, given Fitzroy's clear preference for North and the limited time available, but for Brisbane it was something to hold on to.
During the week, Ireland called Fitzroy's finance director, John Stewart, to inquire about the state of play. Stewart assured him that the deal with North Melbourne was practically done, yet on 3 July, he called back, conveying a message from Hore-Lacy: 'the door is open half an inch'.
Drawing Brisbane back into the discussion might just have been a ploy to put pressure on North Melbourne, or it might have been a genuine overture as the Kangaroos deal faltered and the AFL deadline loomed. Either way, it was all Ireland needed to hear. Together, Ireland and Gordon flew down to Melbourne. If there was even the slightest chance that the Bears could secure a merger with Fitzroy, they were going to take it.
William Westerman is the author of 'Merger: The Fitzroy Lions and the Tragedy of 1996', published by Melbourne Books. You can order a copy HERE
The Tigers (Covid) Almanac 2020 will be published in 2021. It will have all the usual features – a game by game account of the Tigers season – and will also include some of the best Almanac writing from the Covid winter.  Pre-order HERE
To return to our Footy Almanac home page click HERE.
Our writers are independent contributors. The opinions expressed in their articles are their own. They are not the views, nor do they reflect the views, of Malarkey Publications.
Do you enjoy the Almanac concept?
And want to ensure it continues in its current form, and better? To help things keep ticking over please consider making your own contribution.
Become an Almanac (annual) member – CLICK HERE.
One-off financial contribution – CLICK HERE.
Regular financial contribution (monthly EFT) – CLICK HERE.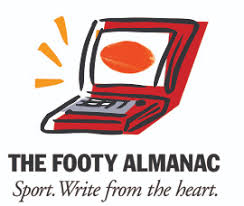 Canberra-based historian. Author of 'Merger: The Fitzroy Lions and the Tragedy of 1996' Available here: https://melbournebooks.com.au/products/merger