The Merger Trilogy: A Man Walked Into a Bar
This is the first in a trilogy of pieces on the 1996 Fitzroy Lions/Brisbane Bears merger by William Westerman.

In the early afternoon of Friday, June 28 1996, an unassuming man with a briefcase wearing a double-breasted business suit and bright red tie entered the Fitzroy Club Hotel. Formerly the Albion Charles Hotel (established in 1887), it was located on the corner of Charles Street and Merri Parade, Northcote, just opposite where St Georges Road crosses Merri Creek. In December 1991, the directors of the Fitzroy Football Club had purchased the licence, business, goodwill and chattels of the hotel and entered into a five-year lease of the premises. Not only was the newly renamed Fitzroy Club Hotel a social venue and a modest source of revenue, but its second and third floors became the club's administrative headquarters.
This was where Michael Brennan was heading.
Brennan was Ernst & Young's national director, corporate recovery, and that Wednesday, Graham Sherry, a partner at Baker & McKenzie, had sought out his services. Sherry acted on behalf of the Nauru Insurance Corporation, an entity that was effectively an arm of the Nauruan Government. While the intervention of this tiny Pacific island might seem unusual, Nauru actually had several ongoing and high-profile business endeavours in Victoria at the time, efforts designed to allow the phosphate-rich nation to invest the revenue from its finite natural resource. One such enterprise was undertaken in October 1994, when Nauru loaned Fitzroy a much-needed $1.2 million.
Celebrated at the time as the salvation of the club, by June 1996 Nauru had become concerned that the security on its loan might not be all that secure. Fitzroy's financial woes were no secret, but recently Nauru's representatives had come to believe that the Lions would be unable to repay the debt in full. Furthermore, Nauru's economy was in a parlous state and it owed several sizeable debts to the Victorian Government. Given this, Nauru had instructed Sherry to engage a firm to act under Part 5.3A of the Corporations Law and recover their money. The Victorian Supreme Court approved Nauru's application and, from 12:45 pm that Friday, Michael Brennan became the administrator of the Fitzroy Football Club.
As the administrator, Brennan had control of the club's business, property and affairs and could, in this capacity, perform any function and exercise any power. His initial task was to investigate the club's financial circumstances. He was already aware that Fitzroy owed $1.25 million to Nauru, secured with a 'floating charge' (meaning that the loan was not secured against anything specific but rather against any and all assets to the value of the loan). Beyond this, Brennan needed to gain a comprehensive picture of the club's situation and then decide whether it was in the creditors' interest to end the administration, to wind up the club and put it into liquidation or to execute a 'deed of company arrangement' (an agreement between the club and the creditors determining how the club's affairs and assets would be dealt with). By law, he needed to report to the creditors within five business days, where they had the opportunity to remove him from acting on their behalf.
Wasting no time, Brennan made his way to the Fitzroy Club Hotel with two colleagues, Mark Sheals and Greg Swann, and, after being directed upstairs to the club's offices, they served the deed of appointment on Fitzroy's acting finance manager, Jocelyn Allen. Among the staff and volunteers, Brennan's appearance was met with a mixture of shock, incredulity, outrage and distress. As the news sunk in, staff began calling key people to advise them about Brennan's appointment and to get them to the hotel as soon as possible.
Ninety minutes later, Brennan and his small team had been joined by Fitzroy's general manager, John Birt, its finance director, John Stewart (a partner at Horwath & Horwath) and the AFL's director of football operations, Ian Collins. As Brennan, Sheals, Birt, Stewart and Collins adjourned to the upstairs conference room to discuss the situation, Swann, the president of Williamstown Football Club, talked to any football department personnel who had made their way to the office.
Brennan initially assessed that Fitzroy was $4.5 million in debt. Beyond Nauru's $1.25 million, the club owed $500,000 to the Australian Taxation Office and smaller amounts to various trade debtors. It also had little cash on hand, few assets and limited revenue. In short, he believed the club was insolvent.
In ordinary circumstances, there would be no way Nauru, much less the club's other creditors, would receive any portion of what they were owed. Yet Brennan quickly realised that the unique circumstances of Fitzroy's plight offered one avenue to resolve the situation favourably.
He was going to ask the AFL for $6 million. And the AFL was going to give it to him.
* * * *
Since the 1980s, VFL and then AFL administrators had been trying to entice the league's smaller clubs to merge with each other. This was based on a belief that there were too many clubs in Melbourne and that the rising cost of professionalisation would eventually force the poorer clubs into insolvency. Over the years, despite some tentative steps and several false starts, no two clubs had completed a merger.
By 1995, the AFL Commission had become so desperate to reduce the number of teams in Melbourne that it was prepared to offer $6 million to the first two clubs to merge. Fitzroy, one of the league's poorest clubs, had flirted with merging for some time, and by 1996 it was in the invidious position whereby a merger was its only hope of remaining in the league in some form. After engaging in discussions with several clubs, by late June it had practically finalised an agreement with North Melbourne that would see them become the North-Fitzroy Kangaroos in 1997.
Part of these negotiations involved determining what to do with the AFL's $6 million. Both clubs wanted to retain as much as possible to support the new entity, but an amount needed to be allocated to paying Fitzroy's creditors. A repayment scheme was developed which, due to some issues between Fitzroy and Nauru at the start of the year, saw the Nauru Insurance Corporation receiving slightly less than 100 cents on the dollar.
Nauru rejected the proposal and threatened to appoint an administrator to recover the full amount. Fitzroy and the AFL believed this was merely a negotiating ploy, but, to deter them from this course of action, the AFL's solicitor, Jeff Browne, informed Nauru that the $6 million would now be unavailable to them. Without the incentive money, a Nauru-appointed administrator would take over a club with few assets to liquidate and little chance of ever seeing their $1.25 million again.
Undeterred, Nauru went ahead with their threat, and thus Brennan and his colleagues arrived at the Fitzroy Club Hotel that Friday afternoon with the task of ensuring the AFL's $6 million was back on the table and then securing a merger. During their discussions, Brennan was advised of the negotiations with North Melbourne. While this seemed like a neat solution to his problem, he wanted to keep his options open. As such, he was prepared to talk to other interested parties.
Meanwhile, the AFL's representative at the meeting, Collins, had different priorities. If Fitzroy was insolvent (as Brennan suspected), it would not be able to field a team for the remainder of the season, and the AFL could not let that occur. Not only would it affect the integrity of the competition, but there would be significant financial costs borne by clubs hosting the Lions. West Coast, for instance, estimated that they would lose as much as $1 million if their Round 15 match at the WACA did not go ahead, while Adelaide, who were playing Fitzroy in Round 17 at Football Park, placed their losses at between $750,000 and $800,000.
It was far too soon for the AFL to have a solution, although the AFL Commission had decided to meet on the evening of Monday, 1 July, to discuss the situation. In the meantime, with a match against Geelong at the Whitten Oval scheduled that Saturday, there was little else the league could do but pay for it to go ahead. Accordingly, Collins offered Brennan a $100,000 indemnity to cover the match costs and allow the game to proceed. Yet Collins gave no guarantee that this largesse would continue for a further nine games. Until the AFL Commission had deliberated on the matter, Fitzroy's fate would be left in limbo, with every chance that Saturday might be their final game.
At its Monday meeting, the AFL Commission would also need to resolve the issue of the $6 million incentive package. Securing this was just one of several difficult hurdles for Brennan to overcome. He also needed to finalise a merger with a willing partner and then gain the endorsement of the 14 other clubs (or at least avoid a two-thirds veto). This left him in a precarious position and at the mercy of forces largely beyond his control. And, as many had discovered before him, finding consensus and unanimity among the AFL and its clubs was not an easy task.
* * * *
Outside the Fitzroy Club Hotel, word spread of Brennan's appointment, and soon there was a pack of journalists in the hotel's front bar. Fighting his way through this growing crowd on his way upstairs was Fitzroy's senior coach, Michael Nunan. Over the course of his first season with the Lions, the 47-year-old former Sturt premiership rover had been trying to instil a possession-based game-plan into his young players, hoping that by the end of three years he would have a team that could play in his preferred style. At 1-11 for the season, there was still a long way to go.
While the task of coaching the league's bottom-placed team was hard enough, the current circumstances made Nunan's role exponentially more difficult. It had not helped that for much of the year he had been largely oblivious to the machinations taking place at board level, often only discovering key pieces of information when they were reported in the press. After a successful period coaching North Adelaide in the SANFL he had arrived at Fitzroy keen to establish himself in the AFL. Now, the legs had been taken out from under him, and he needed to work out what to do.
Elsewhere, Fitzroy's captain, 24-year-old Brad Boyd, was shocked when he heard the news. 'I knew they were struggling with payments for a lot of things', he told reporters, 'but gee, I didn't know it was that bad.' Boyd, who had been hindered by injury all season, was still trying to establish himself as an AFL captain while simultaneously leading and mentoring a very young group of players. Speculation about the club's financial predicament was constantly in the newspapers, on radio and on television, making it hard sometimes for the team to focus on their football. While most players had tried to block out the reporting and commentary, having the club go into administration was too big to ignore. Would they play their remaining fixtures? Could the club honour their contracts? What would happen to them at the end of the year? These were big questions and all unanswerable at that stage. 'It just seems to be getting worse now', Boyd lamented, 'it's pretty sad.'
At 6:00 pm, Brennan and Collins emerged from their marathon meeting and, together with Nunan, addressed the media. At that stage some 50 reporters had congregated at the Fitzroy Club Hotel, each no doubt with dozens of questions to put to the man who now ran the Fitzroy Lions. In preparation for the unanticipated press conference, the club set up floodlights to illuminate one of the hotel's backrooms.
Brennan outlined the reasons for his appointment: the Nauru Insurance Corporation, a secured creditor of the Fitzroy Football Club, had been offered a repayment scheme whereby it was being asked to accept only $550,000 to satisfy a $1.25 million debt, some 42 cents on the dollar. This, Nauru had declared, was unacceptable. As such, Brennan advised that he had been appointed as the administrator to determine a way forward so that Nauru could recover the full amount owing to them.
He then revealed the results of his preliminary investigations: 'The situation as best we've been able to establish this afternoon is that there is no money in the bank, there are no realisable assets on hand, there are some trade debtors and we're unsure whether we'll be able to collect them.' He believed the club was insolvent, and said that the AFL had not responded favourably when asked to provide assurances about funding Fitzroy's remaining games or about whether the $6 million merger incentive would be available. The onus, however, was on the AFL to act; 'If the league decides not to help us', he stated bluntly, 'that will be the end of Fitzroy.'
He was unsure of the precise state of merger negotiations with North Melbourne, but remarked that 'if it's a matter of signing on the dotted line and getting $6 million from Mr Collins, I think I'd be very tempted to take that.' He indicated that after the press conference he would ring North Melbourne and begin discussions about a merger, adding, however, that he would welcome other offers.
On football matters, Collins told reporters about the AFL's $100,000 indemnity to allow Saturday's game to go ahead. For his part, Nunan said that they would treat the game as a grand final; he had come across from South Australia for an experience, he quipped, 'and I'm certainly getting it.'
* * * *
Elsewhere in Melbourne, Dyson Hore-Lacy QC followed events with a mixture of disbelief, frustration and resignation. The 55-year-old barrister had been Fitzroy's president and chair of its board of directors since 1991 and, until 12:45 pm that day, had led the club. Within the legal profession he was known for his determination and tenacity, fighting hard for unfashionable and, at times, hopeless causes. In this regard, he fit Fitzroy like a glove. For many years he had struggled valiantly to help the club survive, looking for assistance anywhere he could. Although he and his board had seen a merger as the option of last resort, early in 1996 the time had come when it was unavoidable. By late June he was on the verge of signing an agreement with North Melbourne. He was close, but not close enough.
At 4:00 pm, Fitzroy office staff called him with the news. Advising the club's administration not to do anything, he attempted – unsuccessfully – to sort out matters with Nauru. Driving home from his chambers that evening, he heard Brennan's press conference and rejected many of his claims, particularly that the club was insolvent and its debt was $4.5 million (he placed it at no more than $2.7 million). To rebut these, he called 3AW and three major newspapers.
When talking to the Herald Sun, he slammed the 'vindictive act' by Nauru and was confident that the club would play out the season. 'Fitzroy's been going for 113 years', he declared, 'and they're not likely to be bowled over by an administrator of a foreign country.' He was emotional as he talked about the club he loved, and at times was almost on the verge of tears. Unlike Brennan, he recognised the true significance and consequences of the day's events. The potential merger with North Melbourne was 'much bigger than the gambit that's being played by the Nauru Insurance Corporation today', he told The Age. 'In the end result, we're talking about people. That's what footy clubs are. An administrator has power over assets only.'
Hore-Lacy had more than emotive rhetoric to draw upon: he still believed that Fitzroy could complete its merger with North, despite Brennan's appearance. North Melbourne, however, was flummoxed by all that was taking place. The club's chief executive officer, Greg Miller, had been frantically calling all over Melbourne to find out where his club stood in relation to the rapidly changing circumstances. Some North officials told reporters that their plans to merge with Fitzroy were unaffected, while the president, Ron Casey, stated that the matter was now out of their hands. Asked whether the events had put the proposed merger in doubt, Casey said: 'You can draw your own conclusions. I can't forecast what's going to happen. We'll have to wait and see.'
Friday, June 28 1996 had been a dramatic and historic day in VFL/AFL history, and there was much more intrigue to come.
William Westerman is the author of 'Merger: The Fitzroy Lions and the Tragedy of 1996', published by Melbourne Books. You can order a copy HERE
The Tigers (Covid) Almanac 2020 will be published in 2021. It will have all the usual features – a game by game account of the Tigers season – and will also include some of the best Almanac writing from the Covid winter.  Pre-order HERE
To return to our Footy Almanac home page click HERE.
Our writers are independent contributors. The opinions expressed in their articles are their own. They are not the views, nor do they reflect the views, of Malarkey Publications.
Do you enjoy the Almanac concept?
And want to ensure it continues in its current form, and better? To help things keep ticking over please consider making your own contribution.
Become an Almanac (annual) member – CLICK HERE.
One-off financial contribution – CLICK HERE.
Regular financial contribution (monthly EFT) – CLICK HERE.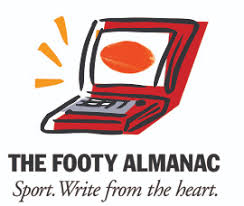 Canberra-based historian. Author of 'Merger: The Fitzroy Lions and the Tragedy of 1996' Available here: https://melbournebooks.com.au/products/merger