Tomorrow I will be attending one of the classic lunches on the Lunchers' Calendar – the St Kevin's Old Boys' VAFA Grand Final Luncheon.
I have been a number of times in recent years. But, amid the Grand Final anticipation, the dining, the conversation, and the speeches, I have paid too much attention to Bacchus and the tables of his disciples, and not enough to St Kevin. And I certainly haven't paused to consider what a fine educational institution is St Kevin's.
Until recently, when I became more aware of its transformative powers thanks to an old boy, one David Whiting.
I once visited St Kevin's to speak to a lecture theatre of Grade 10 boys about writing generally and sports writing in particular. To get a sense of the heritage of the boys in front of me, I opened by asking the question I thought most appropriate for the St Kevin's community. "Who here has a close relative who's a book-maker."
About one third of the students raised their hands. So I knew I could safely talk about racing, Catholicim, Irish nationalism and the right to offer crap odds to the generations of VRC Members.
I enjoyed the session.
Some time after I was at the Caulfield Guineas and I finished up in a school with David Whiting.
I now know D.Whiting well enough to tell this story,  and to show that he is living proof that the benefits of St Kevin's education are profound.
This is Old Ted Whiting, as observed by the Victorian police in the 1920s:
'Old Ted' Whiting, David's great grandfather, did not enjoy a St Kevin's education. Born the fifth of eleven children in 1882, Old Ted grew up in the mean streets of Fitzroy where he was a boxer, an SP bookie, a sly grog merchant and the central figure in the Fitzroy Gang, fierce rivals of Squizzy Taylor. At one stage Squizzy and friends took such a disliking to Old Ted they put six bullets in his head. A local surgeon fished them out, claiming Ted had the toughest skull north of the Yarra. Old Ted was one of the more colourful racing identities Melbourne ever produced.
Old Ted's son was known as 'Young Ted' (David's grandfather) and he also became a bookmaker. He was also a character of the track. Then his son, David's father, became a bookmaker, and an accountant, and was the first of the Whitings to value education. He sent David to St Kevin's. Then to Newman College where he eventually received a law degree.
Having punted and worked his way through that degree (probably in that order), he needed to find a practice where he could do articles. While working as a barman at the RACV Club he met the partners of Carroll & Dillon. They suggested he send them a letter. David polished up his rather skinny CV and sent it off. His reference to horseracing as an interest caught the attention of one of the partners, John Dillon, who was on the committee of the (then) Victorian Amateur Turf Club. They invited him in for an interview. Inevitably, horse racing came up during their chat. David mentioned he pencilled for his father.
'What's $25 each way at 7–4?' Dillon asked jokingly.
'43¾, and $10.80 the place,' David shot back – no joking matter to a proud bookie.
Dillon laughed.
'Hey, Bill,' he yelled to his partner, 'come and have a listen to this.'
He got the job.
His legal career has continued to progress and he is now a partner at Lander & Rogers. Rumours that he also holds a current bookmakers' license have not been confirmed.
This is a photo of David taken at Ascot last year. You can see a bit of 'Old Ted' in the Lionel.
A St Kevin's education? I rest my case.
John Harms will be at the SKOB's Lunch with Dene Macleod and the Williamstown CY's crew. He wishes them all the best in their Grand Final against Ajax at Trevor Barker Oval this Saturday at 2.30pm. St Kevin's take on Uni Blues in the Premier Section at Elsternwick on Sunday.
Check out many more stories at www.footyalmanac.com.au
To find out more about Almanac memberships CLICK HERE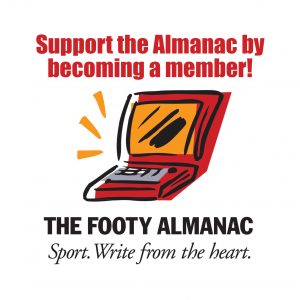 JTH is a writer, publisher, speaker, historian. He is publisher and contributing editor of The Footy Almanac and footyalmanac.com.au. He has written columns and features for numerous publications. His books include Confessions of a Thirteenth Man, Memoirs of a Mug Punter, Loose Men Everywhere, Play On, The Pearl: Steve Renouf's Story and Life As I Know It (with Michelle Payne). He appears on ABCTV's Offsiders. He can be contacted [email protected] He is married to The Handicapper and has three kids - Theo13, Anna11, Evie10. He might not be the worst putter in the world but he's in the worst three. His ambition is to lunch for Australia.