The Ashes 2021/22 – Fifth Test, Hobart Day 3: England humiliated again
BLUNDSTONE ARENA DAY 3
ENGLAND HUMILIATED AGAIN – NO FIGHT IN THE LION, A DISGRACE.
This could be the last day/night Test if the first two days are any warning. Australia are 3/37 and would still want to put on a sizeable score before either getting out or declaring.
Don't think that I am a fan of day/nighters after all. My Circadian Rhythms are completely out of whack and I slept to 1.30pm this afternoon. I think the hardest part is trying to go to sleep after a night at the cricket or football for that matter.
The early wicket of Boland (8) caught Billings cutting of Wood and Australia are 4/47.
The Man of Kent takes another catch when Head (8) tries to hook (another one!) and the ball flicks through to him. His fourth catch for the innings and as in the line of great Kent keepers L.E.G. Ames CBE and A.P.E. Knott MBE although he is far from their standards at the moment. Nevertheless, he has kept very competently. Whether he retains his spot in the team in the future is anybody's guess.
Talk about "happy hookers". SPD Smith (27) must have read my lines in The Footy Almanac as he goes to hook Wood, gets it in the middle of the bat for Zac Crawley to take yet another catch on the boundary. Australia 6/73 and falling fast. Of all the catches Crawley has taken in this match (5) he has not had to move an inch (or one centimetre) for any of them.  Such is the accuracy of the Australian batters.
Wood has taken all 3 wickets for 12 runs this afternoon while his partner at the other end Stuart Broad has had more appeals than the Red Cross without any luck.
Now is the big chance for Carey to consolidate with the rock-solid Cameron Green. Green's CV is developing with every experience and today is certainly a big test for him as well as Carey needing runs.
After my earlier criticism of young Green, I have watched him grow like a "Dave Wilson" (Eucalyptus Regnans). He seems to get taller and broader at every appearance and with his batting difficult to move. Without saying too much obviously the next Australian Captain.
Carey continues the hapless happy hooker syndrome but is bowled by Woakes.  Unfortunately for the bowler on inspection it is a no-ball!  Carey is very lucky because if he has a bad fault, it is his ability to get out from very ordinary strokes.
English conditions this session have certainly helped the bowlers who are continually beating the bat but having no luck in securing wickets.
Broad at last gets his wicket when Green (23) goes LBW on DRS from the English camp.  Australia now 7/112 a lead of 227 which is probably more than enough in these conditions. Lord knows how many appeals Broad has made today!
Starc (1) does not last long as Wood gets one to lift and Pope catches. Australia is 8/121 and Mark Wood has had a fine morning taking 4 wickets for 16 with his pace.
Cummins goes next ball but gets a reprieve on DRS. How beneficial will it be?  Carey is still there on 32 and he had one a few runs ago.
One would have thought that Wood did not have 4/20 this morning as his field includes a deep third man, deep fine leg and deep square leg. Obviously, the visitors trying to keep runs to a minimum. They certainly are not out of the game.
At "big break" Australia are 8/141 with Carey 40 and Cummins 12. Wood 5/32 and Broad 2/42 have had a fine period with the ball.
How far will Australia go?  All depends of course but Root has the field spread out for Wood as he resumes the attack.
Carey's reprieve is reaping a reward as he cuts Wood to the fence for 4. No slips for Wood. This field is "deep" with five men on the boundary. Interestingly that Cummins is not keen to face Wood as they are refusing singles. Wood has got to Cummins today!
Strangely it is Carey (49) who goes with an inside edge to Billings from Stu Broad. He had batted well after his reprieve and a plus for his CV. Australia 9/151.
Don't know what Captain Pat (13) is up too? Hits a four of Wood and then takes an almighty whoosh bowled All out for 155 a lead of 267. Wood 6/37, Broad 3/51, Woakes 1/40
The big question going the rounds today is "when will the match finish?"  Of course, much will depend on how the English openers contain the bowlers in what are ideal bowling conditions. They have started competently and the runs are trickling along.
Cummins opens from the River End and then swaps to Church End and Crawley hits him for two fours through mid-on. He probably plays that shot better than anyone in cricket today.
The England looking good at the moment and the 50 is posted on the scoreboard that continues to confuse me.
Right on tea Burns (26) plays on to Green and England are 1/61.  Australia needed that wicket as the opening batters had put up their best performance of the series. Green 1/4 and Crawley 32 not out.
The last two sessions of the day have proved havoc for the batting side and it will be interesting to see how England perform.
Well, they don't start of that well as Malan (10) plays on to Green and England are 2/81 and the youngest player on the ground has 2/17 and heading for the man-of-the-match.
The "Green Machine" strikes again when Crawley (36) pushes at one for Carey to take lowdown. A neat catch.  3/83 and the last session demons have struck again.
Will Regnum Anglorum fight back?  It will be up to these two giants of the game Joe Root and Ben Stokes to take the game away from Australia. If one falls the side will fall. Interesting times.
A goodly crowd in today after what I thought was disappointing yesterday and did not go well for AFL in my humble opinion.
It certainly is all over now as Ben Stokes (5) joins the "hapless happy hookers" club hitting a Starc bouncer to Lyon who takes a fine diving catch at deep square leg. England are 4/92 and you think they would have learned from Australia's mistakes in the first session of today.
What did Bradman say "don't hook until your score is 100".
How unlucky was Joe Root (11) bowled by a grubber from Boland and that certainly is the end of the penny section. England once again will be lucky to get over 200 at 5/101.
They are falling like flies which begs the question where are all the flies this summer? Billings (1) gets one from Boland that sits up on him and he dollies a catch to Captain Pat and England are 6/107.  Make that 7/107 when Pope (5) moves to the off, leaves his leg stump exposed and sees it fall to the ground bowled Cummins. They just keep getting worse and as a good Irish sports journalist friend of mine said a couple of weeks ago "why didn't they just stay in their hotel for the series?" Right again CM!
Woakes (5) is next to go caught Carey bowled Boland (3/15) and then Wood (11) plays a disgraceful shot at Cummins and is clean bowled. "Disgraceful" in that he made no effort to hang around for the rest of the night.
I am fuming the England "tail" (where does it start?) have made no attempt to stay at the wicket. It was like as soon as Stokes and Root went the game was over. The tail could at least try to hang around aka Trevor Bailey, Geoffrey Boycott, Chris Tavare et al. The whole team should be ashamed of themselves and they certainly have been the most disappointing team to come to our shores since Captain Cook.
Final scores:   Australia 305 & 155 Carey 49, Smith 27, Green 23 Wood 6/37, Broad 3/51, Woakes 1/40 defeated England 115 & 125 Crawley 36, Burns 26 Boland 3/18, Green 3/21, Cummins 3/42, Starc 1/30 by 146 runs.  Player of the Match Travis Head also Player of the Series.
To read more from 'Citrus' Bob Utber click HERE.
To return to our Footy Almanac home page click HERE.
Our writers are independent contributors. The opinions expressed in their articles are their own. They are not the views, nor do they reflect the views, of Malarkey Publications.
Do you enjoy the Almanac concept?
And want to ensure it continues in its current form, and better? To help things keep ticking over please consider making your own contribution.
Become an Almanac (annual) member – CLICK HERE.
One-off financial contribution – CLICK HERE.
Regular financial contribution (monthly EFT) – CLICK HERE.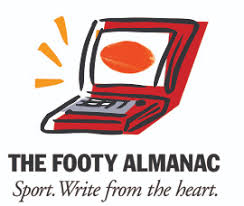 At 80 years of age Citrus Bob is doing what he wanted to do as a 14 year-old living on the farm at Lang Lang. Talking, writing, watching sport. Now into his third book on sports history he lives in Mildura with his very considerate wife (Jenny ) and a groodle named "Chloe On Flinders". How good is that.