The Ashes 2021/22 – The Second Test, Adelaide Day 3: Australia crash through, England on the ropes
A case of déjà vu. England fight back through Root and Malan only for the side to fall over again.  Australia is in a commanding position at stumps.
Australia goes into Day 3 in the box seat. England are still 456 runs behind with 8 wickets in hand.  The home side dominated Day 2 with superb batting and a fiery opening bowling spell.
Another glorious day for cricket and a big crowd expected to see Australia seeking to bury the English.
Lie England's approach this session. They are not afraid to attack the balls that can be hit instead of wholesale defence. A couple of short balls from Starc Malan put away for four sing the old adage that 'attack is the best form of defence'. Also, their running between wickets is excellent and they are grabbing every single possible.
A good start and in the first hour and a bit Malan and Root add 67 to the score. A couple of snicks along the way but not too much to worry about.  A very fine 50 to Dawin Malan with strokes all around the wicket.
The wicket is doing very little today and obviously has dried out under the hot sun of the last two days. The batters look unconcerned and Lyon is getting little turn. The hundred partnership is fine reward for excellent batting.
Honest Joe's fifty is a fifty that a captain makes contained, no hurry and some shots that only Root can play. He certainly has had wonderful support from Malan this afternoon.
A fine session from the two batters with Malan on 68 and skipper Root on 58.  England 2/140 and they have added 123 in an attractive session of batting.
Cameron Green is becoming the bogey man for Joe Root and after a fine over to him gets him to nibble for SPD to take.  Root a patient 62 and he is wild to get out.  England 3/150.
I can't help but feel sorry for Joe Root even if I am an Australian.  He battles so hard for his team but time and time again he is let down by the inadequacies of his team mates except Dawin Malan of course.
Amazing what a wicket does! The wicket all of a sudden becomes a minefield with both Lyon and Green causing concern. A huge man, Green is pounding the ball down from a great height and making the batter jump. Batter jump? Sounds like an interesting fish recipe.
What will the English talisman do? Stokes comes to the wicket and Lord Nelson's famous saying to his troops come to mind "England expects every Stokes to do his duty" such is the standing of the man.
Green is learning fast and he gives Stokes some of his own medicine with a couple of bouncers.
Malan's fine innings comes to an end on 80 when he plays a flashy cut from Starc (replacing Green) that Smith pockets. England 4/157 and they have lost 2/17 since tea and more importantly the two inform batters. England 4/157
SPD Smith would be one of the finest slippers ever to play at the top level. His three catches so far have all been top of the class. The stand-in captain is having a great match all round. 95 runs, 3 catches and some fine captaincy with his bowling changes.
Pope, desperate to get of the mark, is nearly run out in his anxiety as Australia starts exerting real pressure to keep the new batters from taking control.
Australia appeal with a DRS on Pope for LBW but lose. I often wonder how the umpires must feel when their decision is found to be correct?  Very satisfied indeed I would surmise!
When Pope (5) pushes to Labuschagne from Lyon England have lost 3/24 since the break. A nothing shot from Pope and he continues England's woes in the middle order.
These two fine strikers of the ball, Stokes and Buttler will need to take control to get their team back in the game.
It doesn't happen as Buttler (0) slashes at Starc for Warner to catch. The Buttler has had a terrible match and could find himself missing out for Jonny Bairstowe in Melbourne. England 6/169.
Aussie bowlers still keeping a firm hand on Ben Stokes who has only scored 9 from 60 balls. Fine bowling and in particular Mitchell Starc who is much maligned for his waywardness he has taken 3/33.
Woakes has probably played the four best shots of day with fluent shots driving the ball through the off-side field. He has a Test match century to his name so he is no slouch with the bat. Unfortunately, in this Test Match his bowling has left a lot to be desired.
A fine session for Australia who took 4/57 to leave England teetering at 6/197 Stokes 12 n.o. Woakes 22 n.o.
It gets even better when Woakes (24) plays back to Lyon, gets an edge and is bowled and the score is 7/202. Robinson (0) doesn't last much longer 8/204.  Lyon 3/47
Stokes will have to take the long handle and particularly to Green but his timing is astray still. With Broad at the wicket Stokes is refusing to take singles and to think it is not that long ago that Broad was the star allrounder. However, he does hit Lyon out of the ground. In the over he then smites him for four.
Green finally gets Stokes for 34 when he bowls him going for a hefty swing. The 2 ancient mariners are at the wicket now.  It must be nearly their bed time?
Quite humorous out there at the moment with neither batter wanting to face Starc or Richardson and I don't blame them! The humour continues as Broad hooks Richo and Starc takes the catch but in doing so falls over the boundary. Six to Broad
Since the first break it has been a dismal display by England as they lost  8 wickets for 96 runs. All out 236 and Australia lead by 237 with an hour and 2 days play remaining. Good team bowling by the Australians Starc 4/37, Lyon 3/58, Green 2/24 and Neser 1/33
Testing time now for Australian opener Marcus Harris as he needs a score to retain his spot for Melbourne. He looks comfortable in the opening overs and a drive through square leg for four is a fine shot. Warner at the other end is playing like he did in the first dig, watching everything and only playing what he thinks will equate to a score.
A huge mix-up sees Warner (14) run out by a bad mistake by his partner 1/41. Michael Neser is given the task of night watchman in his first Test.
At stumps Australia 1/45 a lead of 282 runs and in an unbeatable position.
More from Citrus Bob Utber can be read Here,
To return to our Footy Almanac home page click HERE.
Our writers are independent contributors. The opinions expressed in their articles are their own. They are not the views, nor do they reflect the views, of Malarkey Publications.
Do you enjoy the Almanac concept?
And want to ensure it continues in its current form, and better? To help things keep ticking over please consider making your own contribution.
Become an Almanac (annual) member – CLICK HERE.
One-off financial contribution – CLICK HERE.
Regular financial contribution (monthly EFT) – CLICK HERE.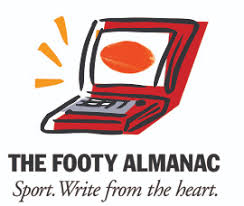 At 80 years of age Citrus Bob is doing what he wanted to do as a 14 year-old living on the farm at Lang Lang. Talking, writing, watching sport. Now into his third book on sports history he lives in Mildura with his very considerate wife (Jenny ) and a groodle named "Chloe On Flinders". How good is that.