The Ashes 2021/22 – Fourth Test, Sydney Day 4: Khawaja's majestic second century
THE PINK TEST DAY 4
Day 4 of The Pink Test belonged to Usman Khawaja with his majestic second century of the match. Along with great support from Cameron Green they were able to put Australia in a winning position by the end of the day.
The final day tomorrow could see an absorbing day of cricket although England have 2 batters in Stokes and Bairstow, their heroes of the first innings still carrying injuries.
Moving day for Australia?  If they want to win the Test they will have to dismiss England quickly and then get on with the game. Now we will really see what sort of a captain Pat Cummins is or will he fall for the pattern of safety first.
Leach (10) goes early when he tries to sweep Lyon only to get a top edge and Cummins takes an easy catch. England 8/266.
Bairstow continues to hurry the runs but gets a good one from Boland that feathers through to Carey and his fine innings of 113 comes to an end and England now 9/289.
Broad (15), who people forget has a Test century behind him, smites Boland and Lyon but gets out when Boland moves the ball away for Carey to take another catch.  England all out for 294 and Australia have a handy lead of 122 to build on.  Scott Boland with 4/36 was the best of the bowlers ( he now has 10/43 in his last 2 outings), Cummins 2/69, Lyon 2/88 and wickets to Starc and Green.
Will Australia go for broke?  Harris gets of to a good start with a 4 from the first ball of the innings but after that the bowlers peg them down.
Wood attacks Warner (3) and finally gets him to tickle through to Ollie Pope (substitute keeper) and that will not help Australia's cause with his ability to score quickly.  One can only but wonder what England would have been like with both Wood and Jofra Archer in the team
Australia is not taking any chances as the batters push the score along and England are not attacking. Harris (27), who has batted well, goes to drive Leach gets a fine nick and Pope take his second catch behind the wickets. Oz now 2/52
Smith comes out and goes on the attack  and along with Labuschagne they go to lunch at 2/66. The outcome of the game will now be dependent on just how Australia fare in the second session.
Labuschagne (29) does not last long after lunch when Wood produces one that just moves enough and with the batter committed to the stroke he only gets an edge for The Pope to take another catch. 3/68 and The Pope has all 3 and it is only Saturday.
Smith hits a beautiful 6 from a Wood bouncer and is keen to up the run rate.  Khawaja joins him but  Smith (23) gets a one that keeps low from Leach and he is bowled. At 4/86 England have done well to keep the run rate down and wickets.
Green in need of runs to allay his supporters comes to the wicket.  After a slow start he and Khawaja settle in to a wonderful partnership that goes on and on.
They go on and on against a tired English attack that was sans Ben Stokes and play some wonderful shots all around the wicket.
Mark Wood impressed me today. He has been injury prone in his career but today, against all odds he kept pounding them down. Just as impressive were 2 acts that I admired. Taking pics with young fans by taking off his glasses and shaking hands with Usman Khawaja upon the latter reaching his second century of the game. Good stuff.
Khawaja reaches his second century of the match to raucous applause from his home crowd of Sydney.  Only the 6th Australian player to do so in Ashes test matches.  It truly was a remarkable performance from the resurrected player.
From the first ball of this innings he looked calm and in charge and as  Chappelli said during the day ' he looked the most composed of all the batters in the Test match".
He scored his runs twice as quickly as he did in the first innings and hit 10 fours and 2 sixes from 138 balls.  He was well supported by the tyro Cameron Green who played a fine attacking innings of 74 before he got out going for the big hit.
Green's dismissal caught Root bowled Leach saw Carey come to the wicket, slash at Leach given out caught behind by The Poe and Cummins declared with the score 6/265.
Why did he (Cummins) wait for Carey to bat before making his decision?  Surely it wasn't to deny Leach of a possible hat-trick?
For the second time Uzzie on his dream return received  a standing ovation from the rapturous crowd
The England need 387 to win.
A testing time for the 2 openers and they go to stumps with the score at 0/30 their highest opening partnership of the series.
The question on everybody's lips at the moment is who will play for Australia in the final test in Hobart.  Khawaja or Head?
Day 4 of The Pink Test: Australia 8/398 and 6/265  Khawaja 101 n.o. Green 74  Leach 4/84, Wood 2/65  v  England 294 Bairstow 113  Boland 4/36, Cummins 2/69, Lyon 2/88 and wickets to Starc and Green and 0/30  Crawley 22 n.o.  Hameed 8 n.o.
A wonderful day for the Jane McGrath Foundation with over $5.8 m dollars raised for the sale of virtual seats.  Well done people!
To read more from 'Citrus' Bob Utber click here.
To return to our Footy Almanac home page click HERE.
Our writers are independent contributors. The opinions expressed in their articles are their own. They are not the views, nor do they reflect the views, of Malarkey Publications.
Do you enjoy the Almanac concept?
And want to ensure it continues in its current form, and better? To help things keep ticking over please consider making your own contribution.
Become an Almanac (annual) member – CLICK HERE.
One-off financial contribution – CLICK HERE.
Regular financial contribution (monthly EFT) – CLICK HERE.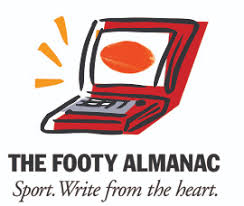 At 80 years of age Citrus Bob is doing what he wanted to do as a 14 year-old living on the farm at Lang Lang. Talking, writing, watching sport. Now into his third book on sports history he lives in Mildura with his very considerate wife (Jenny ) and a groodle named "Chloe On Flinders". How good is that.