The Ashes 2021/22 – Fourth Test, Sydney Day 2: Khawaja leads the way
THE PINK TEST DAY 2
Should be an interesting day at the SCG with the match evenly poised. England will be belligerent like they were yesterday and Australia led by Smith and Khawaja will want to consolidate the innings.
Unfortunately the rain has caused an on-again-off-again morning as the batters do consolidate and their 50 partnership comes up after the second break for rain.
Lots of complaints coming through on all the media outlets and social media about the 'on-offs'  particularly when the players stay out on the ground.  I think this what annoys devotees of the game more than anything else.
It had to happen!  We commented yesterday about the ground staff racing on to the ground and the fierce competition between them.  Seems the crowd got a great deal out of their competition and so they were on TV talking about their athleticism.
Oh dear!
Khawaja (28) should have been caught by either Buttler or Root when he pushes at Jack Leach only to see the much maligned bowler denied a wicket. A bad miss and no luck for The England when Stokes looks liked he has pulled a muscle trying to get that extra bounce.  Australia 3/190.
The fielding is getting sloppy now as the number 1 culprit misses a simple push to mid-on the finishes in a run. Why does he have his fingers bandaged? Maybe he does not like fielding.
Ah!  I see the original Richies in the crowd and they do look real.  Thank goodness for that as I had said during the Test in Adelaide that they looked a pretty motley lot!
Joe Root is looking decidedly wan.  He needs a rest from cricket completely in my book.  He has taken all the heat of the summer and dropping a catch is the icing on the cake.  He is normally and excellent slipper.
Looking around the field there does not seem to be too much joie de vivre  amongst The England.
Lunch is just what they need and Australia has moved to 3/209 with SPD 51 and Uzzie 39. Even at this early stage it is hard to see a result in the match unless Australia can go on and mount a huge score hoping that the wickets starts taking spin for Lyon to do his work.
The new ball is taken straight after lunch. Let's see how the bowler's fare.
A few early runs and then Broad starts to trouble Smith.  Noticed Smith this season is often out after a troublesome over.   In the past he would have just got on with business. Today he pushes at Broad and on 67 he is taken by Buttler.  Good break through from England who need a couple of quick wickets with the new ball. Australia 4/232.
Khawaja's 50 comes up in his return to test cricket.  Should have been out at 29 but other than that he has sheet anchored to team.
Seeing Cameron Green come to the wicket reminds me of NZ's Kyle Jamieson, they are huge men and what about Bangladesh!  What a win against NZ and CA still has not played against them in a Test Match anywhere!! Another red mark against the hierarchy of Australian cricket.
Green (5) doesn't last long when Crawley takes a fine catch at 3rd slip of Broad and England have their tails up.  Fine bowling by Broad after lunch as he continued to attack the batters with the new ball.  Does make you wonder AGAIN why he was left out of 2 Tests.
As for Cameron Green he still needs to make runs to convince me he is a Test all-rounder. A player of the ilk of Doug Walters, Ken Mackay make runs and take handy wickets in the same game.  It is just not happening yet.
Khawaja is batting supremely confident now and he and Carey (13) put on another handy partnership before Carey hits out at Root for Toby Bairstow to take a fine running catch.  Australia 6/285.
Usman Khawaja's return to Test cricket has been superb and his century including 11 fours came from 202 balls. He has anchored the middle order and is still there at tea. It is his 9th Test century and his non-selection in recent times has again been questioned.
He made it known over winter that he was extremely disappointed and despite a run scoring feast at the start of this season Travis Head was preferred before him.  It took Covid to down Head before he could get his chance again.
At tea the home side have reached 321 for 6  having added 112 for 3 wickets. A winning session for Australia who powered along in the last hour to open up a chance for a win.
Cummins gets a work over from Broad after tea and gets a brute of a ball that he jumps to defend only to get a snick for Buttler to take. Cummins out for 24 and Oz 7/331 and Stuart Broad battling valiantly now has 4/68. Good performance by the grumpy bean-pole,
No letter up for The England as the world's leading all rounder Mitchell Starc comes to the wicket batting at number 9. Yes, that's right Starc is ranked at number 1 in the most recent world rankings.  He has such a good eye that he can attack from the very first ball he strikes.
Another partnership, this time 67 runs until a tired Khawaja (137) played a half-hearted drive to Broad and plays on. A wonderful innings from this likeable cricketer and his team looking for runs at 8/398 Broad 5/88.
A few quick runs from Lyon including a 6 and Australia declare at 8/416  Starc 34 n.o. Lyon 16 n.o.  Broad finished 5/101 , Anderson , Wood and Root 1 apiece.
What will England do?
Well they have had an early fright when Crawley is caught by Warner before he scored only to find that Starc had bowled a no-ball.
They see out the next 3 overs and that is stumps.
End of day 2 of The Pink Test  Australia 8 dec 416  Khawaja 137, Smith 67, Starc 34 n.o., Cummins 24.  Broad 5/101. Anderson 1/54. Wood 1/76. Root 1/36.   England 0/13 Crawley 2 n.o. Hameed 2 n.o.
This picture is a ripper according to Citrus Bob.
The big lad is Kyle Jamieson seen here chatting with Bangladesh batter Mominul Haque in the recent Test match.
To read more from 'Citrus' Bob Utber click here.
To return to our Footy Almanac home page click HERE.
Our writers are independent contributors. The opinions expressed in their articles are their own. They are not the views, nor do they reflect the views, of Malarkey Publications.
Do you enjoy the Almanac concept?
And want to ensure it continues in its current form, and better? To help things keep ticking over please consider making your own contribution.
Become an Almanac (annual) member – CLICK HERE.
One-off financial contribution – CLICK HERE.
Regular financial contribution (monthly EFT) – CLICK HERE.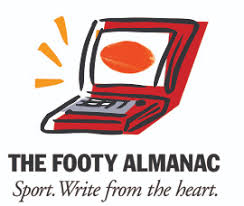 At 80 years of age Citrus Bob is doing what he wanted to do as a 14 year-old living on the farm at Lang Lang. Talking, writing, watching sport. Now into his third book on sports history he lives in Mildura with his very considerate wife (Jenny ) and a groodle named "Chloe On Flinders". How good is that.