The Ashes 2021/22 – Fourth Test, Sydney Day 1: Even battle in the rain
Hot and humid at the historic Sydney Cricket Ground with its two historic grandstands dominating the skyline.
Cummins wins the toss and bats. A good toss to win but the batters will have to be on their merits against the wily terrible two Anderson and Broad.
Hard to believe that England have only made one change after the debacle of Melbourne, Broad for Robinson.  What about the batters ? Take out Joe and they were shocking. Cummins when he heard the team might have thought about sending them in but tradition says you bat first on this ground. How far out 'can' England be at the moment?
Still shaking my head about the English batters!
The predicted showers arrive after only 20 minutes play. Warner and Harris both looking comfortable against the enfants terrible.
Know doubt about Stuart Broad he lets his feelings known.  Like everyone else he now questions why he was left out of team on the grounds that favoured his 'wobbly bowling' and that 'he has wasted the tour'.
I have a feeling that the 'enfants terrible' have been a law unto themselves for many a Test match (say 150) and Joe Root finds them hard to manage let alone the one selector coach Chris Silverwood.
Despite the stop start the batters seem very comfortable with an occasional good ball beating them.  Warner, in particular has hit a couple of lovely fours from both bowlers.
Pretty poor effort by Hameed as he ducks a hook shot from Harris.  Surely he could have made some attempt at a catch even if he is only 15 metres from the bat. Not the greatest fielder.
More rain looks like this could be the menu for the day.
Wood and Stokes replace the openers.  Stokes has obviously on this tour said I am going to be the intimidator and he bounces both of the openers.
As is their guise they let most go through to the keeper and look very comfortable.  Stokes bowls a brute of an over to Warner but it Broad who gets Warner (30) poking at one for Crawley to take (only just) at second slip.  Australia 1/51 as rain comes on again.
Must comment on one of the groundsmen (whoops 'person') who I might put into the Stawell Gift this year. Once the rain comes he is out on the pitch before his work mates can say 'how's your father'. Very slippery indeed.
Just saw Glenn McGrath on the TV.  Poor bloke looks unwell after being diagnosed with COVID. Sitting at home he would be anxious to get back to the SCG just to promote the Jane McGrath Foundation and The Pink Test.
The rain seems to be getting heavier all around the city. Just rang my sister-in-law who is in Kangaroo Point and she says it sems to be getting worse as the day goes along.
Tuning in on the radio and TV during the interruption in play all the talk is about 'how can English Test Cricket be fixed?'.
To me it is a very simple answer.  More red ball cricket, less money $$$ cricket, take control of your players and tell them where  and when they can and can't play.  Simple as that and of course less boffins sitting in front of computers dictating what happens.
Marnus and Marcus are batting soundly after the long interruption and there certainly looks to be no venom in the pitch until Jimmy comes back into the attack. Anderson gets one to move slightly across Harris (38) and Root takes the catch.  Australia 2/111.
Anderson, in his 5th Test match at the SCG continues on with his marvellous career and breaks what was a threatening partnership. I wonder how many times he has done that through his illustrious career?
England are back in the game!  Labuschagne (28) after playing a beautiful drive from Wood for four feathers the next ball through to Buttler who gleefully accepts it.  Oz 3/117.
Two 'new' old batters in Smith and Khawaja are at the crease and fair to say the English bowlers are steaming in harder. The skies are clear but there are heavy clouds not far away and it isn't long before play is interrupted again.  This could be it for the day as the lights have been on for a while and we are already in to extended hours.
So at stumps through a rain interrupted day Australia 3/126 with honours about even in my book. Smith 6 not out and Khawaja 4 not out.
Stumps Day 1:  Australia 3/126  Harris 38, Warner 30, Labuschagne 28  Anderson 1/24, Wood 1/31, Broad 1/34
To read more from 'Citrus' Bob Utber click here.
To return to our Footy Almanac home page click HERE.
Our writers are independent contributors. The opinions expressed in their articles are their own. They are not the views, nor do they reflect the views, of Malarkey Publications.
Do you enjoy the Almanac concept?
And want to ensure it continues in its current form, and better? To help things keep ticking over please consider making your own contribution.
Become an Almanac (annual) member – CLICK HERE.
One-off financial contribution – CLICK HERE.
Regular financial contribution (monthly EFT) – CLICK HERE.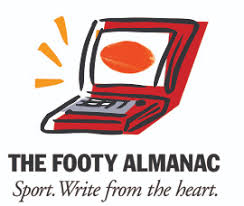 At 80 years of age Citrus Bob is doing what he wanted to do as a 14 year-old living on the farm at Lang Lang. Talking, writing, watching sport. Now into his third book on sports history he lives in Mildura with his very considerate wife (Jenny ) and a groodle named "Chloe On Flinders". How good is that.