The Ashes 2021/22 – Fifth Test, Hobart Day 2: A day for wickets
FIFTH TEST IN HOBART DAY 2
AUSTRALIA IN CONTROL AS WICKETS CRASH THROUGHOUT THE DAY
Australia went to stumps in a very sound position at 6/241 and are expected to consolidate today. A score of 350 is probably in their minds.  The two not out batters have something to prove as well. Carey to get amongst the runs and Starc to consolidate on his new found notoriety as the number 1 all-rounder in world cricket.
England on the other hand will want to get rid of these two batters in particular because they both have the ability to hurry the score along at any moment.
A wonderful day as distinct from yesterday when scuds of rain dampened the playing field before the toss and later in the day.   a top temperature of around 27 degrees you could not get a better day for the challenge of all challenges. The hill is fast filling and let's hope they have slip, slop, slapped before leaving home.
Well, it has been all England so far with the 'sucker ball' getting rid of both Starc (3) and Cummins (2). Both caught hooking off the bowling of Wood. Carey got to 24 before being bowled by Woakes.  Lyon has been the highlight of the morning though with 2 massive sixers of successive balls from Wood.  Wood has been the intimidator today, shades of Larwood and Voce and his 3 wickets have all come from hook shots and so have Lyon's sixes!
Australia have been hurrying the score along despite losing the wickets. There is an eagerness in their game and I am sure captain Cummins has been thinking of Sydney when he asked for quick runs today.
Wood changes end and still has men on the boundary for Lyon who won't be intimidated. So, he cuts Wood for four!
Lyon (31) swings once too often and is bowled by Broad and Australia are all out for 303.  Scott Boland remained 10 not out.  62 runs for the loss of 4 wickets in 80 minutes was probably satisfactory from Captain Pat's point-of-view. Broad, easily the best bowler 3/59, Wood 3/115, Woakes 2/64, Robinson 2/24
Rather disappointed in the crowd. A glorious day, Australia bowling and still hundreds of empty seats.  If they can't fill them for an Ashes Test what hope have, they got for AFL games?
The day of reckoning for Rory Burns. Another failure here could mean the end of his Test career. What a disaster for Rory!  Run out for 0 from a direct hit from Labuschagne. Not quite sure whose fault it was but Crawley did hesitate on his call.  England 1/3.ing a four
Beautiful on-drive by Malan for four will give him confidence as Starc over-pitches. Cummins has 4 slips and a gully for Malan and he is already beating the bat constantly, a superb second over from captain Pat.
When Starc overpitches, it is easy meat for the batters and Crawley puts him away.  The big batter loves hitting a four as we witnessed in Sydney. Does not get any more chances as on 18 he gets lost in his shot making from a Cummins ball and Head juggles a neat catch at short square and England are 2/29.  Seems like we have seen this before this series.
England 2/34 at "lunch or long break" and Australia have won the session with those 2 wickets.
Play meanders along in the second session with The Englanders more intent on survival than scoring runs.
Lunch on the hill with the eminent P.J. Flynn, A.J. Fithall et al led to the building of a new stadium somewhere to house the AFL team. The conclusions where (a) the land must be flat e.g., near airport (b) the ground must have a retractable roof. So, there it is Taswegians.
Malan (25) goes to flick Cummins down the leg side, gets a touch and Carey does the rest 3/78 England.
Joe Root is now moving into his shots with great confidence and using his footwork to great advantage. He and England both need a big score. It doesn't happen as a snorter from Cummins hits him in line.  Out LBW a for 34 but a replay shows the ball would have gone over the stumps if England had have gone upstairs.
It is all happening (thanks Bill!) as Stokes (4) goes to square drive Starc and Lyon takes a marvellous catch diving to his left. England in big trouble now at 5/85.  Must acknowledge the fielding of Lyon. He seldom makes a mistake when a catch comes his way and many of them are rip-snorters.
Is this the future of English cricket Billings and Pope in together? Bo.th are playing some fluid shots but a long occupation is needed by them. No sooner said than Pope (14) is snared by one from Boland that Carey takes.  Pope is livid with himself for playing such a shot and next ball Woakes should have been caught by Warner at first slip. A very easy catch and bad luck to Scott Boland. England 6/110
England continue to weather the storm and at tea they are 6/124.
Billings continues to look impressive but like the Australians before him goes for the "sucker ball" from Green. A bouncer he hooks it straight into the arms of Boland on the fence. Out for 29 and the Lion is 7/152.
Woakes and Wood start putting together a good partnership until Woakes (36) is given not out but DRS shows he nicked one to Carey from and he leaves after a handy knock. England 8/182. In the same over Broad (0) plays on and they are now 9/182.
Wood (16) tries to hit out and gets out and England have lost there last 3 wickets for 6 runs after a fight by the middle order to restore the shattered team.  England all-out 188
Captain Cummins stood out amongst the bowlers and finished with 4/45, Starc 3/53, Boland 1/33 and Green 1/45.  Australia led by 115 with still plenty of play tonight.
A sensational start in Australia's second dig when Warner (0) fishes at Broad and Pope takes a fine catch at backward point and Oz are 1/0 and it is a pair for David Warner. Broad is getting some movement in the night air.  Even more sensational when Labuschagne (5) flicks Woakes finely and Billings dives to take a fine catch (his first catch in Test cricket) and Australia are 2/5.
That's 16 wickets for the day so far and there are still 90 minutes play at least.
The bowlers are moving the ball all over the place and both Smith and Khawaja are playing and missing frequently. Oh, to be bowling in England they are thinking. They are certainly giving the Australian crowd an idea of what happens in England in conditions like this.
Khawaja (11) finely goes when he gets one that lifts from Wood touches his glove and Billings takes an easy catch.  Australia is now 3/33 as Scott Boland comes in as the night watchman. That's 17 wickets for the day.
Australia survives the day and at stumps are 3/37 but not before umpire Tucker told the Australian physiotherapist to leave the field I the field during the last over as Boland and Smith try to hold up play. Not before time either.
Stumps on Day 2 in Hobart; Australia 305 Lyon 31, Carey 24 Brad 3/59, Wood 3/115, Robinson 2/24, Woakes 2/64 and 3/37 Smith 17 n.o. Broad 1/9, Wood 1/9, Woakes 1/13 v England 188 Woakes 36, Root 34 Billings 29 Cummins 4/45  Starc 3/53, Boland 1/33, Green 1/45
To read more from 'Citrus' Bob Utber click here.
To return to our Footy Almanac home page click HERE.
Our writers are independent contributors. The opinions expressed in their articles are their own. They are not the views, nor do they reflect the views, of Malarkey Publications.
Do you enjoy the Almanac concept?
And want to ensure it continues in its current form, and better? To help things keep ticking over please consider making your own contribution.
Become an Almanac (annual) member – CLICK HERE.
One-off financial contribution – CLICK HERE.
Regular financial contribution (monthly EFT) – CLICK HERE.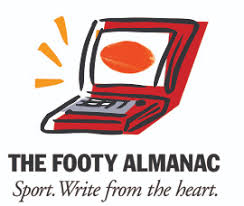 At 80 years of age Citrus Bob is doing what he wanted to do as a 14 year-old living on the farm at Lang Lang. Talking, writing, watching sport. Now into his third book on sports history he lives in Mildura with his very considerate wife (Jenny ) and a groodle named "Chloe On Flinders". How good is that.