The Ashes 2021/22 – Fifth Test, Hobart Day 1: The big test before the big test at Blundstone Arena
HISTORIC HOBART DAY 1 THE BIG TEST BEFORE THE BIG TEST
ENGLAND ON TOP AND THEN AUSTRALIA TAKE CONTROL
And I thought the Hobart Test started at Blundstone Arena on Friday.
For me it commenced last week on my search for a RAT PACK.  I do have plenty of Frank Sinatra records at home but trying to find a RAT PACK was something different.
I had to have this Test done before and come up negative I could enter Tasmania. There were no packs to be found anywhere in Mildura and my thoughts of being at this historic Ashes Test were fading away.  Fortunately, a friend came to the rescue when per chance she said to me as we were chatting "I have some at home, I will give you one".  After getting up of my knees, a big task in itself, I thanked her and went home and did the Test.
Bewdie, 'negative'.  Now as long as it passes security I will be at Bellerive for the big game. Still with some fear and trepidation I exited the plane to be guided with the rest of the passengers to the 'treatment centre' where we would be rubber stamped or not.
Still anxious I walked up to the assigned officer who looked at my Covid Tests who said "Have a  great stay".  What about my RAT test I thought? He did not even mention it and like hundreds of others who went through the same anxiety before hand I walked straight out with the RAT PACK in my hand.
Talk about this whole sorry business with COVID.  No wonder we get so anxious about things like this and then for nothing to happen.  The mind boggles.  Makes me wonder just how many people would have tested 'positive' on a Test and thrown the things away?
Things are buzzing here in Hobart; you cannot get a bed and my taxi driver said he has never been busier. This is an important day in the history of cricket in Tasmania.  Probably the most important ever just having an Ashes Test.
How many will attend?  Will it go five days?  Day/night Test in the shadows of Mount Wellington?  Question after question and the wider impact from my perspective how will serve as a forerunner to Tasmania having their own ALF team?
We will watch with intrigue as Day One unfolds with all its machinations.
Australia goes into the Test with one change Marcus Harris out for Travis Head.  It was the only possible change given the success of Khawaja in Sydney and Head had to come back.  Harris was probably a bit unlucky as he had blunted the English attack in Sydney but was not turning over the scoreboard.
England makes five changes with Jos Buttler (flying home) for Sam Billings (700th cap) Billings' 700th cap is an interesting statistic. Jimmy Anderson is player number 613 so 87 players have represented in the time Anderson has been taking the new ball.  Other players out are Bairstow and Anderson (both injured), Leach and Hameed. Coming in Pope, Burns, Robinson and Woakes.
An historic occasion in many ways for Hobart and Ashes cricket. Just a couple of snippets. 144 years since George Bailey's great-great grandfather, also George was selected for the tour of England, 90 years since Clayvel 'Jackie' Badcock made his debut for Australia against South Africa and Laurie Nash kept bowling bumpers at the Australian Captain Bill Woodfull.
Many will claim Nash is a Victorian (born in Fitzroy) but his exploits as a cricketer and a footballer commenced in Tasmania. He played 2 tests for Australia. Somehow, I don't think he was a favourite of either Woodfull or Bradman. Bailey was a last-minute selection for England but did not play a Test match. Jackie Badcock's career was interesting at the Test level.  He was prolific in Shield cricket for Tasmania, Victoria and SA but in Test matches he batted 12 times with one century 118 against England in Melbourne (1937) but on his other 11 occasions he did not pass double figures.
The weather is definitely blowing in from the Antarctic and the game has been delayed for a few minutes. This is likely to continue throughout the day according to the local experts.
What a toss to win!
England have won the toss and by the look of the pitch fielding was the only option. One of the greenest wickets I have seen in my time. A bit of lift in the pitch but the ball not moving much in the early stages.
Don't know who designed the scoreboard but it certainly is hard to decipher. Good start for England when Warner (0) fiddles outside his off from Robinson for Crawley to snap up in the slips. Should have had two wickets when Crawley dives in front of Root when Labuschagne snicks.  Bad miss.
Both Broad and Robinson have moved into their work superbly and continually confusing the batters.
Now that the weather is clearing up the crowd are continually coming in.
Khawaja (6) plays a lazy shot, or it looked lazy, to a ball from Broad and Root snags it. Australia 2/7
Robinson takes his second wicket when his movement upsets Smith (0) and Australia are reeling at 3/15. I think Ollie would love to take this wicket around Australia.
The English conditions are certainly helping their bowlers in a great display of lively line and length.
That dropped catch of Labuschagne might prove costly as he hits a couple of delightful boundaries and he is attacking the lose ones. Make that three as he drives Robinson through the covers.
Wood on for Broad. Marnus certainly looks in good form as he hits another four through mid-wicket and doesn't even move from his crease.
Good first min-session from The England and they have Australia 3/29.
Wood full, Head a beautiful off-drive for four.  The shot of the day. Head then square drives Woakes first ball for four as well. He is after them and why not.  After his success in Brisbane – attack is the best form of defence.
Lights are now on.
Australia making the most of loose balls and Labuschagne takes another four. Root has a word with his bowlers. They are starting to lose their control of the game.  Fine attacking cricket by the two batters and pretty ordinary bowling by Woakes in particular, although Wood has gone for 31 from3 overs.  10 fours in the Australian score at the moment.
Broad had to come back on. He has been let down badly by the 'two W's'. The last 5 overs have gone for 35 runs!
Woakes' short stuff is not helping his team one bit.
Labuschagne (44) goes arse over turkey as he moves across to do, I don't know what and is clean bowled by Broad. An extraordinary dismissal if ever there was one. After being dropped early Labuschagne had counter attacked belligerently for his team.  Australia 4/83.
A fine session for England having Australia 4/85 Head 31 n.o. Broad and Robinson 2/15 apiece.  Fine bowling by the opening pair for England.
Walked around the ground at the 'big-break' and it was clear to see that everybody was hungry and also wanting a pee. Great to see so many people at the game and in particular on a Friday. Although I would expect that many of them had put it on their holiday calendar when the news came through in December that Hobart had won the right for the Test in lieu of Perth Covid.
Surprised when Wood takes the ball first. He was terrible in his first spell but he has Head jumping with a couple of good balls. Green is coming along nicely. He pushes Robinson towards mid-off and the ball races to the boundary. Just watching him mature over this summer has been a delight
Wood is now putting a bit more work into his work and getting some lift and he has Green flashing.  Woakes is back on after only one over from Robinson find that hard to believe.
The 'two W's' are now running the attack and Head attacks Wood straight driving him with Stokes in pursuit.  Head is still endeavouring to hit Australia back into the game and another four comes from a lovely back cut. He is laying shots all around the wicket.
Green is a good foil for Head as he is pushing singles here and there to give the in-form South Australian the strike. Wood goes over again and it can't be a sign of a bad wicket as he is continually doing it.
I, along with many other aficionados of the game, have for years been complaining about the time-wasting that takes place in Test matches. It continues today/tonight and the players have got it down toa fine art where it does not look like time wasting but believe me it is. When are the authorities going to take a stand?
Head reaches his 50 with 6 fours and then thrashes the hapless Woakes for another four next ball. Don't know why Broad has not come into the attack as Root comes on with spin. He was easily the best bowler in the first session.
With the score on 138 he does come back into the attack and is immediately on target.
I certainly admire Head's shot making a square drive past point of Broad is delightful. He has now reached 67 68 and added 68 with Green (32) since the 'big-tea'. Australia gaining control and not mucking about in doing so. Wood crashes, Head slashes, four runs over slips.
Head and Green have turned the tide and the 100 partnership comes from 117 balls. Head is in sublime form and Green is not far behind him.
Head's masterclass comes to an end when the next ball after his century he softly loops to mid-on and Robinson catches. A wicket to Woakes.  Head's 101 came from 112 balls with 12 fours. For the second time in the series, he has turned a game in Australia's favour. He and Cameron Green put on 112 for the fifth wicket.
What I really like about the innings was that there was no carrying on after he got his ton. Call me old -fashioned but there is no need for some of the dramatics that take place nowadays. Lese not numbers 31 and 33 for Australia.
The man most under the pump in the Ozzie camp has to be keeper Alex Carey and he needs runs in this innings to consolidate that part of his game.  Then he must follow up with a blemish free keeping exhibition. That is the problem with being an all-rounder both facets of the game need to succeed to please the bloodhounds at the door.
That's it for the second session Australia 5/215 with Green 57 not out.  130 runs for the 2 hours play and Australia have completely taken charge of the game.
The people are voting with their feet with many leaving during the break at 8.15pm. I don't think day-nighters are for the cold climes of the Southern Ocean and the south pole.
A flawless innings by Green to this stage of the game I can't remember him playing a false shot as he dispatches Wood for 2 fours in the over to take his score to 66. A century is in the offering.
After the hiding they took in the second stanza the English bowling led by Broad is back on target except for Wood's discretion. Wood must feel pretty grieved. He now has no slips with six on the leg including three on the boundary and he the fastest bowler in the English line-up.
Well, it worked out as he peppers Green (74) with a series of bouncers and the youngster fall for the trap when he hooks Wood down Crawley's throat at deep square leg. Green is still learning the game. Australia 6/236.
The umpires are concerned about the weather as it starts to drizzle and they call for the covers. The people on the hill are good judges of weather here in Hobart and they are fast disappearing. If play does continue very few people will be here to witness it.
With still an hour and a half to play the umpires won't make a decision yet. Australia 6/241. They come out after 20 minutes take the covers of and then have them put down again. This becoming a very bad habit in cricket.
Close of play Day 1 in Hobart  Australia   6/241  Head 101, Green 74, Labuschagne 44 Robinson 2/24, Broad 2/48, Woakes 1/50, Wood 1/79
To read more from 'Citrus' Bob Utber click here.
To return to our Footy Almanac home page click HERE.
Our writers are independent contributors. The opinions expressed in their articles are their own. They are not the views, nor do they reflect the views, of Malarkey Publications.
Do you enjoy the Almanac concept?
And want to ensure it continues in its current form, and better? To help things keep ticking over please consider making your own contribution.
Become an Almanac (annual) member – CLICK HERE.
One-off financial contribution – CLICK HERE.
Regular financial contribution (monthly EFT) – CLICK HERE.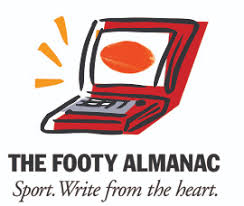 At 80 years of age Citrus Bob is doing what he wanted to do as a 14 year-old living on the farm at Lang Lang. Talking, writing, watching sport. Now into his third book on sports history he lives in Mildura with his very considerate wife (Jenny ) and a groodle named "Chloe On Flinders". How good is that.