Social Commentary: What do Dane Rampe, Danny Baker, Israel Folau, Chris Gayle, and Count Dankula have in common?
People recently punished for their remarks or jokes:
This week, Dane Rampe, $5000 fine for a critical, light quip to an umpire during a heated moment in a football game, despite his quick apology showing contrition.
Last week, Danny Baker, fired from the BBC for making an innocent joke about the birth of the royal baby.
Last month, Israel Folau, $4-million-dollar rugby contract potentially annulled for paraphrasing the Bible.
A few years ago, Chris Gayle, $10,000 club imposed fine for jokingly asking a reporter out during a game on live television, and calling her "Baby". Calls for his contract not to be renewed, which it wasn't, though his club could justifiably argue this was purely on on-field criteria.
A few years ago, Scottish comedian, Count Dankula, criminalised in Britain and fined over $1000 for making a video about teaching his dog to Nazi salute. He claimed to be ridiculing Nazis, not supporting them.
What do all of these incidents have in common? Fierce, knee jerk over-reactions from the authorities, where talking through the problems, and issuing correct apologies where appropriate, may actually help to promote greater mutual understanding and social cohesion. (Such dialogue could still be an option in the ongoing Folau case.)
I suppose that if there is no executioner waving a sword over your head, you might not be so willing to give an apology. But I think all of these fines or reactions were excessive. And ironically for the authorities, such over the top reactions tend to greatly propel into the public sphere the offending comments that they were wishing to suppress.
But as I've always said, it's a fine country we live in.
For more of Micheal's writing, CLICK HERE:
Do you really enjoy the Almanac concept?
And want to ensure it continues in its current form, and better? To help keep things ticking over please consider making your own contribution.
Become an Almanac (annual) member – CLICK HERE
One off financial contribution – CLICK HERE
Regular financial contribution (monthly EFT) – CLICK HERE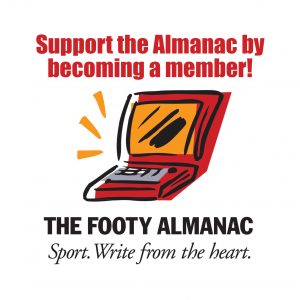 Michael was born in the Nelson Mandela Bay area, the same as Siya Kolisi, the successful World Cup winning Springbok captain, but was raised in Melbourne with a love for Australian Rules. He has worked as a linguist in Africa with Wycliffe Bible Translators Australia, where he wrote a booklet on the history of Cameroon's Indomitable Lions, which was translated into several Cameroonian languages.