Round 8 – Fremantle v Richmond: Some crazy time slot late on Mothers Day
Honestly, the AFL should just declare Mothers Day a footy-free day.
The crowds are rubbish. Just 14,000 at Hawthorn v GWS – are you serious? And most of those who do attend are racked with guilt about the family commitments they should be at.
Trying to take in the late game from Perth whilst preparing a MD dinner for The Better Half and the tribe of family that lobbed in was an elaborate exercise of careful planning and strict self-discipline. In our current family circumstances, MD is a hectic one for TBH and me, involving visits to our respective mothers comprising a round trip of 250-odd kilometres, and some hasty shopping in between for the evening ahead. Even with our footy-loving kids and nephew in the house, there's no way that Freo v Richmond on Fox Footy can take priority over giving  TBH some overdue and well-deserved relaxation with our family.
As I'm preparing veggies and distributing drinks, dips and nibbles, I register that the Tiges are off to a fly. I see none of the play but a quick glance at the TV gives me the information I need. Richmond 4.1. (25) Freo 0.0. (0). Wow! Old Richmond Supporter in me says "at least we won't be thrashed". New Richmond Supporter quietly asserts "this is potentially a match-winning break". ORS and NRS coalesce nicely within, enabling me to continue my role as calm, gracious host for whom family is all and the footy mere wallpaper.
It's a simple meal of salmon fillets, spuds, carrots and asparagus, a family favourite. Cooking is quick and easy enough that I can readily detect from the back room sound effects that the Dockers are working their way back. Their big forwards are starting to take control and, worse still, Toby Nankervis has limped off with a strained groin. ORS and NRS are jostling for attention as the scores tighten. "Ah well, the new kids are hanging in there." "They'll learn a lot from this loss." "Good experience for them". Then just as I'm re-calibrating my expectations, the Tigers pinch a couple of late goals and head in at half time with a handy little lead.
My schedule had us eating during the half-time break, but the pots are slow to boil and by the time I'm plating up (did we ever use this pretentious phrase before MasterChef?) the second half has started. I summon the kids to the dinner table, noting that Richmond is continuing to re-assert itself and the margin is back to four goals. I'm not sure how this is happening. In the brief moments I've actually watched the play it's been all Freo. (Perhaps there's a message in that?) Anyway, I hit the pause button with a firm resolve and the next hour and a half is devoted entirely to family.
The evening concludes with those of us who are anxious to see the rest of the game flicking through the second half, in deference to the occasion.  We're all quietly chuffed with the result but it's all rather subdued.  It's actually been a great win worth savouring.  It deserved better timing.
Why does it have to be like this? The AFL seems to have this mealy-mouthed attitude: we can't give other codes a free kick, so we have to have some footy on Mothers Day. But we concede that it's a graveyard timeslot so we do nothing to promote it. Richmond's win in Perth was a terrific performance from an inexperienced and injury-riddled team.  It may well be crucial to our season. Yet the game was so buried late in the MD whirl that I had Richmond fans asking me the following morning what the result was?
If it sounds like I'm grumpy about it, imagine if we'd lost!
FREMANTLE   3.2       5.3       8.11     12.14 (86)
RICHMOND    4.3       7.4       13.8     17.9 (111)
GOALS
Fremantle: Fyfe 3, Switkowski 2, Hogan 2, Lobb, Taberner, Matera, Mundy, Colyer
Richmond: Bolton 4, Castagna 2, Lynch 2, Lambert, Caddy, Broad, Balta, Baker, Stack, Ellis, McIntosh, Martin
BEST
Fremantle: Fyfe, Lobb, Walters, Mundy, Taberner, Ryan
Richmond: Ellis, Houli, Bolton, Caddy, Grimes, Castagna
Umpires: Margetts, Williamson, Wallace
Attendance: 42,641
My votes (from over a hot stove): 3 – Fyfe (F); 2 – Houli (R); 1 – Bolton (R)
For more from Sam, CLICK HERE:
Do you really enjoy the Almanac concept?
And want to ensure it continues in its current form, and better? To help keep things ticking over please consider making your own contribution.
Become an Almanac (annual) member – CLICK HERE
One off financial contribution – CLICK HERE
Regular financial contribution (monthly EFT) – CLICK HERE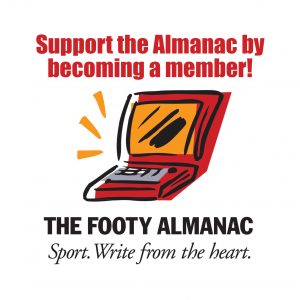 50 years a Richmond supporter. Enjoying a bounteous time after 37 years of drought. Should've been a farmer!