Round 7 – Geelong v Essendon: Cats and cup cakes
Sunday afternoon. I'm at Maddy's 21st birthday "high tea" party. Maddy and our daughter Kate have been friends for most of their lives. Ever since they met as babies at EPIC, an early intervention centre for people with Down Syndrome. They've both been on quite a journey since.
Maddy and her family are all dressed up as characters from the mad Hatter's tea party. Their back deck area is magnificently set out with a long table full of cakes and tea pots and a large throne type chair at either end. There are enough chairs to seat 60 people. An enormous amount of energy has gone into it. It looks superb. Fortunately, there is no requirement that others join in dress ups. I'm mad enough already.
This is an Essendon household. Red and black balloons line the front path to their doorway. Maddy, once a Collingwood supporter, has been seduced into the Bomber camp by her boyfriend Bradley. Love conquers all! "Go Bombers" she yells out. Others support her cheer. "Go Bombers". I'm severely outnumbered. Losing to the Bombers today would give me more indigestion that the impending feast.
I know the game is on the TV. The urge to leave the table and wander into the lounge room is almost uncontrollable. But I am reminded that it is "poor form" to leave a function to watch football. The TV has been left on to chirp away as a haphazard distraction rather than with intent. I'm grateful for the distracted minds of the house owners. So, the opportunity exists for me to catch a glimpse. I just need a plan. I feel like Clint Eastwood trying to escape from Alcatraz. The TV is murmuring away just on the other side of that wall. I can hear it but can't discern what's happening. There are crowd noises. Did I jut hear "Ablett!"?
I hatch a plan. I could make a look-a-like mannequin out of all the spare cup cakes and sit it on the chair. No one would know its not me. Once I get through the deck underneath the table (I could use a spoon the lever the nails out) it would be easy to crawl under the house and come up in the lounge room. There's undoubtedly a loose floor board there somewhere. Hopefully behind the couch. But I discard the plan as unworkable. Where could I possibly hide the discarded patty pans?
"What do you do?" the bloke opposite asks. I almost answer "I don't know". Such is the strain that I'm putting on my ear drums I could burst a woofer valve. Deciphering what the muffled TV is trying to tell me is like making sense of a long-distance phone call in the 1970s. His question commences a ten minute conversation. I catch sound bites of commentary. "Dangerfield" and "on one leg" are words I hear in the same sentence. Disaster? What's going on?
"Daniher just kicked Ratugolea in the head" a bloke broadcasts to the party. His Essendon scarf looks dishevelled, like he's been absently pulling at it. That's a good sign, right? He's frustrated isn't he? He must be. Either that or it's the scarf worn by a man completely at ease with the world. The nonchalant we're-10-goals-ahead scarf. He doesn't need good omens anymore. Scarf- smarf, the Bombers are alight!! I descend into a state of cake induced dysphoria.
"What's the score?" I meekly ask. But my request is drowned out in party banter. I look at Frances with as distressed a look as I can muster. No go there. She's onto me.
The bloke with an Essendon scarf on, obviously a care free single man, saunters back into the lounge room. He stands at the door, expressionless. He gives nothing away. Its excruciating. I interpret that to mean that the game is close.
My seat selection is poor. I should have aimed for a seat at the edge of the table. The one next to the sliding door to the inside. I could have done a bit of my own sliding – off the chair, through the glass bi-folds, across the dining area, and around into the lounge room, all the time muttering something about "where's the toilet?". But my seat is in the middle of the elongated table. There is no sliding out of here. The only exit would require about 20 "excuse mes" and a glare from Frances who would be completely aware of my impending rudeness.
We eat the tea and drink the cakes as a mad hatter would. There's that bloke again. Leaning against the door. He throws his head back and puts an open hand to his forehead. Is that bad for Essendon? Possibly. I drink more tea hoping to fill my bladder to bursting point. Then I MUST go to the toilet with a clear conscience. I eat another cup cake chock-a-block full of cream. Minor nausea kicks in.
The bloke un-leans. He catches the eye of his father and makes a signal with his index finger, dragging it across his throat in a similar action to Kevin Sheedy's throat cutting threat to Mitchell White in 2000. Who's cut whose throat? Have the Bombers chopped us to pieces? Are they putting us to the sword? How many goals down are we? How bad is Danger's injury?  Did they yell out Ablett's name as a Bronx cheer because he can't get a kick? What disaster has befallen us? I curse my Irish ancestors who have embedded a constant state of impending doom deep into my DNA. Before too long I conclude that we're getting thrashed, that Selwood has just signed a new contract with Collingwood, that Ablett has retired at quarter time, and that Tim Kelly has run out onto the ground in an Eagles jumper.
The Bomber walks past our table.
"What's going on?" I ask trying not to sound like a desperado.
"All over" he says. "Six goals down."
"Bombers six goals down?" I ask.
"Yes mate. You a Bomber?"
"No" I say. "I'm, well, I'm actually a Cats man."
"You'll be happy then" he says, with all the emotion of a dead rat.
"Damo!" Maddy yells at me (she loves to call me Damo), "the Cats are beating the Bombers! Its so unfair. It's my birthday!"
"Never mind Maddy" I say, with all the emotion of a dead rat. Her Dad, a Collingwood supporter, grins like all Collingwood supporters do when Essendon losses.
Cup cakes boil up inside me. This is a cake walk! To hell with it. To hell with good manners. I say my 20 "excuse mes", the glare on my back bounces off like the bullets off Batfink's wings, I power through the bi-fold doors, and storm into the loungeroom. Chris, another friend of Kate's and a Cats supporter, is lying on the couch. His smile says a thousand words. He looks up at me.
"Ablett's on fire" he says.
Do you really enjoy the Almanac concept?
And want to ensure it continues in its current form, and better? To help keep things ticking over please consider making your own contribution.
Become an Almanac (annual) member – CLICK HERE
One off financial contribution – CLICK HERE
Regular financial contribution (monthly EFT) – CLICK HERE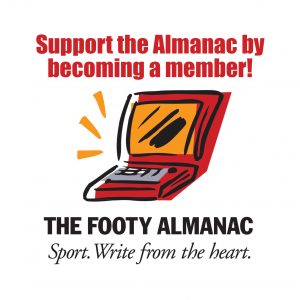 I'm passionate about breathing. And you should always chase your passions. If I read one more thing about what defines leadership I think I'll go crazy. Go Cats.