Round 7 – Collingwood v Gold Coast: Zero. Zilch. Nada. (Floreat Pica Society)
Being the designated scribe for the weekly match report for the Floreat Pica Society is a privilege which also brings great responsibility. If the report is of a match where the Pies have been defeated, it is even more important – it is probably the only match report the FP members will actually read, having carefully avoided any print or electronic media in the aftermath. So preparation is important. Note book – check. Pen – check. Spare pen in the event of a pen casualty – check. Knowledge of player names and numbers? What? Who are these people? Purchase the footy record? Nah. Too tight. Will have to look them up on the internet.
At half time I checked my notes. Zero. Zilch. Nada. I had not written a word. What had I just witnessed? I don't want to write about that. You, dear FPS member, do not want to read about it.
Pre-game we met outside Gate 2. Two sisters (Rosemary and Barbara) and a brother (Tim), two cousins (Jan and Damien Godfrey), and a plus one of Damien's (Deb), had all caught the train (replacement bus) from Ballarat, arriving in time for a pre-game beer. I had recommended the Robbie Flower Terrace on Level 4 as an ideal venue on a warm sunny Autumn Saturday afternoon. As we arrived up the escalator to Level 3 with the intention of taking the last flight up the stairs, we were stopped in our tracks by a very polite gentleman who informed us that Level 4 was closed for the day. Hmmm. Don't think they are expecting a very big crowd.
Option two was the Frank Grey Smith on Level 3. Good alternative. Except for my older brother Tim, who hadn't brought his debit card and was therefore unable to purchase a drink with his usually reliable stash of cash. So he went looking for the TAB. Closed. No, Tim doesn't have an on-line account. As I am pretty sure Tim won't read this, because that would involve using the internet, I can tell you that many decades ago our father did a favour for some bloke and in return the bloke offered to nominate one member of our family (read male – females not yet permitted) for the MCC. Such generosity – he wouldn't even spring for a second one. My brother Tim got the gig. Years later, I had to marry into a family who put my name down (at the same time as my wife – her brothers of course had been registered since birth). Tim has used his membership about twice in the last five years. Didn't even go to the 2018 grand final. When I was booking all the seats in the now regular Monday morning flurry, Tim's barcode got rejected. He had supplied me with an expired one. I had to buy him a guest pass. When he offered to pay me for the pass (cash!!!), I accepted. Of course. Buggered if I was going to let him off.
I can report the beers were very enjoyable. Unlike the rest of the day.
An aside. (Do you get the impression I am avoiding something here?). We call the Frank Grey Smith Bar 'Garrett's Bar'. Two summers ago we went to a day at the cricket. Our daughter Audrey was out from the US for the Christmas break, and her then Australian-based US boyfriend came along for the day. For some reason, an over-officious RSA monitor misconstrued his accent as being the result of excess alcohol and duly had him removed from the bar and the venue. Other staff could not understand what had happened but were not allowed to over-rule the decision. We weren't happy at the time, but it has gone into family folklore and we do get a laugh out of it. If you are reading this Garrett, thank you for your sacrifice.
We took our seats on Level 2. For the game I sat next to my 27 year-old son Bill. I like his in-play analysis. He is more tolerant and less critical than his grumpy father. Which for a game like this one was a necessity. But even Bill did not tolerate this Collingwood performance.
Transition football involves moving the ball from the defensive end to the offensive end with the view to scoring, preferably a goal. Transition football is something this Collingwood team is incapable of. Clearances from the defence are short, slow and ponderous. If the first kick is successful in connecting with a teammate, it is almost inevitable that there will be an error in the next or subsequent kick that results in either a turnover or a disputed possession. A poor first quarter was followed by what I reckon was the worst quarter of football I have ever witnessed from a Collingwood team. And that probably includes all the reserves football I used to watch, having travelled from Ballarat arriving early enough at Victoria Park to meet up with our older Melbourne-based cousins the Renns, snare our seats in front of the Jack Ryder stand, and then somehow gain entry into the change rooms as the seconds prepared to go on the field.
As previously mentioned, my match report notebook at half time was as bereft of words as the Pies players had been of quality football. The introduction of new and younger players is welcome, but their development can not come quickly enough to compensate for the deterioration in performance of some of the older players (sorry Sidey – I am looking at you) or even the deterioration in performance of some of the not-so-old players (looking at you Jordey and you Brayden). And then there are those times when you see Josh Thomas and you say (sometimes out loud) 'Oh. I forgot you were even playing.'
Lucky we have an All-Australian centre half back in the team. Oh? What? You want him to play forward? Isn't he just about the best intercept-marking backman in the competition? Oh well. Maybe he will kick some goals. Or perhaps one goal. Or maybe not.
Perhaps his presence in attack distracted the opposition defence a little, because Mihocek had a good game as Collingwood's effective forward, kicking four of Collingwood's grand total of seven goals for the entirety of the match. Gee, we have really taken advantage of these rules changes to lift our scoring capacity.
I did make some notes during the second half. Not many positives. Two early third quarter goals, but any optimism was quickly extinguished by the Gold Coast response. While we actually won the quarter, as we had the first quarter, there was nothing to excite the crowd (!!!) of 24,390 Collingwood masochists. As another aside, I would like to point out that if you saw vision of screaming angry Collingwood supporters at the ANZAC Day game, that one of the people (was the last one as shown in the vision on The Front Bar on Thursday night) is actually the President of my lawn bowls club! I would like to propose that there be a compulsory retirement age for membership of the official club cheer squad. Just as there should be a ban on anyone over the age of 25 wearing a playing guernsey to the game.
Reference to my notes reminds me that Noble kicked a good goal assisted by a goal-square shepherd by De Goey (he did do one good thing). My last record is of Hoskin-Elliott giving away a late-game free to get himself a stat. My cynicism is getting the better of me.
In consultation with my son Bill, I awarded the votes as follows:
3 – Noble
2 – Mihocek
1 – Daicos
Post-game the family re-convened at the Duke of Wellington hotel in Flinders street. And we were joined at the hotel by two of the previously-mentioned Renn cousins (they are my late mother's first cousins) Paula and Jenny, and their respective husbands Doug and Dennis. Doug's last name is Gott. Played a few games with the Pies. We had a good chat about the game and sport in general. He was interested to hear that two of my children (Herb and Ursula) were playing football at West Brunswick. Some of you will remember the issues Doug encountered when trying to play amateur football with Ivanhoe when he finished at Collingwood. He was eventually allowed to play and so played a couple of games against the West Brunswick magpies. Doug also said he had run into Peter McKenna on his way out of the ground. Peter's description of how the Pies were traveling included words not suitable for the mixed-readership of this report.
On my walk this morning I ran into a friend who is a North Melbourne supporter. He said that Collingwood have the bye this week. If we lose this one, I think there could be some serious ramifications.
To return to our Footy Almanac home page click HERE.
Our writers are independent contributors. The opinions expressed in their articles are their own. They are not the views, nor do they reflect the views, of Malarkey Publications.
Do you enjoy the Almanac concept?
And want to ensure it continues in its current form, and better? To help things keep ticking over please consider making your own contribution.
Become an Almanac (annual) member – CLICK HERE.
One-off financial contribution – CLICK HERE.
Regular financial contribution (monthly EFT) – CLICK HERE.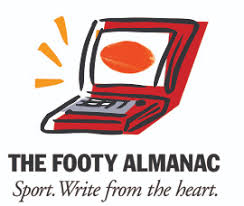 Probably the most rational, level-headed Collingwood supporter in existence. Not a lot of competition mind you.