Round 6 – Essendon v Collingwood: Knowing where the milk is (brashly)
It's been a confusing few days.
Wednesday, with footy on that night and no work the next day, felt like a Friday. Thursday felt like a Saturday in the morning (with its optimism and blank canvas) but like a Sunday by nightfall (with the heavy clouds that can bring) and today, while notionally a Friday, felt like a Monday as I got the train to work, but, now that I'm home… I feel like I've earned a red.
On top of all this, it seems Essendon may have a team that can do grind as well as glam, and Collingwood FC are exemplars of class and fan behavior.
Confusing indeed.
Thankfully, there have been two constants to keep me on track – my son's footy card collection and the Magpies' on-field talent.  Both are very high in numbers, both are scattered all over the place and both are very tough to contain.
For the first time in almost 15 years, I planned to watch the Anzac Day match from the couch. I've usually gone with family or in standing room. On reflection, the only thing that had stopped me from attending previously was when I was actually playing footy. The decision to eschew this match was made easy with my MCC Provisional Membership not entitling me to a ticket anyway and with my almost four year old son, Rory, currently besotted with footy, and my almost two year old daughter, Phoebe mimicking all he does, the lounge room promised its own atmosphere.
With an understanding that I'd be physically yet not entirely mentally 'present' from late arvo, I attended to the kids during the morning while my wife roamed the countryside getting in various adventures (OK maybe a coffee with her aunt but that's what it feels like when that front door closes). Given the perfect autumnal conditions, this was admittedly not a chore. I believe I was 'in the moment' for the majority of the time, though my nerves may have betrayed my calm exterior as I noticed my knees shaking during the pointy end of a particularly tight instalment of 'What's the time Mr Wolf?'
Later, during Phoebe's nap, Rory and I took part in what is currently a daily tradition (which I'm sure will be old hat in a fortnight) of picking up all the footy cards off his bedroom floor and arranging them into piles by club. This is probably neck and neck with pretending to be Bob the Builder in his favourite pastimes. I don't mind this as a calming activity (for us both) but I reckon he could go a bit harder with the initial pick up. I often feel like a roulette croupier at the Crown $2.50 table on Grand Final night. With both the 2018 and 2019 versions included, it feels like he's got a wider collection than I did across the late 80s and early 90s. Good thing you don't get chewing gum in a packet anymore as his room would reek of the pink powdery stuff that was synonymous with Scanlens.
With the clock nearing 3pm, it was time for the four of us to gather for the pre game ceremony. As one of Rory's favourite parts of footy is the banner run-through, the initial absence of them caused tensions to rise, but, as I'm sure it's intended to do, the joint tribute version had a calming effect. I wouldn't say we all sat respectfully for the next 10 minutes, but gee we went close. Even when the silence was broken it was more out of curiousness or enthusiasm.
"Daddy….why are they walking across the ground?"
"LITTLE TRUMPET!!"
"DRUM!"
"They are soldiers. This is the day we say thank you to soldiers. My two grandpas were soldiers." I think my voice cracks a bit.
"What are they holding?"
"That's a gun."
Silence……….
"Where's Walla?"
"WALLA!"
McDonald-Tipungwuti has been Rory's favourite since he saw him two years ago and said 'who's that lady?' Phoebe has recently followed suit. Her other favourite is Nic Nat, who she discovered on a footy card…although she did think he was Walla initially. Rory also loves Dyson Heppell and Benny Brown. I'd like to think he can look towards me in some aspects of life, but they'll have to be his role models in the locks department.
My hopes for the game were for Essendon to deflate the 'flat tracker' narrative that had been developing and for them to match a very talented team stride for (by?) stride. While I genuinely believed we could win, and even win comfortably at a pinch, I knew that the Pies had players who had ripped us apart like Phoebe enthusiastically did Rory's Footy Record last week. These fears were confirmed when Grundy, Pendles & Steele belied their thrash metal trio-like name to calmly dissect our hopes in a sobering first quarter.
By halfway through the second quarter, I was considering an hour-long Bunnings venture that could turn from a pack of screws into a full outdoor setting very quickly. They'd done it again. I'd been duped. They had a break on us that was as long and as devastating as the distance between the rubbish truck and me and my just-rolled-out wheelie bin at 5:30am last Thursday.
But suddenly we lifted…and kept lifting. Though we were still scoring 'tries' and they were seemingly walking goals in, the margin was manageable. I started to believe when Joey nailed it from 65 on the half time bell. We all watched it together. It was amazing.
I'd love to provide a blow by blow account of the second half, but it's been lost in amongst a scattered memory of tackles, missed tackles, turnovers, brilliance from both teams, questionable umpiring (both ways) and airborne sofa cushions. By now the three sane members of the family were quietly chatting around the (kids') dinner table, all while the 'man of the house' was spontaneously combusting down the other end of the open plan. Like the Seinfeld scene where Jerry and Elaine chat normally while oblivious to Kramer's (comedic) seizure behind them, the kids dine while I'm silently convulsing and trying valiantly to be mindful of 'role modelling' and not creating childhood memories of Dad losing his cool about ambitious switches to the centre square.
After a final few minutes that overlap with bathtime, Essendon have unfortunately resembled the apples of my eye doing their over-excited pre (and post) bath nudie runs, while Scott Pendlebury has played the role of their mother, calmly working through the chaos to emerge with the result. I'm flat about the footy, but I'm proud of all involved.
The post-game presentation occurs amongst toddler chatter but I hear and see enough to know what the story will be. What a shame. The booing is hardly my cup of tea, but I didn't love Bucks' headmaster-like scolding. It's a high horse to ride around Victoria Park on too I reckon. But he's his own man and I acknowledge he was sticking up for his mate. He mentioned his dad too. He's proud.
It's a shame that this scene has given fuel to dog whistling sports DJs looking for a binary footy topic for this week. One in particular, G Whateley, has stated that the fans in question 'didn't live in the national character that we believe is part of Anzac, nor footy's place in it'. Personally, I wonder when our national character became wrapped up in such pomposity. It's one thing to make a living from sport and the atmosphere it brings and another to coolly sit back and cast such a cutting and personal judgement. While it's a sacred day, and when I was sitting with my family and watching the last post I was deeply moved, it's also a game of footy and, rightly or wrongly, I also wasn't thinking of the Anzacs when Walla turned it over with a couple of minutes remaining.
Yes it's fair to say that some Bomber fans feel that we – like Rory when he opens a new packet of cards and it's full of Blues players – were dealt a dud hand. I can't agree. They jumped us and led all day. They're very talented. I won't miss Pendles when he's gone, but only because he's so damn good. De Goey too. Imagine having that confidence. I bet he just strides into any supermarket like he knows exactly where the milk is.
But with Joey's four goals, Saad's dare and dash, Stringer's team-first (and straight kicking) renaissance, Hepp's leadership, Zach's guts and H&H's skill down back, I reckon we're finally on the right track. And yes, Shiel's disposal wasn't great, but he has been marvelous so far. We're a much better side with him on board. He also knocked back caviar and Carlton. What's not to like?
Of course, one benefit of not attending the game is being able to literally (and emotionally…almost) switch off and get back to the land of the living. As we settled in for the bedtime routine, Rory and I brushed aside the footy cards for another day and kicked off a bedtime story. He insists that his toy cars are involved, so I grab the Bomber-branded one and say that it's on a long trip, it's had a tough day and needs some repairs. Rory is concerned and seeks reassurance.
"Can we fix it?"
"Yes we can."
Do you really enjoy the Almanac concept?
And want to ensure it continues in its current form, and better? To help keep things ticking over please consider making your own contribution.
Become an Almanac (annual) member – CLICK HERE
One off financial contribution – CLICK HERE
Regular financial contribution (monthly EFT) – CLICK HERE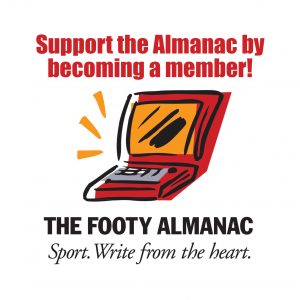 Andrew has self-reported to this site as a lifetime Essendon supporter. He also played local footy for Lara and Melbourne Uni Blacks.