Round 5 – Brisbane v Essendon: A soggy family debut
It was time.
Our first family footy game. Lions v Bombers. Her team v mine and brother v sister.
After a week's holiday on the spellbindingly contrarian Gold Coast, we had one night left and it was a big one. The daily procession of early starts, diving for sinkies in the hotel pool, days at the beach and avoiding a maximum five at mini golf were done. Dreamworld had been experienced and our work overtimes to afford it booked in for later. We were off to the Gabba.
Like the 2010 Easter Thursday match between Brisbane and Carlton that brought us together, this game saw a spearhead running out for the Lions against his former club. Back then it was Brendan Fevola, this time it was Joe Daniher. The former a loose cannon with a microphone, the other more so with his left boot.
Our pre-game preparation involved us driving the rental car from the Gold Coast to Brisbane that afternoon. While it's a straightforward trip, my concentration behind the wheel was challenged slightly by the self-perpetuating cycle of giggles, snack requests, dobbing, crying, apologising, eye spy, whole-hearted expressions of love, more tears and asking if every single Toyota dealership was where Grandpa got his car (he bought it in Melbourne. We've told them that. Numerous times). Rory (5) and Phoebe (3) are the classic brother/sister combo. Best of buddies, chief antagonisers and surround sound when excited.
With a mid-range (at best) hotel secured for the night, I looked at the bed configuration and suggested to my bride that given the kids should be hitting the hay early, they could take the bedroom – and its double bed – and we'd bunker down on the two singles in the living area as we'd surely be packing later for the early rise in the morning.
I was hoping my forward thinking and pragmatism would be rewarded with something akin to a standing ovation, but the immediate response was a look that had more than a hint of, "Oh….it's going to be like that is it?"
Tensions rose further when it was time to allocate scarves, when Phoebe, who until that very point in her existence had been more than happy to follow her mum, stated clearly, proudly and unambiguously that she was now going for the Bombers.
"I. Go. For. The. Bombers"
Mum's heart seemed to sink into the bain marie two floors down, but it was no use. Phoebe soon realised how funny it was to stick to her guns. We were through the looking glass. We had to move on.
Once we alighted from our short bus trip it started to rain. Real rain. Not Melbourne drizzle. Queensland rain. Big Pineapple rain. Matt Hayden rain. Origin Game 3 rain. Get to the beach at 6am so you can be home by midday to watch the rain from the porch rain.
We carried the kids through the crowd. We entered the ground. We were drenched. A brolly might've helped…but not too much.
Seeking solace on the concourse, we inspected our tickets. Top deck. You beauty. Shelter.
A quick check with the nearby signs revealed that the stairs to the top tier were external to the concourse and not undercover. Ah the Queensland life, the love of open air, breezy warm afternoons, cold schooners and calling the rest of the nation 'soft'. Who needs cover? If there's a monsoon, we'll just jog up in our thongs and back the winner at Doomben when we get there.
The other option was a lift, which was stuck halfway up the doorway and full of fans. I'll assume they got out, but it didn't seem a safe option.
We carried the kids up the three soggy flights with scarves wrapped around their heads as the rain battered us. I think I heard a whimper from Phoebe, but it could just as likely have been a giggle.
After changing the kids into some dry clothes, we went up our aisle and showed our tickets to the steward. 'Yep. You're here. Row AA. Right at the front'.
Front row. Not covered. Almost enough surface water on the seats to throw the sinkies in and the levels were rising as the rain continued. I hadn't been that despondent about hearing the letters AA since Rory's last Christmas present which didn't contain the batteries of the same name.
With a polite enquiry to the steward uncovering that our only option was to 'buy ponchos', my wife seized the initiative as the game began. As the kids and I stood on the (covered) concourse, Mrs E seemingly checked an option for every goal the Lions kicked in the first 15 minutes (four). One course of action, which would seem logical to most people on the outer of the earth's crust, was to go to 'the ticket office'. It was there that she was told that tickets couldn't be changed (fair enough) and that if you wanted different seats you'd have to buy them. Upon mentally summing up all options and then enquiring about the cost, the message was that 'oh no, we don't actually sell them'.
But it was after leaving what will henceforth be known only as 'a room where Ticketmaster staff gather', my beloved found solace in a steward who was a nurse by day and could appreciate the want to avoid COVID symptoms. We were directed to some empty undercover seats in a nearby (and therefore COVID-acceptable) bay, with the agreement that we'd vacate if fans were to arrive. A very reasonable request by that stage.
So we settled down with dry (ish) kids into a damp and dreary effort from the Bombers. Thankfully, the kids weren't as interested in their lack of skill and seemed genuinely taken by not only what was unfolding on the grass, but also around them. It's little wonder mind you. The group behind us contained a few fully throated gents who seemed intent on questioning most umpiring decisions and the young group (which, when you're nearing forty, is pretty much 16-32yo) in front were surely just stopping by prior to Fortitude Valley. One of the ladies complimented Phoebe on her curls, but as the night went on and we watched her more closely, we were wondering if she was also seeing Rapunzel on the top of the goal posts….
Thankfully (for one of us) the Lions were superb in the wet and (later) the dry and were tough and skilful the whole night. While they've seemed to be 'just going' to this point, their status as a premiership contender is clear, despite an opposition on the night that spent more time fumbling on the ground than Rory after he applies the dishwashing liquid to his Hot Wheels (an 'experiment' he claimed). That said, there is a tinge of excitement about Essendon's youngsters. As I've learned as a parent, you don't mind a stuff up if it's a wholehearted one.
Halfway through the third, we aborted our mission and snared a taxi back to base. The kids were in (the double) bed by halfway through the last, so we settled in front of the TV for the procession that was the last few minutes. This involved Joe Daniher taking a few marks, kicking a goal and completing a decent night's work overall. I'd like to think I'm a big enough person to be happy enough to see him fit and playing well for a team that's still 'in the family'…but gee…the Dons could use him.
After the fretful sleep that an early rise to catch a flight can bring (and OK the separate beds possibly also a factor) we were back on the road to hit the GC for our return flight. This particular tour of fun and duty had concluded and while my team's performance was as soggy as the one pair of shoes I brought on the trip and was therefore wearing that morning, the thrill of the four of us attending our first game together won't be easily forgotten.
The only thing left now was to figure out where Grandpa had bought that car…
The Tigers (Covid) Almanac 2020 will be published in 2021. It will have all the usual features – a game by game account of the Tigers season – and will also include some of the best Almanac writing from the Covid winter.  Pre-order HERE
To return to our Footy Almanac home page click HERE.
Our writers are independent contributors. The opinions expressed in their articles are their own. They are not the views, nor do they reflect the views, of Malarkey Publications.
Do you enjoy the Almanac concept?
And want to ensure it continues in its current form, and better? To help things keep ticking over please consider making your own contribution.
Become an Almanac (annual) member – CLICK HERE.
One-off financial contribution – CLICK HERE.
Regular financial contribution (monthly EFT) – CLICK HERE.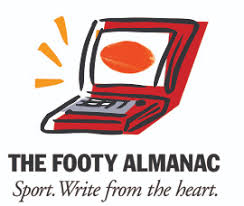 Andrew has self-reported to this site as a lifetime Essendon supporter. He also played local footy for Lara and Melbourne Uni Blacks.