Round 4 – Western Bulldogs v Brisbane: The Real Meaning of FitzRoy and the Princely Bulldogs of Ballarat
I reckon it's fair for us, the Reids of Traralgon, to claim the Windsors of Buckingham as fellow Lions fans. Chris Fagan's men are, after all, the official team of Queen's – Land. There is further compelling historical evidence to link the monarchy to the maroon and blue. Henry VIII's illegitimate son was given the title 'FitzRoy,' the Anglo-Norman term meaning 'son of a king.' In some striking parallels, the boy 'FitzRoy' was sent far from the heartland to Ireland and became a legitimate and formally recognised bastard whose history and peerage was uncomfortably acknowledged by the Crown. Just like his old man, the boy's name was Henry too.
As the world mourns Prince Philip this morning, the news is full of reminders of just how many moments in twentieth century history he was a witness to. It is probably too soon to really consider exactly where in the top ten moments of HRH's life the round one match of the 1970 VFL season sits. Like so many of us have done, before and since, Phil brought the missus and the kids along to the MCG for an afternoon at the footy. Then, as they are now, Richmond were the reigning premiers, but they were upset by Fitzroy. Apart from the motorcade that they participated in at halftime, their day was probably pretty similar to a typical Reid family visit to the G to watch the Lions play decades later. Anne and Charles, just like my kids, no doubt bugging Phil and Liz for a bucket of chips at the most inopportune of times. I'm hoping that there is a lost episode of The Crown that will resurface one day that covers this event. Perhaps in an effort to show his acting range, Zac Efron could play the part of Kevin 'Bulldog' Murray.
Speaking of Zacs, if anyone deserves an audience with her majesty, it is Zac Bailey. His goal after the siren to pinch the game against Collingwood was more celestial than it was monarchical. The football populace at large agreed that Bailey should have been awarded a free kick in front of goal against Geelong in round two. A COVID outbreak kept Brisbane in Victoria and saw their Easter Thursday home game at the Gabba switched to Marvel Stadium at the Docklands. The gods, who are not mocked, delivered redemption not via a burning bush or a planetary flood, but through a lace out Daniel Rich delivery onto Bailey's chest. I think it was Confucius who first noted the timeless adage that it is nobler to defeat Collingwood by a point that is singular point than by goals aplenty. Too bloody right Confucius, too bloody right.
There's a lot working against the Lions this afternoon. They've remained in Victoria and apparently had to descend en masse to Big W to pick up a bulk supply of socks and jocks to get them through. Caroline Wilson suggested that they'd been staying in Creswick. Coach Fages has been quick to use phrases like 'character building' and 'team bonding experience' which certainly sound better than 'Creswick Laundromat' and 'bloody freezing.' There's a lot riding on the result of this match. A win against the undefeated Bulldogs would be 'season defining' whereas a loss keeps us mired near the bottom, only a game clear of North Melbourne.
Before Richmond lost to Port Adelaide last night, the ever-munificent Damien Hardwick publicly pondered loaning out Richmond ruckmen to underperforming teams with selection dilemmas. The Lions and Bulldogs have had a long history of such reciprocity – Bernie Quinlan, Peter Foster, Simon Atkins, even Dougie Hawkins. Today's game could be the inaugural Marcus Adams Cup.
McInerney is back this week for Brisbane. He lines up for the centre bounce against a recently departed Lion Stef Martin. Not since Darth Vader took the chocolates as Obi Wan Kenobi has an apprentice had such a point to prove against his former master. Even with the wind the Lions waste the first quarter. Tim English looks like he could be one of Prince Charles' Cambridge friends, he has a regal bearing of his own and is definitely the most influential player out there today. The whole Footscray forward line is like a forest – Naughton, Bruce, English and a floating Martin – they are taller than most of the grandstands at the North Ballarat Oval. It's their half. Darcy Gardiner makes a welcome return and Harris Andrews has a better game, but our defence still looks fragile.
The third quarter brings the rain and something of a fightback that doesn't really register on the scoreboard. Hipwood takes a Jesaulenko-like screamer, unfortunately it is on the wing and not in front of goal.
The last quarter begins, we are up against the Ballarat wind and almost four goals behind. I choose to believe that Joe Daniher is fulfilling his family destiny by becoming a Lion. It's a little-known fact that his Uncle Terry was very close to joining Fitzroy in the early eighties. This makes Joe the hero we deserve but unless he can start clunking some marks in the forward line, he will never be the hero we need. Daniher somehow finds an accidental miracle goal, dribbling it from the boundary line outside fifty.
In the end, the Doggies are just a bit too good. Too big. Too much. Too strong. The Lions started the year as a premiership contender and while 1-3 is not quite time to cash in your chips it does make it a long way back. Vale Prince Philip. Kudos to you Stef Martin and the princely sons of the West. Bulldogs as a breed may not quite have the royal panache as corgis just yet but with the way this season has started you played like worthy kings of 2021.
While I don't think we are done just yet for season 2021, if it can't be us, I hope it might be you. Thankfully, and this is from a Victorian fan, there are strings of games at the Gabba to come. Let's hope that next week against the Bombers, like the illegitimate sons of kings and Bears of old that we are, for crown and for country, we can get our season back on track. Despite the ladder looking a little bit grim for Brisbane, it is not quite time for 'off with their heads' at the selection table yet.
WESTERN BULLDOGS                3.3       7.6      9.10     10.13 (73)
BRISBANE                                          2.1        3.4      6.6        8.6 (54)
GOALS
Western Bulldogs:             English 3, Naughton 2, Hunter, Bruce, Macrae, Smith, Liberatore
Brisbane:                              Hipwood 2, Andrews, Fullarton, Lyons, Bailey, McCluggage, Daniher
BEST
Western Bulldogs:             English, Treloar, Macrae, Dunkley, Naughton, Dale
Brisbane:                              McCluggage, Lyons, Andrews, Rich, Neale,
To return to our Footy Almanac home page click HERE.
Our writers are independent contributors. The opinions expressed in their articles are their own. They are not the views, nor do they reflect the views, of Malarkey Publications.
Do you enjoy the Almanac concept?
And want to ensure it continues in its current form, and better? To help things keep ticking over please consider making your own contribution.
Become an Almanac (annual) member – CLICK HERE.
One-off financial contribution – CLICK HERE.
Regular financial contribution (monthly EFT) – CLICK HERE.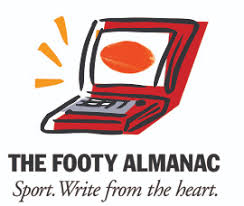 Loving life as a husband, dad and teacher. I'm trying to develop enough skill as a writer so that one day Doc Wheildon's Newborough, Bernie Quinlan's Traralgon and Mick Conlon's 86 Eliminatiuon final goal will be considered contemporaneous with Twain's Mississippi, Hemingway's Cuba, Beethoven's 9th and Coltrane's Love Supreme.