Round 4 – Collingwood v GWS: I'll back you Bucks
Me when Taylor Adams went down:
'No, no he's fine, he'll walk it off.'
Me when Tay finally got back to the bench:
'Okay, that's a lot of ice there…BUT there's no crutches in sight. Good sign.'
Me seeing Tay Post Game on the ground with crutches:
'Okay…crutches, being safe.'
Me today when Collingwood announced the extent of the injury:
'Noooooooooooooooooo!'
I should have known all that 'Positive thoughts attract positive outcomes' stuff was bull. Oh please!
Even my reverse tip-ology didn't save us this week, however it did secure me a perfect round of tipping. Silver lining…I guess.
It's been two days since the loss and Twitter is still in a frenzy.
Another week of Nathan Buckley on trial and the black & white jury is ruthless.
It's sad to say that he has pretty much lost all support.
As hard as it to watch us lose it's also extremely hard for me to have a go at Bucks.
On Collingwood's list he ranks as the 43rd Club Captain, but in my lifetime he's Collingwood's third Club Captain and the one I grew up with and have the earliest memory of.
In 2002 & 2003 I saw him play in two losing Premierships and remove his 2002 Norm Smith medal in pain.
In 2003 I saw him receive a Brownlow medal knowing at the time no Pies player had ever won a Brownlow and a flag in the same year. He was added to that list.
In 2010 I saw him itching for the takeover biding his time as an assistant as we won the first flag in my lifetime.
In 2018 I saw him coach us into the Grand final only to fall short by under one goal.
In 2020 saw him do an interview to defend himself.
'My life is very far from empty.'
'I don't have a flag. Ill be working towards it, but its not going to define me whether I get it or not.'
Whether you like him not. Whether you think he should stay on as coach on not, you cannot deny that Nathan Buckley loves Collingwood and is a Collingwood man through and through.
I strongly believe this is more than the 'he's stubborn', 'its his ego', 'he only plays his boys club favorites' talk. I believe he loves this club possibly more than anyone before him and he would never deliberately make decisions that weren't for the better. For me, this love is enough, for others its not. They want results or they want him out.
I get it, I'm the last person that takes losing well and of course I want my team playing finals every year, but I'm still that same six-year-old with the Nathan Buckley players badge pinned to my scarf and the number five painted on my cheek.
Loyalty; it's something Bucks has never had to prove.
It actually hurts my heart to think that people have forgotten all he has done for the club. To think that he might mostly be remembered as a failure by many supporters who are right now calling for him to be sacked, does not sit well with me.
Some would say otherwise and expect him to prove his loyalty by walking away right now because they don't think he is what's best for the club.
To me loyalty is sticking it out through good times and bad times, you don't leave until you've given your everything and they drag you out by the feet.
For someone that has given and lost so much with this club he deserves to make the call when he's ready, we owe him that much.
COLLINGWOOD                                     1.2      4.5       7.6      9.6 (60)
GREATER WESTERN SYDNEY                 2.2          6.3          10.3        14.6 (90)
GOALS
Collingwood: De Goey, Hoskin-Elliott 2, Daicos, Madgen, McCreery, Mihocek, Thomas
Greater Western Sydney: Greene 5, Finlayson 4, Kelly 2, Hill, Himmelberg, Riccardi
BEST
Collingwood: Sidebottom, Crisp, Madgen, Howe, Daicos
Greater Western Sydney: Greene, Ward, Finlayson, Taranto, Ash, Hopper 
Crowd: 29,866
Malarkey Medal: 3 Sidebottom (Coll) 2  Greene (GWS) 1  De Goey (Coll)
The Tigers (Covid) Almanac 2020 will be published in 2021. It will have all the usual features – a game by game account of the Tigers season – and will also include some of the best Almanac writing from the Covid winter.  Pre-order HERE
To return to our Footy Almanac home page click HERE.
Our writers are independent contributors. The opinions expressed in their articles are their own. They are not the views, nor do they reflect the views, of Malarkey Publications.
Do you enjoy the Almanac concept?
And want to ensure it continues in its current form, and better? To help things keep ticking over please consider making your own contribution.
Become an Almanac (annual) member – CLICK HERE.
One-off financial contribution – CLICK HERE.
Regular financial contribution (monthly EFT) – CLICK HERE.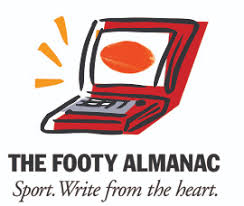 A passionate 28 year old Collingwood supporter who fangirls like a 16 year old at heart. Chased down and yelled "I love you" at a startled Brodie Grundy in 2018 after the Semi-final loss. Danced down the stairs with a Collingwood scarf one time to a De Goey song and the video went viral.