Round 3 – Adelaide v Geelong: Cats show their class
Let's put things into perspective. South Australia is in big trouble.
Driving down through the Riverland on Thursday I was reminded what  Australia is all about – "it's all milk and honey". Well I can tell you it is far from that.
The majority of the Riverland is in horrific drought conditions as you drive through Barmera, Waikerie and all other towns along the Sturt Highway. You guys based in the city would have no idea how bad it is out there. As a friend of mine in Waikerie told me on Thursday " if things don't improve Adelaide will have no water within two years". Let alone the countryside.
I stay in North Adelaide and was further astounded when I found the iconic restaurant Cucina on the corner of O'Connell and Ward "closed for good" said the notice on every door and window. Even the revered Lutheran Australian College had no live-in students this year.  No wonder the restaurant closed!
What a balmy night for football It was like having a day-night cricket match. Adelaide was missing a key ingredient in Sauce while the Cats who have been purring along went in with virtually an unchanged side since Round 1. The Crows were slight favourites, which intrigued me as Geelong had done nothing wrong this year.
In the early stages it looked like it was going to be a great game.  Both sides were playing their trump cards with no thoughts of throwing in the joker. The Pivotonians always looked to have the Crows measure and so it turned out to be.  They would get out to a handy lead; Adelaide would fight back and then the Cats would apply pressure moments e.g. goals from Dangerfield and Ablett typified this.
The Moggsy was the best cat and the brilliant Stewart led a very good defensive line-up. Just on Stewart and team mate Kelly, I shake my head as to why these two players were allowed to play domestic football for years before the almighty finally caught up with them. Does not say much for the recruiting teams.  Kelly was again as smooth as butter.
Adelaide missed Jacobs in the ruck and Stanley , the much-maligned Cat, continues to show improvement in this area.
However it is the new players in the Geelong line-up who are taking everything before them. Jordan Clarke, Charlie Constable, Gryan Miers are playing superb football while trades in Rohan and Dahlhaus are showing their class.  Rohan still has some way to go but he has kicked 5 goals in the last 2 weeks.
Must mention my old home town of KooWeeRup.  Three players Dangerfield (32 disposals), Brad Crouch (35) and Matt Crouch (27) had 94 disposals between them or 15% of the match total.  KooWeeRup?  Well the Crouch boys' dad Phillip and Dangerfield's mother Janette went to school together at KooWeeRup.
Brad Crouch has come back from the wilderness and hopefully he has an injury free season as in 7 years at the club he has only played 63 games.  Matt continues to rack up ball from the centre. Other good players for the Crows were Lynch, Milera and Sloane.
Chris Scott seems to have the Cats on the right path with his new look line-up but Adelaide seem to be still suffering from their Grand Final defeat against Richmond two years ago.
Adelaide:   3 – 6.               4 – 9.                     9 – 12.                   10 – 15 – 75
Geelong:  6 – 2.                 8 – 8.                     10 – 9.                   14 – 15 – 99
Goals:
Adelaide:             Lynch 2,  Crouch,  Knight,  Jenkins,  Crouch,  Sloane,  Talker,  Rankins, McMurphy 1 each
Geelong:             G.Miers 3,  G.Rohan 2,  T.Hawkins 2,  G.Ablett,  J.Clark,  H.Taylor,  C.Constable, S.Menegola,  T.Atkins,  P.Dangerfield 1 each
Best:   Adelaide:  B & M.Crouch, Milera, Lynch, Sloane
Geelong; Dangerfield, Stewart, Constable, Kelly, Dahlhaus.
Umpires:  B.Rosebury, A.Stephens, B.Hosking
Crowd:  45,631 at Adelaide Oval.
To find out more about Almanac memberships CLICK HERE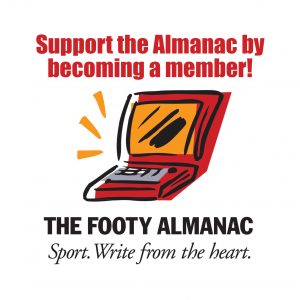 At 80 years of age Citrus Bob is doing what he wanted to do as a 14 year-old living on the farm at Lang Lang. Talking, writing, watching sport. Now into his third book on sports history he lives in Mildura with his very considerate wife (Jenny ) and a groodle named "Chloe On Flinders". How good is that.