Round 2 – Haiku Bob – life is simple
grudge match —
I pick up the kid
from outside her mum's
autumn night —
the half-filled stadium
sounds full
autumn sunset —
a purple patch takes us
into the lead
twilight —
a magpie's shadow
looms large
life is simple
just give it
to Daicos
the indescribable path
of a falling leaf —
goal from the boundary
leaving the stadium
the moon still
there
For more from Haiku Bob, click HERE.
The Tigers (Covid) Almanac 2020 will be published in 2021. It will have all the usual features – a game by game account of the Tigers season – and will also include some of the best Almanac writing from the Covid winter.  Pre-order HERE
To return to our Footy Almanac home page click HERE.
Our writers are independent contributors. The opinions expressed in their articles are their own. They are not the views, nor do they reflect the views, of Malarkey Publications.
Do you enjoy the Almanac concept?
And want to ensure it continues in its current form, and better? To help things keep ticking over please consider making your own contribution.
Become an Almanac (annual) member – CLICK HERE.
One-off financial contribution – CLICK HERE.
Regular financial contribution (monthly EFT) – CLICK HERE.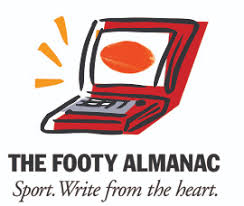 Rob Scott (aka Haiku Bob) is a peripatetic haiku poet who calls Victoria Park home. He writes haiku in between teaching whisky and drinking English, or something like that.