Round 2 – Geelong v Hawthorn: The ancients rise
GEELONG   V  HAWTHORN
Friday June 12 5.30pm
Kardinia Park
No problems getting in tonight. Had temperature taken and went straight to the media box.  Had to bring your own food  although one entrepreneurial food van was doing well from the TV crews.
Hear that P.Dangerfield had problems getting in for his 250th as he did not have the right pass. "Lingy" thought it was a huge joke!
Shades of Sid Barnes jumping the turnstiles to get into the "G many years ago to play in a Test Match.  Upon reflection was the start of his downfall as a Test cricketer.
The Ground is in superb condition and why not?  No games have been played on it since a cricket match in February.
Kardinia Park (the real name) Friday June 12th at 6.30pm
This is an interesting season for the boys from Corio.  Most of the pundits have them missing out on the eight for only the second time in 18 years.  There are two schools of thought – either they are to young or too old.  I am inclined to think the latter, with Ablett, Hawkins, Taylor, Dangerfield, Stanley, Blivacs and Sellwood thirty plus or close to it and then you have the two recruits from last year in Rohan and Dahlhaus not as quick as they were with their former sides.  So a third or more (45%) of the team would be regarded as "seniors".
In tonight's 20/20 format they might be puffing at the end of the third let a lone the fourth.  Thursday night's game certainly set the "pace" or lack of it.
'Members you keep Geelong strong" said the scoreboard but who was watching? There is no one here!
What about the Hawks?  Well nobody would know.  Clarkson is the smartest cookie in the packet and he will have crossed and ticked all boxes and added a couple of his own that nobody knows about.  The big question for me is John Patten , who if he is like any other US general at the moment will be very toey and hoping to have a big impact on the game. He has ability but left it in the change rooms at GWS on plenty of occasions. O'Meara will be a big loss for the Hawks tonight but there is still plenty of experience in the line-up.
Kardinia Park Friday June 12th at 7.30pm
Very impressive circle produced by the two teams and umpires before the game in support of BLM.
The first quarter of football was better than the whole of Thursday night's game. It was fast and furious with Geelong getting a goal in the first minute. Play fluctuated from end to end – This was real football,
An even first half with neither side giving an inch despite social distancing. Ablett, Sellwood and the much-maligned Rhys Stanley superb.  Hawks had no outstanding players but staying with the pacy Cats.
Kardinia Park Friday June 12th at 9.15pm
Some of Ablett's efforts were pure magic and a cameo of his efforts on this night would be well worth seeing.  Sellwod was his usual rock-solid granite statue who would not be dismantled this evening. Stanley continued with his performance and dominated the ruck and around the ground BOG for mine. Man-of-the-moment Dangerfield stepped up during this term to be part of the celebrations. These ancients of yore were dominating. Oh you pessimist, shame on you.
Six goals up at three-quarter time and the Hawks had already thrown in the towel and Dangerman as well.
The last quarter was a cake-walk for the rejuvenated Cats and they kept Hawthorn goalless, a rare evening for the boys from Glenferrie and Waverley.  To say their performance was average is treating them kindly.
Geelong by 61 points.
Kardinia Park Friday June 12th at 10.05pm
No song and dance for Dangerfield's 250th game as he beckoned the team to follow him in to the sheds.
There is much unfinished business this season and we have only just opened the doors.
Business as usual in Malop Street tomorrow will be up.
Our writers are independent contributors. The opinions expressed in their articles are their own. They are not the views, nor do they reflect the views, of Malarkey Publications.
Do you enjoy the Almanac concept?
And want to ensure it continues in its current form, and better? To help keep things ticking over please consider making your own contribution.
Become an Almanac (annual) member – CLICK HERE
One-off financial contribution – CLICK HERE
Regular financial contribution (monthly EFT) – CLICK HERE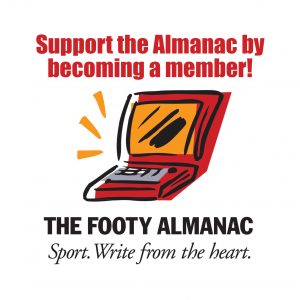 At 80 years of age Citrus Bob is doing what he wanted to do as a 14 year-old living on the farm at Lang Lang. Talking, writing, watching sport. Now into his third book on sports history he lives in Mildura with his very considerate wife (Jenny ) and a groodle named "Chloe On Flinders". How good is that.