Round 17 – Geelong v Hawthorn: The sins of their father
John Harms's match report was first published on the MCC's Balcony Banter blog:
It's just after one o'clock and the train is full – of Hawthorn people! What, we're off to a Geelong home game at the MCG? I'm with Theo who plays in the forward pocket with Fitzroy Under 10s and Evie who is a MiniRoo soccer player at Darebin Flacons. We really want the Cats to win. But the platform whisper was that Selwood and Mackie were out.
When Theo's age, I was caught up in an era of great full forwards. We had Doug Wade who took gummy marks standing on the shoulders of Kelvin Moore and Wes Lofts in the day when full-backs were as rock-solid as the local primary school principal. Photos by snappers squatting on the boundary line made Doug look like he was jumping into the top of the old pine trees at Kardinia Park. There was Peter McKenna and Jezza and Geoff Blethyn. And of course, the remarkable Peter Hudson at Hawthorn. Every side had a full forward.
When I went to the footy in Shepparton Lemnos and Shep and Ky and Tat all had one. Footy was about stabbing a daisy-cutter into the leading full forward. Or bombing it in, expecting a specie. The full forward was The Spearhead.
Then the coaches got hold of the game and worked a few things out. Damn their intelligence!  I want Farmer to Marshall. Wade on the lead. Wade! And screwies from 55 yards.
I'm assuming Tom Hawkins has been named at full forward for Geelong, but he will play the main 'tall forward' role. This could see him taking a mark on the half back flank. I remember when he was a pup and trying to work out where he was supposed to be when the Cats were setting up their zoney, pressy, griddy sort of thing. He just needed to be standing in the square in some pub and bowser town up the bush with a cocky in one forward pocket and a bank johnny in the other.
But he eventually worked it out. It's noteworthy that his most memorable performance was playing a classic full forward role in the final quarter of a Grand Final!
If Tommy's having a spell on the pine, Rhys Stanley might go to the square, or perhaps Danger. But they're just as likely to take a mark inside 50 running with the flight of the footy if the Cats can get the ball 'through' from the backline.
We make our way towards the Members – the queues are back to the statue of John Coleman (now there's a full forward). Lots of Hawthorn scarves. And lots of Hawks colours outside of Gate 3 as well. Ah, of course, Hodgey! The Hero. But The Villain for us, albeit recognised for his qualities, save his brutality. He has been a key part in this rivalry which is now a decade long.
It's a tight first quarter. Both sides are cautious, sweating on mistakes. Tom Hawkins gets a few chances but hasn't got his kicking boot on today. Spooked after a couple of misses, he gathers inside 50 and tries to pass off – which makes me wonder whether he is a true full forward.
Some of Theo's Roys' mates are also in the Members, but they are down on Level 1, near the fence. We are high on Level 4 from where we can see the top of the Governor's residence – and the South Pole. Or maybe it's just that the icy wind has originated at the South Pole. Evie has her jacket across her lap and is clapping underneath it.
Somewhere along the way – it was too cold to take notes, so what happens from here may be totally out of sequence – Patrick Dangerfield and Roughie collide in the middle. The remarkable thing is that in a crowd of 70,000 we hear the impact. It sounds like two footy boots cracking together under immense force, or a champion mid-fielder breaking his leg. Or maybe it's his knee. As Danger is on all fours the collective consciousness breathes: "Dangerfield's gone for the season."
As I'm reaching for my wallet to tear up the $7.50 flag ticket, he gets up and hobbles off. Please be OK.
We do have other players as Daniel Menzel shows when he slots one from the pocket and Zac Smith is having a crack in his 100th game. We're a bit wobbly without Mackie but the other Zac (Guthrie) shows some poise, having been asked to play on Luke Breust. But really, Cats fans are looking towards the bench.
Danger disappears into the rooms. Then he's back. He jogs along the boundary line. It's a proppy jog. But eventually he comes back on, looking rather wounded, but trying to warm up. Must be a corky? Or is it a knee? This could be a disaster.
The Hawks poke through a few goals and are getting the upper hand. Danger goes to full forward. Tommy plays higher – ye olde Barry Stoneham role although more buffalo than Baz's brumby.
The ball comes into the square. Danger jostles, holds his opponent out, and marks over the back. Solid. He goals.
Then Zac Touhy kicks to space in front of goals and Danger darts into it, taking a beaut overhead mark. "There was a bit of G. Ablett senior in that," one Cats fan says. Evie is clapping vigorously.
We're a goal down at half-time.
The third quarter is memorable. Indeed, the entire second half is. The game is competitive and entertaining but it does not reach great heights. The performance of the Brownlow medallist does. Playing like an old full forward – yes, like G. Ablett – he finds space on short, explosive leads, and cannot be beaten in body-on-body contest. In one he steps aside from the master of the jostle, L. Hodge. Hodge jostles the air, misses Danger's body and loses balance. Danger pops around and takes a simple mark in front of his face. Theatrical.
The Cats are now on top, and are Danger conscious. As they should be. For an hour he is unstoppable. He just can't convert. In the season opener against Hawthorn in 2016 he couldn't kick them from 15 metres. At least now he's hitting the post – cold comfort.
Evie is now keeping a tally of Danger's goal and is warmed by the cheering and the clapping.
The game looks to be in our grasp, especially when Duncan finds Motlop with minutes to go, who delivers perfectly to the advantage of Danger. This should be the sealer. He hits the post. That's 5.6.
The Hawks don't concede, mainly because they never concede. Burgoyne, who is far more likable than Hodge, shoots a handball back to the 300-gamer who launches on his non-preferred foot and the Hawthorn crowd ride the shot home. It just clears the fingertips of the Irishman and now it's anyone's game. Such a quintessential Hodge moment.
How has it come to this?
Mitchell – brilliant all day, especially early – clears. Gunston marks. His squirting short pass finds Isaac Smith – who plays on. We're right behind him and…he wouldn't, would he! But his shot swings across the face for a point.
The siren sounds and we've snuck home. We are left shaking our heads in relief.
How has Danger done that? And what about the space he found!
We feel lucky to have the four points, but even luckier to have seen a classic performance from a complete footballer.
I hope Evie and Theo will remember: the day we saw Patrick Dangerfield turn back time.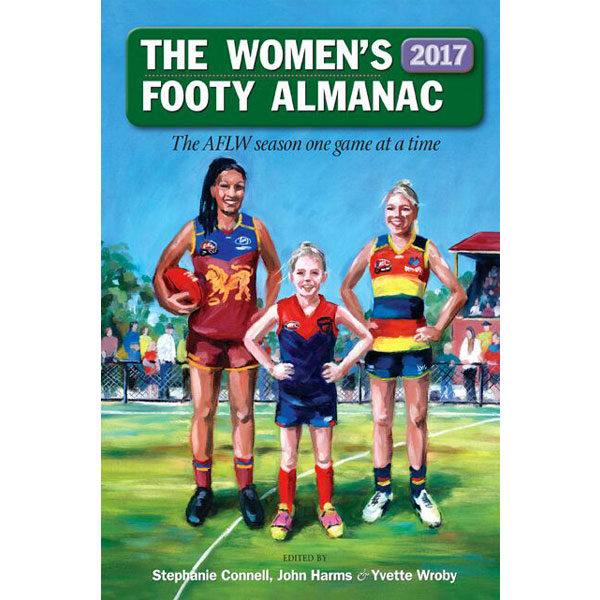 JTH is a writer, publisher, speaker, historian. He is publisher and contributing editor of The Footy Almanac and footyalmanac.com.au. He has written columns and features for numerous publications. His books include Confessions of a Thirteenth Man, Memoirs of a Mug Punter, Loose Men Everywhere, Play On, The Pearl: Steve Renouf's Story and Life As I Know It (with Michelle Payne). He appears (appeared?) on ABCTV's Offsiders. He can be contacted [email protected] He is married to The Handicapper and has three school-age kids - Theo, Anna, Evie. He might not be the worst putter in the world but he's in the worst four. His ambition was to lunch for Australia but it clashed with his other ambition - to shoot his age.