Round 12 – Carlton v Brisbane: When all else fails, in Crippa we trust
In over forty years of watching the game, one footy conviction that only strengthens is that we never really know that much at all. The game and the people who play it can always find new ways to confound, or astound. As the final siren of this game sounded, I stood on the city wing in a group of Carlton die-hards: over 150 years on the terraces between us. No one could readily explain the meaning of what had just occurred.
In the days after Carlton had dispensed with Brendon Bolton's services, opinion had raged loudly and incoherently amongst Blues fans. Some wanted to sack everyone from the president down. Stephen Silvagni was a popular whipping boy for the alleged failures of his list rebuild. No two people appeared to agree on who should be the new coach. To call us a rabble would have been a disservice to rabbles. The only hope was that the team had composed itself better.
There was little early sign they had. Though we maintained early possession in our forward half, we appeared to have no more idea how to score than in previous dismal weeks. When clear targets presented, we couldn't hit them. Inevitably, Brisbane began to feast off our regular turnovers. At least Jacob Weitering's intercept marking had reappeared in defence. In recent weeks, he'd become so fixated on his opponents that the ball appeared forgotten. The damage was limited to three goals at quarter time, but we had yet to kick one ourselves.
Brisbane's 3 goals quickly became 6 early in the second term. Their lead blew out to 37 points. We remained goalless. It would have been worse if Weitering hadn't somehow matched Charlie Cameron in a one-on-two chase back to their goal. Lachie Neale was dominating the clearances. Mitch Robinson was yappy. Many Carlton fans were silently considering the timing of their exits.
But the team hadn't given up. They were still missing targets, but persisted. Finally, after a third repeat effort, Jack Silvagni dished the ball out to Mick Gibbons for our first. Lachie O'Brien then nailed the sort of set shot he's usually missed. Charlie took a swing from outside the arc and rammed one through. Suddenly, we were back in scoreboard reach.
But there was no great feeling of insurrection bubbling. At the big break we still trailed by three goals when that tally represented our entire first half's efforts. Nothing was looking easy. We'd need to start well in the second half.
Instead, Neale cleared the first centre bounce to McStay, and Brisbane were out to four goals within a minute. A sense of deflation swept the predominantly Carlton crowd. We replied with a forward entry of no great intent. Then Hugh McCluggage decided to go back inboard with the defensive clearance.
To this stage Patrick Cripps had been serviceable, but not outstanding. In keeping with his three previous quiet games, he'd overplayed several situations, still appearing to be a man feeling the burden of our situation. Jarryd Lyons had been his marker and had matched him to now. But as McCluggage's kick landed gently on his chest, as though that was its original purpose, Cripps found himself alone inside 50. He was smiling even before he slotted the goal.
This incident proved the spark to a fire Brisbane couldn't put out. Suddenly, rampaging Cripps returned. There seemed to be several of him – in the centre, up forward, contesting in the air and at every ground ball. His ability to explode out of stoppages now returned. As he lifted, he dragged teammates with him. Cripps kicked another . Brisbane was now besieged in its back half. We hit the front. We kicked another. We missed several chances to extend the lead to three goals and beyond.
But the Lions snuck forward and scrounged a late goal. Despite dominating, we led by only 4 points at the final break.  No one with any knowledge of recent Carlton history was comforted by that scenario. They say it's the hope that will kill you in the end. As much as hope, there was anxiety.
Patrick Cripps was having none of that nonsense. Accepting another Silvagni handball in traffic, he swerved past three pursuers, straitened toward goal, and kicked his third. We were all believers now. Just for good measure, he kicked a fourth to seal the deal.
To be fair, he didn't do it completely alone. Even when we struggled early, Sam Walsh had been doing what Sam Walsh does – running to the right spots, gathering and distributing the ball with a calmness belying his 12 games experience. Certain 'experts' have been trying to claim he isn't a match winner. Let the experts talk, he'll do Carlton folk just fine.
Ed Curnow was vital to our turnaround. Matching up on a then rampant Lachie Neale in the second term, by mid-point in the third term Neale was showing every sign of being substantially rattled. Our Old Testament backline of Jacob, Levi and Caleb became more unyielding as game went on. Though he had a statistically unspectacular game, Young Jack's persistence and forward pressure was important.
But it's the captain who deservedly has drawn the kudos. This was one of the great individual efforts I have ever witnessed. Only Koutoufides and Judd have played to this level for Carlton this century. For sheer physicality and will, Cripps matches both those champions. For a club desperately in need  of some good news, this couldn't have been better timed.
The winning rate for teams after a coach sacking remains roughly 50/50. This is remarkably high, given the reliably dire situation of clubs in this predicament. We know blood-letting brings catharsis. So it isn't a complete shock that Carlton rebounded. But it's a tactic with diminishing returns. It was heartening to see a group of young men respond to an inspiring leader and drag themselves off the canvas, but I have no idea if what we saw represents any larger turning point in the fortunes of the Carlton Football Club. Nobody standing on that wing after the game was prepared to argue otherwise. Rebuilds are not supposed to be about short term sugar hits. But footy clubs need hope. And at least we can say with some confidence that where there is Cripps there is hope.
CARLTON        0.3       3.4       8.9       11.12 (78)
BRISBANE       3.3       6.4       8.5       9.9 (63)
GOALS
Carlton: Cripps 4, C. Curnow 3, Gibbons 2, O'Brien, McGovern
Brisbane: McStay 2, Hipwood, Allison, Cameron, Neale, McCluggage, Zorko, McCarthy
BEST
Carlton: Cripps, E. Curnow, Weitering, Walsh, C. Curnow, Silvagni, Gibbons
Brisbane: Neale, Rich, McCluggage, Robinson, Witherden
Official crowd: 32,211 at Marvel Stadium
For more from John, CLICK HERE:
Do you really enjoy the Almanac concept?
And want to ensure it continues in its current form, and better? To help keep things ticking over please consider making your own contribution.
Become an Almanac (annual) member – CLICK HERE
One off financial contribution – CLICK HERE
Regular financial contribution (monthly EFT) – CLICK HERE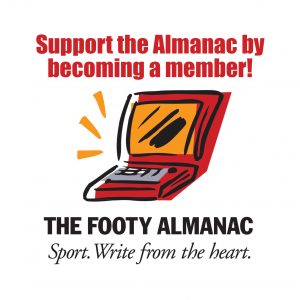 John Butler has fled the World's Most Liveable Car Park and now breathes the rarefied air of the Ballarat Plateau. For his sins, he has passed his 40th year as a Carlton member.