Round 11 – Geelong v Sydney: Winter wonderland and muddy jumpers
I'm stuck in Melbourne. Geelong's game starts as my own team, Power House's, ends.
It was a muddy mess down at the Ross Gregory Oval on Albert Park Lake. Views like no other, but a mud pile like no other too.
Local footy. The beginning of winter. Home.
I hope the weather is more tolerable for our boys at Kardinia. But I also pray for rain, because, as I have heard before, "Geelong play better in the rain".
Back in St Kilda, I go to clean the change rooms and find a number of wet, muddied and dirtied jumpers laying on the floor. I watch on my phone as the Cats trail by a hefty first quarter margin.
Both the muddy jumpers and the Cats margin makes me uncomfortable and frustrated, all at once.
The Swans are running freely, dominating like old times. The hoodoo may not be broken this evening and it sends shivers down my spine.
Stewart and his men are struggling early. Zach Tuohy has taken a hard knock too.
My mind trickles back to Power House and the mass amounts of wet jumpers, socks and shorts I pile into the wash bags to take home.
"That'll be a big wash for me, all these muddy jumpers, thanks boys," I say to no one. I'm usually alone at this time of the evening in the change rooms.
I pack the car up and we've suddenly kicked a handful of goals to snatch a minor quarter time lead.
I don't want to peak early, but when we played the Hawks on Easter Monday a few weeks back, they gave their all in that first quarter and we still came out with the lead.
I say nothing, like usual. There is no need for jinxing at such an early stage.
I start the drive home with Dad. We hear that Esava Ratugolea has spun out of the contest and kicked a beauty around his body. Pretty rare for a guy of his size. Very special.
Dad pumps his fists and drives faster to get home to watch the last quarter. Haven't seen him this pumped up for a number of years.
We don't play a spectacular, breathtaking last term, but we hold on. It's different. Our style, our drive and our willingness to step up and hold our Geelong way.
I've said it before and I'll say it again.
If this is our rough patch, we're doing pretty darn well. And last year, we would've lost all of our closer games. But this is the Geelong of now and we're different.
Mitch Duncan has been quietly grinding and good on him, his role is more crucial than we Cats fans know.
Tom Hawkins seems happier and rightly so. He has reinvented his game style.
But no one looks happier than our Luke Dahlhaus. He's loving it back home and he's living it up in this Geelong winter so far.
We are sitting pretty on top, two games and percentage clear.
Winter has welcomed Geelong and it excites me as we go deeper into the 2019 season.
I sing the song with Dad, the one constant in my life. Lots of gusto, we sing, arm in arm.
We move to the laundry and look down at the muddy mess that those Power House boys have left us.
Dad looks at me.
"Winter is upon us."
I smile. And I couldn't be happier.
GEELONG   5.1   7.2   11.4   13.7 (85)
SYDNEY     3.3   5.8   6.12   8.15 (63)
GOALS
Geelong: Hawkins 4, Ratugolea 2, Dangerfield 2, Kelly, Clark, Duncan, Dahlhaus, Miers,
Sydney: Haywood 2, Franklin, Papley, Heeney, Reid, Blakey, Menzel
BEST
Geelong: Kelly, Dangerfield, Stewart, Duncan, Hawkins
Sydney: Parker, Lloyd, Hewett, Dawson, Heeney
INJURIES 
Geelong: Rhys Stanley (adductor) replaced in selected side by Zac Smith
Sydney: Nil
Reports: Nil
Umpires: Donlon, Hosking, Harris
Official crowd: 29,021 at GMHBA Stadium
Our writers are independent contributors. The opinions expressed in their articles are their own. They are not the views, nor do they reflect the views, of Malarkey Publications.
Do you really enjoy the Almanac concept?
And want to ensure it continues in its current form, and better? To help keep things ticking over please consider making your own contribution.
Become an Almanac (annual) member – CLICK HERE
One off financial contribution – CLICK HERE
Regular financial contribution (monthly EFT) – CLICK HERE
To find out more about Almanac memberships CLICK HERE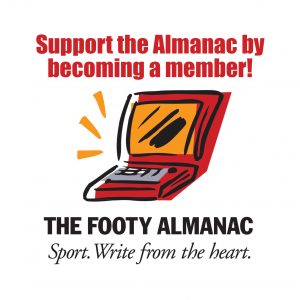 Anna 'Pav' Pavlou is a current student and a born and bred Melburnian who has a passion for sport and sharing people's stories. She is an intern journalist for AFL VICTORIA and writes for The Roar, the Victorian Amateur Football Association (VAFA Media), the Mongrel Punt and is a Melbourne Cricket Club contributor. She also appears on North West FM 98.9 radio show. Most winter weekends you'll find her down at the Ross Gregory Oval in St Kilda, supporting Power House FC, who play in Division 2 in the VAFA. She works as the Division 2 writer for the VAFA. She completed work experience with 3AW Radio and has been published in The Age as well as with Carlton FC and Geelong Cats. Check out her website below for more sport pieces!