Round 10 – Fremantle v Brisbane: Making A Point
There is something a little bittersweet about leaving Perth on a footy day. I live in Kalgoorlie Boulder, some 650km east of Perth and on this particular Sunday we didn't have enough time to get to the footy after a weekend in the seaside city.
We drove away from Perth in silence, still hours away from bounce down. I broke the silence asking how much Lachie Neale and his merry men would beat us by today, we decided that losing by 35 points would be a solid effort.
After a few hours of driving we flicked the radio over to listen to the pre-game coverage, and it was very doom and gloom.
"This is a MUST WIN game for the Dockers". "If they lose today they can all but kiss their top eight hopes goodbye".
I mean these weren't surprising statements, but they still hurt a little.
We were undermanned, Taberner was out for the season and he was probably the best performing forward we have, however 'performing' is probably a generous term for any of our tall forwards.
The game didn't start out all that well, because by quarter time it looked like Charlie Cameron was going to kick 10 goals for the game. It looked like our stoic back line had finally met their kryptonite.
But somehow the Dockers managed to stay in touch, that probably had a lot to do with Luke Ryan getting more of the ball than I think he ever has had, and Brad Hill standing up as a proud indigenous man in Sir Doug Nicholls Round and running rings around his opponents, and some of his teammates.
Listening to the radio and hearing Lachie Neale get tackled by Nat Fyfe is a strange experience for a Freo fan. The first time it happened I yelled at Fyfe for being an idiot and tackling his own team mate, but then it dawned on me. That's why the crowd sound like Eagles fans – Neale left and we were booing him accordingly.
A beautiful moment saw Nat Fyfe throw him aside as if Neale was an AusKicker and take a mark in the goal square. Fyfe went back and kicked a goal that not even he could miss.
Brett Bewley came into the side as another debutante for the Dockers as we continue to buck the trend and recruit good players, as opposed to our previous strategy which was to draft injury prone players that other clubs don't want anymore.
Speaking of players that other clubs didn't want, Jesse Hogan continues to draw a key defender for no apparent reason, since I don't think he broke out of a trot all game. Lachie Neale proved why a number of clubs DID want him, 26 disposals and 8 clearances.
In the last quarter as we drove closer and closer to Kalgoorlie Boulder the Lions started to pull away, luckily only one point at a time.
About ten minutes into the last quarter the tide began to turn, the Dockers were inching their way back into the game, matching the Lions, one behind at a time. There were a few key moments towards the end of this game, and they all involve Michael Walters. 17 minutes into the final term, he steadied and kicked a goal. He's a settler. But the big moment came with 30 seconds to go in the match, Walters takes a mark 45m out, soaked up the clock like an absolute pro, and booted it. As years go on and we tell the story of how this game got the Dockers back on track to win the 2019 flag this match will grow legs. He will be 75m out and in the 4th row of the crowd, but it really doesn't matter because we beat the Lions, and Sonny Walters lived the dream.
Every kid has always dreamed of hitting the post after the siren to win a match haven't they?
To read more of PoppyPenny's work, CLICK HERE:
Do you really enjoy the Almanac concept?
And want to ensure it continues in its current form, and better? To help keep things ticking over please consider making your own contribution.
Become an Almanac (annual) member – CLICK HERE
One off financial contribution – CLICK HERE
Regular financial contribution (monthly EFT) – CLICK HERE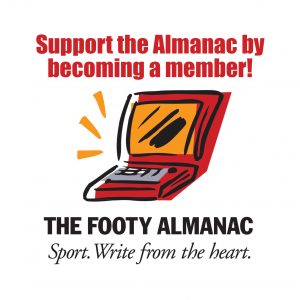 About
A proud West Aussie living in NSW, spreading the good word of the Freo Dockers!