Round 1 – Western Bulldogs v Sydney: A Saturday of upsets…sadly continues.
By Caspar McLeod.
Western Bulldogs Vs. Sydney Swans.
Marvel Stadium, 23/3/2019.
What is this season so far?
For those who may have missed what this opening round has dished up so far:
On Thursday, Richmond slogged past Carlton, and lost Alex Rance, arguably one of their most, if not THE most important, cog in the Richmond machine, for the entire season. As much as it sucked to see a champion go down with a terrible injury, there would have been some thinking that Richmond was no longer a credible threat.
Then, on Friday night, Collingwood continued their favourite pastime of losing close games on the MCG, dropping a low-scoring game to Geelong. Huh. Collingwood didn't look very credible either.
Melbourne had a win practically booked for them heading into Saturday afternoon's game. Just hand them the four points. Or so many thought. Port had other thoughts.
If the Power shocked in a good way, their crosstown rivals then shocked almost everyone in a terrible way. They got smashed by a Tom Mitchell-less Hawks.
I ponder these results as I walk from the tram up the stairs towards Marvel Stadium, fresh from auditioning for RMIT's next play. I'm nervous. I hope the upsets don't continue. Or, if they do, that they can take a break for at least this match. I quickly check the schedule for the other game tonight. The reigning champs have Brisbane away at the Gabba. Ok, no way they'll loose that. Hopefully, by the time I get home tonight I'll have three correct tips for the opening six games.
I get my general admissions seat for just $18 (that's one of the many great things about being a student), and head through the mostly Blue crowd to the ramp. The West Gate looks majestic as I climb higher, spotting it through the open-air ramp. I'm feeling excited all of a sudden. It's Round 1. It's a new season. Most people tip the Swans to nosedive (Sydney tend to do well when people tip us to do otherwise), and this is my second game of the season already after Thursday night. I am happy about this. This happiness is understandable when one considers that throughout 2018 I didn't go to a single match.
I find an aisle located strategically close to both the toilets and the food stand. I am told by the ticket man that I can sit anywhere on level three aside from the first three rows. Fine by me. I don't consider the first three rows of the highest tier the nosebleeds anyways. No, I sit up much higher, where the true nosebleeding happens.
With my newly bought (and quickly consumed) food assembled, I look around at the stadium. I was here not too long ago for the AFLW double-header. I was also here for two of the Big Bash League finals. It's a fine stadium, although I still don't know what to think of the big Four N'Twenty ad placed on the seating, nor do I know what to think of the new stadium name.
It does have many great footy memories for many, however, under its numerous names. It started when my beloved Bombers annihilated the Power at the beginning of their epic 2000 season. The next year, Moorcroft took the best mark of all time (although the Birdman from Adelaide did do very well to take their honour from him almost a decade later), both of these Bomber memories were at Colonial stadium. Geelong's dynasty started with a Tiger mauling under the Telstra Dome roof, and in 2009, Geelong and St Kilda, undefeated at the time, provided what was to ultimately be a grand final preview at this ground, then called Etihad. And it was epic. And later that season, the Bombers inflicted St Kilda's first loss of the year of the boot of Saint Nick and a plenitude of young blooded talent. And even in recent years, as the standard of footy has dropped (according to some people), Etihad Stadium has provided some great memories, including when the Dogs, with half of their team on the mark, denied Harry Taylor the chance to live the boyhood dream of kicking a winning goal after the siren.
So here I am. The (re)birth of Marvel Stadium as an AFL men's venue.
After a quick video call with Mum and Dad back in Dubai, the crowd starts to pour in. I realize I am sitting not only in the middle of the wing, but I am also sitting in the middle of an interesting colour gradient. On my far left it starts out a profusion of blue, white, and red, including a good looking Bulldogs supporter who looks my age, who also appears to be waiting for his mates. Slowly as it pans to the center where I am, a few dots of red and white sans the blue can be viewed, before becoming more defined in its red and whiteness on the right (with a small smudge of blue thrown in for good measure.) I'm ready for the game to start.
The Swans are wearing their white, alternate jumpers, which is awfully nice of them to do so for the sake of the crowd, viewers at home, and commentators, as it avoids them being confused with the Dogs, dressing up as Thor (apparently). The game starts and the crowd erupts in cheers of "GO DOGS" and "C'MON, SYDNEY!"
Soon, the first highlight of the game, and of so far, the season. Heeney flies for a brilliant mark, making his catch against Melbourne from last year look rudimentary. I fist-pump the air as we  have the first. Great start!
The Dogs turn the ball over, but are putting far more pressure on the Swans then the Swans are on them. They take advantage of the new rules (Thanks, AFL), to make the Sydney-Siders look slow. Soon, they have a goal. Soon, they have another. "Ok," I think to myself, "Sydney, you can stop messing around. Time to play footy." They can't read my mind, that much is obvious, as the Dogs start to toy with us. Four goals to one in the first quarter. Hmmm… maybe I was a bit too preemptive with the "Great Start" comment from earlier. I'm sitting in front of a group of negative Nellies wearing red and white, who act surprised whenever Sydney make a mistake. "Hmmm, maybe they wouldn't have made the mistake if you were actually sending them positive vibes instead of talking them down. It's all about the vibes. The little things help." I am tempted to say that, instead it stays in my mind.
The second begins and I am still confident. We're the Swans! We eat comebacks like it's breakfast. There's no way this can get any worse… ah. Yes it can. Maybe those negative Nellies are right. Sydney keep on missing. The Swans only consistent player, Aliir Aliir, cannot unfortunately (and I have checked this through Googling) be cloned yet, even though the Swans could use 18 of him. The Dogs are fierce, they do what their song says they do. They Snarl, they Growl, and, heck, they even Howl their way to a comfortable half-time lead. Damn.
I'm trying to remain positive though. Sydney is known for being slow starters. The entire 2017 season was evidence of that. Heck, this round four years ago produced a great Sydney victory from nowhere to break my Bomber heart (yes, I have two teams. Yes, I know it's heresy. No, I'm not sorry for it). This is a piece of cake. Although, the thought does cross my mind that, maybe we might loose this by 50+.
Impossible. Surely. Maybe? Hopefully?
The third starts, they kick another. We still have only one goal to our name. One. GOAL. To our name. They lead by forty. I didn't actually want to be right, footy gods, when I thought maybe we'd loose by 50+! DO SOMETHING TO HELP US, PLEASE! I'LL DO ANYTHING!
Suddenly, the tide turns. I think the moment it turned was when the Bont was somehow not paid a mark or a free-kick on the boundary line. Allir knows he's gotten away with one. I can imagine him flashing a cheeky grin at the champ, as if to say "Hey, not everything goes your way."
This may seem like a week turning point, but by god it was one. Because, suddenly, we've kicked another goal. YESSSS! Then they kick another. NO! But alas, it's ok, because we kick consecutive goals, we make the Dogs fumble, and we HUNT. They turn the ball over. It's like we've finally arrived from the airport and have replaced the imposters from the previous half. It gets close. The cute dog supporter, now with his mates, yells at the umpire. His voice tells me he is nervous. We are coming. But, against the tide, the blue red and white get a goal. Damn! Back out to beyond five goals by three quarter time.
I recall the game against Geelong last year as we enter the last. How we came from nowhere without the great Lance to steal the game, and break Geelong hearts (again). A similar miracle is a chance. A small chance, but a chance is a chance.
That chance increases greatly as the Swans finally strut their stuff. It starts with a goal to Reid (great to have him back), who has looked dangerous tonight, followed by Heeney for another, before Papley gets in on the act, and that's all before Buddy gets going for 2019 with a beautiful mark followed by a rolling kick that obeys its master brilliantly. The Negative Nellies are now laughing, not lambasting, the boys, saying to each other "they're simply teasing us!" Indeed they are. Suddenly, in almost a blink of an eye, we are within a goal. You've read that right. WITH.IN.A.GOAL. Cute Bulldog fan is not happy. Buddy takes another mark. With this kick, if successful, we take the lead. But, alas, a moment can change a game. We saw it with the Bont earlier. And this time, it's not a positive change for the men in red and white. Buddy takes too long in the preparation of his kick. Umpire calls play on, and a herd, (or a group? gaggle? pound? Whatever, you get the point,) launch at him. He still gets his kick away, and it sails beautifully… into the post. DAMN!
From that moment on, the Dogs dominate. Sure, Sydney get a couple of more chances, but thanks to the Bont, and the new Bulldog Lloyd, we are gone for good this time. Siren sounds. The good-looking Bulldog supporter stands up and applauds. The Negative Nellies sit their, silent in contemplation.
On the platform waiting for the 86 tram, I read over my facebook messages. I see one from my near and dear friend Ziki in Paris, who I had messaged earlier in the night when the Swans were getting smashed. Her message read "Oh no, oh dear. What's the name of the team you support and why do you support them exactly?" I sent through a response to this very good friend of mine by saying "I support the teams I do because of Dad", as if that explained everything.
And then I thought about it. And realized this. I love the Sydney Swans because they never give up. The Swans never say die, and have built a reputation on it. This attitude won us two premierships, and nearly won us a couple of more. Yes, one could argue that we need to stop putting ourselves into situations where we need to come back. But at least we know we will always fight until the end, no matter what.
On the tram ride back, listening to Hozier's new album, I check on the scores of the West Coast – Brisbane game, expecting to see a comfortable West Coast win… instead, I stare in awe and bewilderment as the Lions CRUSH, that's right… CRUSH, the reigning champs.
A season where the Magpies, Crows, Demons, Swans, and Eagles, start off as losers (one could argue Richmond belongs in this group too)…
What is this season?
WESTERN BULLDOGS   4.5       6.8       9.14     11.16 (82)
SYDNEY                        1.2       1.5       5.6       9.11 (65)
GOALS
Western Bulldogs: Naughton 3, Gowers 2, Lloyd 2, Richards, Duryea, Schache, Bontempelli
Sydney: Reid 2, Heeney 2, Blakey, Hayward, Mills, Papley, Franklin
BEST
Western Bulldogs: Naughton, Bontempelli, Liberatore, Wallis, Macrae, Hunter
Sydney: Lloyd, Jones, McVeigh, Sinclair, Kennedy, Papley
INJURIES
Western Bulldogs: Suckling (right ankle)
Sydney: Nil
Reports: Nil
Umpires: Ryan, O'Gorman, Brown
Official crowd: 32,303 at Marvel Stadium
To find out more about Almanac memberships CLICK HERE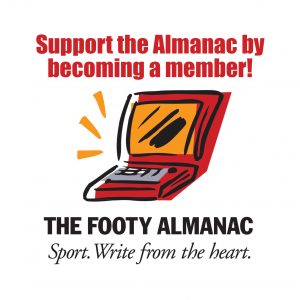 Third Culture Kid at Heart. Grew up in Asia, discovered footy at age 9. AFL has since been my burning passion. Ask me who were the winners all the grand finals between 1938 and last year's decider, and I'll be happy to tell you. I'm a footy nut with a passion for writing and acting. All though I love writing and acting, during the footy season, AFL is my true passion. Waiting ever so patiently for the day when Essendon Next win the flag.