Almanac Life: Quick hands at Uncle Stan's in Grantham
Quick hands, as they call it, is a key concept in rugby league. When the game is played in the traditional way, the big forwards run the ball up, one out, for a few tackles. While they are battering the line, the dainty backs get themselves set, lining out across the field. When the half-back thinks enough of the defenders have been sucked in to the ruck as a result of the heavy tackling, and he sees his centres and wingers are set, he'll yell, "Backs ball!"
And if the gaps are out wide he'll call, "Quick hands." Although usually he won't have to call it, because the five eighth (where I eventually played) and the inside centre should see what's on, and the ball will go through the hands with no dinkin' and dummyin' and fartin' about. Half back, on to five eighth, to inside centre, to outside centre, with may be the full back chiming in, and then wide to the speedy winger.
You have to be able to catch and pass.
I learned about quick hands in a very Queensland way.
My Uncle Stan and Aunty June live on a little farm at Grantham. For years they grew vegetables. They made a modest living out of it: enough to raise four daughters, and keep Uncle Stan in beer and bait.
If you were with Uncle Stan at the bar of the Grantham pub, or outside of church, or when you spotted him on the beach at Fraser Island, and asked him what he did, he'd say, "I grow cabbage."
He has always been a proud cabbage-grower and had a sense of providing the nation with coleslaw. And he has always said the word 'cabbage' in a particular way. I can't describe it, or the way he talks generally. He just sounds like Uncle Stan: full of stories and editorials and opinions and mischief.
You'd have to be more than Professor Higgins to try to understand the combination of heritage and experience which have come together to form the way he talks. It's a German, Lutheran, 1949, Lockyer Valley, in-the-paddock sort of sound, the distinctiveness of which is amplified by what he says.
At my brother's wedding he wasn't on the MC's list of speakers but, moved by the spiritus mundi, he rose and headed towards the mic. Of course it was thrust towards him.
He cleared his throat. "From the bottom of my heart," he began, "to the heart of my wife's bottom…" No-one remembers the rest except that it was vintage Uncle Stan.
His speeches, like his life generally, are no-nonsense. He isn't one to get involved in things that don't matter, and he has a natural suspicion of institutions and government bull shit which, combined with a healthy belief in his own understanding of things, means he will tell you how it is – in the nicest possible way. The man can talk. He likes face-to-face talk. ("I haven't got a fishin' net, I haven't got a hair net, why the bloody hell would I want an internet?")
When we were kids we'd often go to Grantham to stay at Uncle Stan's. He was huge. He still is: a great bull of a man; brown-black from the Queensland sun; his hands the size of couch cushions. Tough hands with fingers as fat as Chiko Rolls ("What is that purple stuff in them damn things – that's not proper cabbage?") and finger-nails with a fair portion of the bottom paddock under them.
His feet are just as big. And cracked. Because Uncle Stan has only ever worn shoes to church, to selected local council functions, and on the golf course.
We'd arrive at the farm with its two palm trees out the front, the city kids from that (huge) metropolis of Oakey just an hour or so away if the trucks crawling down the Toowomba Range weren't too bad, and there would be Uncle Stan waddling from side to side on already-dodgy hips, through the paddock,  shifting irrigation pipes, picking them up like he was a Ukrainian weightlifter, and putting them in the next spot to water his cabbage (no plural) or onions or rock melon ("rock mellin"). Tramping through stinging nettles, the poison of which would incapacitate a small child for hours. ("Them damn things don't worry ya, do they?")
Massive shoulders and chest. And a wide arse. Big, and with a big tummy, but not a fat tummy in the way that farmers aren't fat, even the fat ones.
When we first went to Uncle Stan's in the late `60s we had to use the thunderbox in the lovely back garden. I remember how Uncle Stan could make that little structure rock, reading the produce prices in the Gatton newspaper, or tearing it up to use appropriately ("Paper? What's wrong with an old corn cob. That'll do the trick.") He'd emerge still hitching his blue King Gee shorts (button-ups) as he headed off to do some other important job.
Their old Queenslander, on stilts, was beautifully cool in the shade underneath, and caught a lovely breeze upstairs. There were plenty of days, though, when the air was heavy and still with humidity and it would be an effort for Uncle Stan to release himself from the cricket in the lounge room.
The farm is a couple of kilometres from the confluence of two creeks: Lockyer Creek, quite deep and fast-flowing after a storm, and Sandy Creek, which runs through the town of Grantham itself. So the soil on the plain is very good. But it can flood: there was a big one in 1974 which flooded under the house.
Their place is on the old Brisbane Road. If you turn at the pub and go up a short bit, that's the Schulz's. The little old shop they used to sell from, when it was the highway, is still there, but is now a repository for the stuff farmers and their families accumulate over sixty years.
Back in 1975, when my Dad had long-service leave, we spent the first month picking onions at Uncle Stan's so we could afford a family holiday Down South. It was hard work, but good fun.
Onions were sufferable. But what we really wanted to do was pick cabbage. With Uncle Stan. On many visits he would take us down to the cabbage paddock and get us to form a chain – a rugby league back line of cousins. He'd have a razor-sharp knife, and he'd bend over, his magnificent arse pointing to the sky, and swish, off would come a huge, green head of cabbage. He'd toss it to the first cousin, maybe his twelve year old daughter, to me, to my ten year old brother, to his nine year old daughter, and then to a cousin from New Guinea (one of Uncle Cecil's boys) who was having a weekend away from boarding school, to my nine year old brother, to another of his daughters, to Aunty June (under her hat) packing the wooden crate.
You needed quick hands. And good hands. Catch and pass. Good catch. Accurate pass. Pass to the catcher's advantage so they were in a position to pass easily. Uncle Stan set the pace – and he didn't like his rhythm altered. Dropping a cabbage would bring the half-laugh-half-wrath of Uncle Stan who'd have seen the knock-on from the corner of his eye and would be complaining about getting the job done before dark. ("You damn kids.") Looking back now, I can see the theatre that was Uncle Stan's paddock, the Zorba man he was (and still is), and the cheeky performance he always gave. Anthony Quinn would have been a fop in Uncle Stan's presence.
So we learnt quick hands, to please Uncle Stan, although we all laughed when our feet got sucked in to the mud which slurped at us like it was a living thing, or someone went down in pain stung by a bastard nettle. Or someone did the unthinkable and dropped a cabbage. ("They won't take that one now, you damn kids.")
The great (and very occasional) treat was to be the cousin picked out to go with Uncle Stan and Dad (Uncle Stan always called our father 'Pastor Elmore' because  that's how he first knew him) in the truck, laden with crates of Schulz's cabbage to Brisbane. The old Bedford would be coaxed into action and away we'd go to arrive at the Rocklea Markets after midnight. This was an invitation into the adult world, and there were few things as thrilling as a pie with mash and gravy at 3am at some truckies' stop near Goodna. I learnt to understand why men rubbed their hands together in hunger, and in the knowledge that a solid day's work had been completed – in the most satisfying way.
Uncle Stan may not have realized the impact he was having on the rugby league careers of his nephews. He didn't play any football, nor much cricket. His main sports were fishing and drinking, and the occasional game of golf.
He would duck up to that little Grantham pub after knock-off and have a quick twelve pots. "Why do you have to have twelve?" my father would ask in moments when piety took hold.
"Because, Pastor Elma', I work that damn hard I don't taste the first ten," he'd say. The round dozen seemed to have no effect on him, nor the same number on his brother Col.
For years, when driving to Brisbane we'd look out for the '69 Falcon station wagon and there it would be, parked at the Grantham pub.
Uncle Stan discovered Fraser Island in the 1960s; he was one of the first regulars up there. He'd plant cabbage in Grantham, say a few prayers, spray for bugs, and go fishing for bream and tailor. He became an institution of the place – Black Dog, they call him.
I have never played golf with him but I imagine it is a remarkable site. He had an exotic set of clubs. In the days when most of us could only afford a driver, 3,5,7 irons and putter Uncle Stan had a 4-iron which one of the cousins would borrow as a welcome addition to their set when heading off to play at Gatton (rather than visiting Nan).
He follows the cricket – and has his opinions about it. I remember one of the saddest nights of my life was during that onion-picking season in 1975. Every sunset we'd stumble in to the house, exhausted, and dinner would be chops or steak or rissoles or sausages with mashed potatoes and chips and veges, and beetroot and corn, and tomato and cucumber salad in a creamy vinegar dressing with onion, and bakers' white bread. There wasn't a bit of plate showing. One night we were waiting for the final day of cricket from Headingley. McCosker and Walters were making a good fist of the fourth innings chase and Australia was in with a good chance. We'd talked cricket all day in the westerly winds out in the paddock. The anticipation had built and built. And then news came through that someone had dug up the pitch. The Test was abandoned. I was distraught.
In recent times Uncle Stan hasn't done as much on the farm, but he's never stopped being a farmer. He doesn't drink beer anymore. His body tried to tell him not to. But he didn't really listen. His doctor gave him no choice. So now he drinks red wine. And talks. He'll drive ("the Toyota") to the Barossa to stock up. He's got a little wine fridge under the house to beat the Queensland humidity.
Last year he had a bit of a setback. He fell fifteen feet off a ladder while trimming the top of the hedge. ("Mum brought two wheelbarra's' o'soil and it still didn't fill up the damn hole in the ground.")
I have noticed that since the day of his fall last February, the weather hasn't been the same – around the world.
A fortnight or so ago it started raining in the Lockyer Valley. It rained a lot just below the Toowomba range. That had happened many times before, although this rain was very heavy and persistent. It kept raining.
Uncle Stan thought there would be a bit of water coming down the creek.
The phone rang at the house about one o'clock on Tuesday afternoon. They were told they had five minutes to prepare for the water that was coming. Aunty June took the car to the small patch of high ground and was returning to the house on foot when the flood started rising. Quickly she was in waist-deep water and in trouble.
She made it to the steps and up in to the house. She looked at Stan.
The water continued to rush carrying with it masses of debris. It rose quickly. Then it subsided a little.
Uncle Stan and Aunty June had nowhere to go. A second flood came: this time even more water. They photographed it. They were concerned the force of it would wash the house away, or that one of the many logs it transported would crash destructively into one of the house stumps.
Fortunately it didn't. They sat there for two days waiting for the water to go down. Eventually the police insisted they leave. They learnt of the fate of their townsfolk. A dozen drowned.
We couldn't contact Grantham by phone, but word came through that they were alright. I finally spoke to Uncle Stan on Tuesday afternoon (a week after the flood), just after he had been allowed to return to the house.
At first there was no ratbag in his voice. He was still very shaken.
"It was unbelievable," he kept saying, in a voice I had never known was in Uncle Stan. He has never been one to show his trouble, his upset. "John, you cannot, cannot imagine what it looks like here. Forget the damn news reports. That can't show it."
And he began to tell me how it happened. And how the news analysts had it wrong. "This wasn't Toowoomba water," he said. "That all went west to Oakey."
Which it did.
"This was from the massive rain on this side [of the range]."
Gradually the Uncle Stan voice came back; the one that has at its heart the sense that the good Lord knows what he is doing; and the voice of gratitude that they were spared. "There's many worse off than us," he said, a number of times.
"The car's alright. Which is a pity," he said. "I hit my head on the damn thing every time I get in."
"The Toyota's up to the horn in mud. The wine fridge has had a little float, but you know what John, not one of them damn bottles was broken."
The beautiful farm is a mess. This garden paradise where we learnt quick hands is a mess.
But they're going to clean it up and keep going.
Read more from John Harms HERE
The Tigers (Covid) Almanac 2020 will be published in 2021. It will have all the usual features – a game by game account of the Tigers season – and will also include some of the best Almanac writing from the Covid winter.  Pre-order HERE
To return to our Footy Almanac home page click HERE.
Our writers are independent contributors. The opinions expressed in their articles are their own. They are not the views, nor do they reflect the views, of Malarkey Publications.
Do you enjoy the Almanac concept?
And want to ensure it continues in its current form, and better? To help things keep ticking over please consider making your own contribution.
Become an Almanac (annual) member – CLICK HERE.
One-off financial contribution – CLICK HERE.
Regular financial contribution (monthly EFT) – CLICK HERE.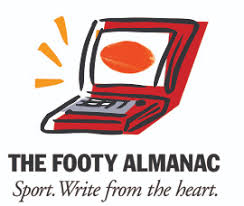 JTH is a writer, publisher, speaker, historian. He is publisher and contributing editor of The Footy Almanac and footyalmanac.com.au. He has written columns and features for numerous publications. His books include Confessions of a Thirteenth Man, Memoirs of a Mug Punter, Loose Men Everywhere, Play On, The Pearl: Steve Renouf's Story and Life As I Know It (with Michelle Payne). He appears on ABCTV's Offsiders. He can be contacted [email protected] He is married to The Handicapper and has three kids - Theo13, Anna11, Evie10. He might not be the worst putter in the world but he's in the worst three. His ambition is to lunch for Australia.