Plenty of horses and beer at Casterton but where are the kelpies?
Very few racing writers have ever adequately captured the completeness of that thrill a punter gets at his or her first visit to a racetrack.
I'm sure Les Carlyon probably has. It's just that I haven't come across that story yet.
It's much the same as teeing off for the first time at an unfamiliar golf course. Or a first date. In all three cases, you have a rough idea how things will probably turn out however you are totally in the dark about the detail. It's that delightful frisson where the new and the exciting intersect with the unexpected.
The sun rises on a beautiful Sunday morning and I am off to the Casterton Cup. Never been to the track before. It's a three and a half hour drive from Geelong but, what the hell. I am like a little kid off to see Santa. New, exciting and unexpected are the flavour of the morning.
Time flies and I am soon past Hamilton where the flatness of the western plains gives way to the fertile rolling hills around Coleraine and Casterton so popular with the mid 19th century squatters. Later in the afternoon I am gently chided for pronouncing Coleraine with three syllables. Wrong wrong wrong! It's "Coll-rain" apparently.
Notwithstanding my blemish I see the Coleraine track from the highway as I pass. Never been there either. But that can wait. I keep driving. Besides, I'm heading there for their August meeting.
Twenty minutes later, welcome to Casterton – birthplace of the Kelpie. Great, I love kelpies. I feel sure I am going to see a few over the next 24 hours.
I book in to my Casteron digs. Not a flash four star hotel with ensuites, spas and jacuzzis but an upstairs pub room with a bed and wardrobe with the bathroom down the hallway. It's all I need. The lyrics of a Paul Simon song start to come to mind but I can't recollect which one it was. I am far too distracted by the new and the exciting.
A brisk 30 minute walk later, I crest one of those rolling hills and see the track complete with a carpark full of cars, buses and floats. And what a grand sight it is. The track is a natural amphitheatre nestled inside the surrounding gently sloping paddocks with dozens of gum trees lining the banks where the Glenelg and Wannon Rivers meet.
Inside the track and the first group I meet are not new to me but a little unexpected.
"G'day Rog," says Don Royce.
Don along with Neville Crane, David Kelly and Bob Merriman are from the Newtown Cricket Club in Geelong  A little later I discover Bob has given them the necessary intelligence to land an early trifecta. A more than modest collect even shared four ways sees them contented and set for the remainder of the afternoon.
But it's not long before the new, exciting and unexpected start to present themselves. A largish group of young racegoers are obviously quite a few cans of Carlton Draught (no funny business beer at Casterton folks) ahead of me as I finish my first. The fellas look like a local Young Farmers group while the gals have donned their finest for the afternoon. Clue here, think 21st birthday party except in the afternoon and outside. They are in high spirits and having a whale of a time.
One young bloke couldn't make up his mind. His top half is suit jacket, vest, shirt collar and tie with a very fashionable hat. His bottom half is shorts and gumboots. Different.
I spot a table with a couple of spare seats. Upon enquiry the incumbents welcome me reassuringly.
"No. This spot is taken. Sit there if you like but my wife will probably want to sit on your knee," laughs Russ from Jan Juc.
"There's nobody in those two other spots though."
The number of empty beer cans and half full red wine glasses on the table suggest the afternoon experience ahead of me may not be all that new but Russ's sense of humour suggests it will more than likely be exciting.
David and Sue from Robinvale, Rocky, Glenys, Simon and John from Melbourne and Russ's wife Marg (she with the alleged knee sitting propensity) make up the rest of the group. They are staying in Hamilton and have arranged a bus to the track with others. The presence of well scrawled form guides suggests to me my new friends are keen on the punt. Their attention to their respective apps for the Bendigo, Wagga and Strathalbyn races confirms this belief beyond any doubt.
The Open Steeplechase is one of two feature races. Much of the race is run off the course proper on a separate steeplechase track where the horses negotiate the only live hedge fences in Australia. It occurs to me that, many years ago, somebody must have put a lot of thought into the design of the track. I mean, how else would you get live hedge fences in the exact spots you need them as jumps for a horse race? Patrick Payne confirms his reputation as the country's elite trainer of jumps horses when the relative outsider Speedy Jax beats the more fancied runners.
"Have that one did you?" enquires Rocky.
"Nup," replies Simon but with no discernible sign of emotion.
He moves on quickly. Simon is obviously a devotee of the Henry Ford maxim that history is bunkum. He is focused on the next at Bendigo. However when John offers to fetch him another beer he nods enthusiastically without taking his eyes off the form guide.
Glenys has also moved on.
"Quaddie starts next race. Are we on?"
Again Simon nods impassively still deep in thought somewhere between Bendigo and Strathalbyn.
The afternoon moves on. The young farmers group is becoming noisier. The wearer of the split level costume has shed his hat and his tie has been loosened. His gum boots are still fully functioning though. He is giving one young lady what appears from her broad smile to be a most welcome cuddle. His afternoon is on the improve.
Time for the Casterton Cup, the other feature race on the program.
I had picked the Matthew Williams trained Break And Enter several days earlier well before the odds were framed. It had won at the Warrnambool carnival a fortnight earlier carrying 60 kilos. Today it carries just 54. It looks a good chance in what I think is only a slightly harder field. But it opens at $23 and I panic.
"What have I overlooked?" I think.
Thankfully, I hold my nerve and have a wager. More importantly, jockey Jack Hill holds his nerve and after giving it a lovely smother throughout the run he steers it through an opening along the rails to just collar the well favoured Barry The Baptist and Bling Dynasty in a three way photo. I celebrate a $23 winner.
My joy is short lived though as, back at the table, sad faces tell me it has put them out of the quaddie. With well honed punters' experience I don't gloat. I don't tell them about my success until eventually pressed by Simon who thinks he senses a quiet punter keeping a win to himself. Simon has plainly been around many racetracks and many punters before.
The conversation starts with the "why didn't we get Roger in our quaddie" sort of 20/20 hindsight but soon becomes good natured banter. They are happy I have jagged a winner. These people are punters after all so they know the drill. Later on they even offer me a lift back to the township on their bus. John asks me if I will come again next year.
Back in the three Casteron pubs as evening approaches the town is rocking. The young farmers are kicking on. Several of them are carrying high heels in their pockets on behalf of the respective nearby owners who now prefer the barefoot option.
The Albion Hotel has a photo of the 1990 Casterton premiership side. I am delighted to discover they wear the navy blue and white hoops of Geelong and I then remember this is Max Rooke country. After a sumptuous country pub counter tea I leave the young'uns to kick on as I reflect on the day's highlights.
It is only then I laugh as I realise I really have inadvertently nailed the new and exciting and with more than a hint of the unexpected. It's called winning!
As I head home Monday morning I still chuckle at this experience but, sadly, I haven't seen one kelpie.
Do you really enjoy the Almanac concept?
And want to ensure it continues in its current form, and better? To help keep things ticking over please consider making your own contribution.
Become an Almanac (annual) member – CLICK HERE
One off financial contribution – CLICK HERE
Regular financial contribution (monthly EFT) – CLICK HERE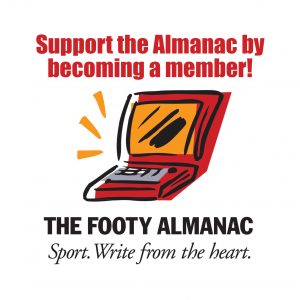 Roger Lowrey is a Geelong based writer who lists his special interests as reading, writing, horse racing, Roman history and AEC electoral boundaries. Some of his friends think he is a little eccentric.