Michael Long: Essendon great, now a statue!
The Essendon Football Club today honoured champion Michael Long by unveiling his bronze statue which now stands proudly at the entrance to The Hangar, the Club's headquarters in Tullamarine.
The statue of Long which was commissioned by Essendon and the Barham family is a tribute to Long's outstanding playing career and continuous work he does to empower Indigenous Australians through the 'Long Walk' charity.
From the Club Media Release:
As part of the unveiling, Daniel Andrews' Labor government committed $300,000 over the next three years to Michael's charity, The Long Walk, which will help deliver important education programs.
Long said he was truly humbled to be honoured by the club.
"I'd like to thank the club and the Barham family for commissioning the statue, the artist has done an incredible job acknowledging my playing career and walk to Canberra, it's a surreal moment but something me and my family are very proud of," Long said.
"Without my football career, I wouldn't have had a platform to drive change and establish The Long Walk charity.
"Today's funding announcement from Daniel Andrews means we will be able to increase The Long Walk's resources and deliver more Walk the Talk Programs in schools.
"This will help us educate more Victorian students about Aboriginal history and culture, which is an important step towards achieving genuine reconciliation, and creating a shared vision for the future."
To celebrate Essendon's unveiling of Michael Long's statue at The Hangar today, I reprise my entry for the  280 character Almanac Writing Competition from last year.
Rather than take The Long Road home, Michael took a short cut, bouncing and zig-zagging his way through the centre. One hundred thousand pairs of eyes watched in silence as his kick majestically sailed over Silvagni's outstretched arm. "Goal," they roared. Bombers '93. #almanac280
To read more, head to the Essendon Football Club website.
Do you love the Almanac concept?
And want to ensure it continues in its current form, and better? To help keep things ticking over please consider making your own contribution.
One off financial contribution – CLICK HERE
Regular financial contribution (monthly EFT) – CLICK HERE
Become an Almanac (annual) member – CLICK HERE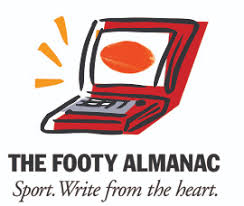 Retired teacher who enjoys following the Bombers, listening to music especially Bob Dylan, reading, and swimming.