Martin Flanagan and a reappraisal of 1992
It was barely a week ago when my wife delivered the news. The dust had not yet settled following the announcement that Rohan Connolly was leaving The Age. I've long been a fan of Connolly. Three years ago he wrote a cracking account of the 1994 preliminary final between Geelong and North Melbourne. It was one of those games that, like the 1967 decider, you could play as a stand-alone to anyone who had never witnessed the game as if to say, "Hey, this is what our game looks like at its very best. Pretty darn good, huh?" Never mind what's at stake and in the case of Geelong fans in 1994, it was best not to think about it as even the staunchest supporters had to know they were in for a hiding the following week. Rohan Connolly did not touch on this point and may not have even agreed but nonetheless his writing captured the intensity of the match and I'd say it was one of his best ever columns.
As I was re-reading this masterpiece my wife told me that Martin Flanagan has also written his final column for The Age. It's a tough blow when two revered figures leave in such close succession. Great writers come and go, that's inevitable. Only you're left thinking not only who will fill the void (if at all) but how long is that going to take? From a glass-half-full perspective we can at least be thankful that we were around at the same time when these columns were brand new.
As much as I love Rohan Connolly's columns, it was Martin Flanagan that was head and shoulders above all else for me. One could gush or even waffle but I cannot say much more other than I simply loved his perspective on the game. It doesn't take a genius to tell that Flanagan is as good a listener/observer as he is a writer/journalist.
A couple of years ago, during one of my annual trips to Melbourne, I came across The Last Quarter at Hill Of Content on Bourke Street. It's three books in one: "1970", "Southern Sky, Western Oval" and "The Game in Time Of War". What makes any writer great is when they get to you. Each book got to me in a different way. It was reading 1970 that drew me to the writings of former Carlton, North Melbourne and Melbourne champion Brent Crosswell. Despite being well aware of his feats as a player, and his appearance on The Footy Show in 1997 had me even more intrigued, I had no idea he wrote columns for The Age. Fortunately a collection of his writings was compiled for The Best Australian Sports Writing 2003 with an introductory piece written by Flanagan himself. Brilliant prose is an understatement for Crosswell's take on the game and like Martin Flanagan, his take is both unique and insightful, not to mention totally original. It was just a shame that his column he wrote on teammate John "Ragsy" Goold didn't make the cut. So far I haven't located this article and nor has Martin, so he told me. That said, Crosswell's column on Vin Cattogio first published in 1986 is as good as it gets.
The Game in Time of War features a chapter on John Howard. For everybody's sake I shall spare you my opinion of the former Prime Minister. Flanagan recounts a mid-flight discussion of Geoffrey Serle's biography on John Monash. While Martin highlights such points as Monash's German-Jewish background and his not being too in love with the British empire, among the various interesting aspects of Monash's life, it simply boils down to the two agreeing that "it was a fine book about a major Australian" (p423). It is now my mission to read this book.
In Southern Sky, Western Oval, it took all of two sentences to strike a chord. From pages 236-245 in The Last Quarter publication, there is a chapter on Geelong. I was born and raised in Perth and started barracking for the Cats during the late 1980s. A brave thing to do at that time but, even at that age, I was suspicious of the hysteria and hype surrounding West Coast and figured the provincial team to be the antithesis of the Eagles in every way. Plus the Cats had Ablett and while I never got to see him play in the flesh, not venturing to Kardinia Park for the first time until 2005, in my opinion Gary Ablett Snr was easily the most exciting player to watch if you were watching the game on TV. You had no idea where he was until he flashed through at breakneck speed from the right of screen to slam the loose ball between the posts and best of luck to whoever was in the way. Case in point: his first goal in the round 6, 1989 encounter with Hawthorn at Princes Park. You can just picture him timing his run from the wing on the bottom of the screen as Bairstow unloads his high floater. You know he's coming but in the meantime the anticipation for the viewer is electric.
I mentioned earlier that Martin Flanagan had a great perspective on the game and it was in this chapter on the Cats that I got it where I think quite a few of us Geelong supporters needed it most. As fans, we all take to grand final defeats in different ways. 1967 is one of the finest games of football ever played so you couldn't be dirty on Richmond. Put simply, they took their chances in front of goal when it counted and Geelong didn't. 1994 and 1995 are write-offs. In the case of 1989, I've always been fine with the loss as I have a thing about upstarts. I say that but without fail every time I listen to the ABC radio broadcast of the match (the pace that game was played at makes for good listening when out for a run) I get sucked in by Tim Lane's call when Shane Hamilton cuts the margin to eleven points thinking, "Shit, we could actually get up and pinch it this time.", only to be brought back down to earth by the cold facts delivered by Peter Booth on David Cameron. "He's taking far too much time……..far too much time."
In this chapter Flanagan gives a brief take on the 1992 grand final which, for a lot of Geelong fans, was the one of the Blight/Ayres era that was the best chance – the one we "should" have won. I felt that too for a long time even after 2007 when the drought was finally broken. Flanagan took two sentences to change the outlook. "His (Matera's) long goal early in the third term put the Eagles ahead for the first time in the match but almost immediately one sensed the game was over…. Geelong had put on a bold front, but behind it was only a handful of highly talented individuals." (Page 241) . Some folks figure about six in total (or seven if you include defender Ken Hinkley). I was thirteen when I watched the telecast alone in my sister's house and as much as I hated to admit it (after all this was my team and they had to win), there was no denying it. If West Coast were to steal the lead at any stage Geelong had no chance of gaining the upper hand. Sure, there was time but time for what? The Blight teams may not have been short on style but counter-punching wasn't theirs. I'd long forgotten that feeling until I read those words of Flanagan's. Not exactly Proust's "madeleine moment" I know but like I said, the man has one hell of a frame of reference!
Martin Flanagan later spoke about the price Bill Brownless had to pay after that loss. Sadly history finds a way to repeat itself and that's how I look at Cameron Mooney after 2008. He presented time and again and finished with 2.3. Watching the game at the time it felt more like 2.7. I got the impression that he was not the same player after that loss.
I wrote to Martin last night about his take on 1992 and how it changed my outlook. Cathartic is too strong a word and I'm not one to believe in closure but perspective? He's got it in spades.
Thanks once again Martin.
(* This is the first piece I have written since I submitted an honours thesis on Frank Zappa to the history department at the University of Western Australia some time in 2006. I hope this doesn't read like an extended diary entry. Cheers everyone.)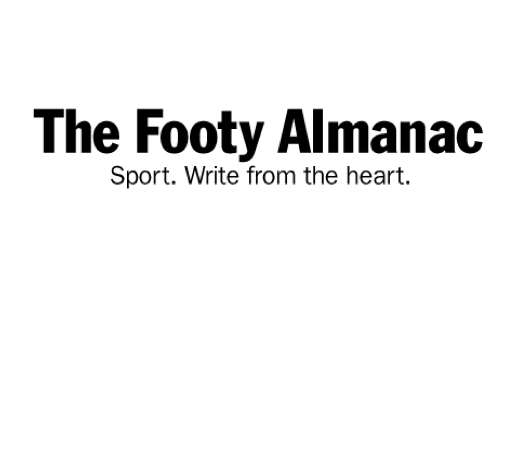 Perth-based DJ, radio presenter (hosting and coordinating Soulsides on RTR-FM 92.1), writer, serial procrastinator, plate-licker, leftist, Geelong supporter with a very soft spot for Fitzroy and Richmond. I play late '50s to early '70s r&b/soul/mod 45s both on air and about town. I completed my BA Honours by submitting a thesis on Frank Zappa. I love the history of the VFL/AFL, especially the old suburban grounds and am obsessed with the 1989 Grand Final (especially the ABC-3LO call). My passions are footy, 45s, my cats (RIP Althea & Cliodhna), my wife and young son Matteo and the city of Melbourne which I visit as often as possible. I also like long walks on the beach and long necks of Melbourne Bitter.