Matt Quartermaine is a mate of mine. I missed opening night of his new show Work Work Work but I had the (late) chance to get there last night.
Over a pre-show beer Matt was lamenting the absence of critics about the place. At which point I tried to look mortified and pulled out a piece of cardboard torn from a Coles ice-cream cone box and my Bic biro and looked at him.
"I'm a critic," I said.
He looked at me.
"I have written about opera, about theatre, about other shows, like football."
I have been to mate's performances before. I review honestly. If my bum gets sore and I can't get comfortable in my seat and my mind is wandering I'll find a way of saying that. Or, go with the ultimate bad review: no review.
Here's what I saw in this show, which made me laugh a lot, and made me want to write something in appreciation:
Work Work Work
I wished I was Reuben Kincaid. Or Mel Brooks. Or some other cashed up producer. After the show I wanted to waltz up to the director Matt Quartermaine in my ermine coat,  whiskey in one hand, and my business card in the other and say, "I like your stuff. Gimme a call some time sunshine," clunk my tumbler on the bar, and slink off to the limo waiting outside the Tuxedo Cat in Latrobe Street.
I had just seen Work, Work, Work – and loved it. What a show! And what a night! That there were, in total, 23 people in the room – 1 writer/director, 2 other writers, 5 actors, and 15 very fortunate audience members – did not matter. No-one else knows how good a time we had. No-one else knows how the talented comedic ensemble was able to build the atmosphere out of nothing. No-one else knows how they were able to build credits during the very clever first half, bank them, and build on them in the second half. It was ours. Just ours.
But it should be everybody else's as well.
This is a fantastic show on a subject that we all know – institutional, corporate, organisational work – with observations and themes that make you want to punch the air. It is intelligent comedy. At times highly intelligent comedy. The writers – Matt, Tim Smith, and Michael Syme – have produced a series of layered sketches, which exist in isolation, some of which return (to be developed) later in the show. The young cast – Oliver Coleman, Josh Glanc, Patrick Hill, Michelle Nussey, and Chelsea Zeller – bring that script to life, and by the second half, despite playing numerous roles, their qualities and personalities are well-formed and you feel like you know them.
There's no poor-me-I-can't-get-laid gags, or a I-grew-up-in-woop-woop gags, or that-guy's-weird-because-he's-not-like-us gags. This is layered, insightful, meaningful comedy which makes us laugh and starts from the wellspring of human folly, human stupidity, and brazen self-interest. It's a pretty deep well.
The sketches utilise (lampoon really) various genres. The take-off of Dr Seuss's The Places You'll Go is genius.
In the corporate caveman sketch, the invention of the wheel is a classic.
Saint Peter's Sir Humphrey to God's Jim Hacker, laced with the Freudian father-son expose of the God-Jesus relationship is so good.
The Captain Bligh sketch makes fine use of jargon and process and highlights ambition in a way we all recognise.
The parody of Romeo and Juliet where two star-crossed lovers meet working at McDonald's delivers the best iambic pentameter I've heard for ages.
The corporate product launch scene (the new iMoses 'tablet') with its techno music and high energy makes you want to put down your beer, leave your table and bop the dick-brain (we all know them) who is launching it, even if the discussion of the new improved 'tablet' is hilarious. ("You used to only have six commandments but this new one has ten").
Then there's the ongoing blue between Buzz Aldrin and Michael Collins on the Apollo 11 mission.
The parody of Sherlock Holmes – and by extension most Sunday night ABC television over the last 30 years – is superb, with the urchin worth the price of admission alone.
Adam and Eve's divorce settlement is clever.
And there's more!
The show finishes with an original ditty, the natural culmination and logical conclusion to what has gone before. Why do we do this to ourselves? All is revealed.
The direction is excellent. The supporting images are instructive, the original lyrics to well-known tunes works well, the other music – Major Tom, Friday on My Mind and many, many others – are judiciously chosen.
The beer is cold and from a tap. The wine is bottled. The tables make you feel like you're in New York and that this Zimmerman from Minnesota might have something.
That 15 of us were there didn't matter a jot on this night. It was memorable.
This is a gem – however rough – which would benefit from the polish and exposure that a few dollars would bring it. Let's hire a barn. And another one. Let's get this on the road.
It deserves a bigger audience. If the Powerball baubles had dropped the right way I'd be buying myself an ermine coat and, in my best Frank Thring voice, practising "Gimme a call."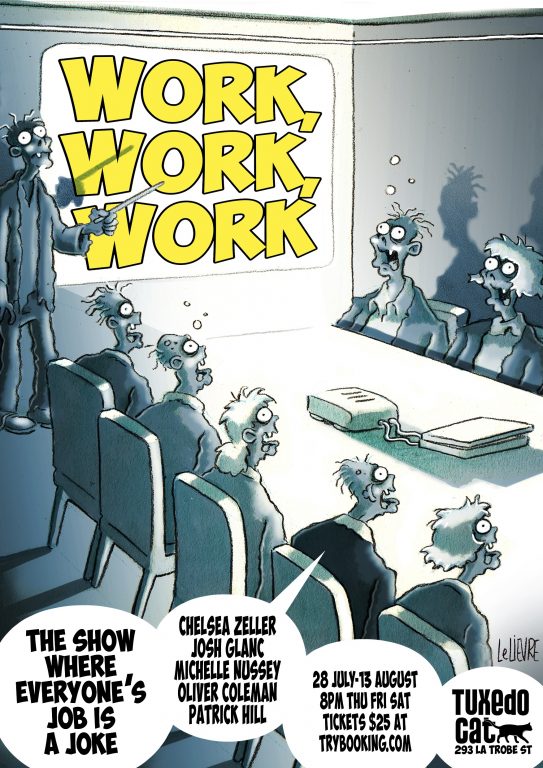 JTH is a writer, publisher, speaker, historian. He is publisher and contributing editor of The Footy Almanac and footyalmanac.com.au. He has written columns and features for numerous publications. His books include Confessions of a Thirteenth Man, Memoirs of a Mug Punter, Loose Men Everywhere, Play On, The Pearl: Steve Renouf's Story and Life As I Know It (with Michelle Payne). He appears on ABCTV's Offsiders. He can be contacted [email protected] He is married to The Handicapper and has three kids - Theo13, Anna11, Evie10. He might not be the worst putter in the world but he's in the worst three. His ambition is to lunch for Australia.