Grand Final – My Return to the Almanac for a One-Off Grand Final Ramble
It has been the best part of four years since I've written for the Almanac. Back then, I was a kid. Now I sit here as a 19-year-old, with new thoughts and new dreams. I'm not an award-winning writer by any means (just ask my Year 12 English teacher), and since I last wrote my aspirations to be a journalist have changed significantly. I'm just a young man who loves football, and I have so many thoughts; I just had to write them all down, as incoherent as they may be.
They say your first year of university is meant to be the time of your life. Party until the sun goes down, wake up with bloodshot eyes, cram assignments right up to the deadline…then upon submission, reward yourself with more nights out in the city. The caveat? I live in Sydney, and it's the year 2021.
I can only speak from my own experiences, but I'm sure many Sydneysiders and most Victorians will agree with me on this; it's been another rotten year, but the one constant has been the football. I've drowned myself in football week-by-week, catching every game I possibly could. It is the ultimate escape. A week without football in between March and October feels very hollow. I have gotten used to watching the football every week, and all of a sudden we have to wait two weeks until the grand final! Needless to say, this does not sit very well with me.
However, with this week off, it definitely gives me time to sit back and recognise the efforts of all 18 clubs. The players, coaches and staff have put themselves through fire and rain to get their teams going, and the AFL have been to hell and back trying to keep the season alive, for the second season in a row. All of their efforts have been nothing short of outstanding.
I believe it is worth mentioning my beloved Sydney Swans, as well as the GWS Giants, who couldn't sleep in their own beds for over ten weeks and were separated from their loved ones for eight. Some had pregnant partners, some had children they were leaving behind, but they gritted their teeth and played through it all. In a sense, it was a shame that these two teams had to face off in week one of finals. Only one team could progress further, but it would have been interesting to see how far both teams could have gone against others.
In any event, we have made it to the grand final: Melbourne v Western Bulldogs. Both teams were unbeaten after six rounds. From Round 3 until Round 21, they were the top two teams in the competition. They each had form slumps during the regular season, but were by-and-large the best teams this year.
Let's talk about Melbourne; the team with all the expectation. They could not have had a better finals campaign. Never really challenged by the Lions in week one, the Dees didn't let a week off halt their momentum, handing the experienced Cats a football lesson. I cannot remember the last time I saw Geelong so comprehensively belted, especially by a team who have normally been on the receiving end in recent history.
But for all the times Geelong demolished Melbourne during the regular season, Melbourne flipped the script when it mattered the most. Christian Petracca proved once again that he has the strongest core in the game; you just can't bring him down. Jack Viney was back to his elite best, Ben Brown caused headaches for Mark Blicavs, while Charlie Spargo and Kysaiah Pickett took full advantage every time the ball hit the turf. But when you see Max Gawn kicking goals on the run from 55 metres, or from a flying snap in the ruck, you know you can't put a foot wrong.
They had their average moments during the year, losing to the Giants, Adelaide, Collingwood and drawing with the Hawks, but they have proven time and time again that their best is the best in the competition, bar none.
If you asked me who would be the most formidable opponent against Melbourne in the grand final, I would have said the Bulldogs. These two clubs have done battle twice this year, both times they were the number one and two teams in the competition. Melbourne won the earlier encounter, while the Bulldogs won the second. This grand final could not be set up more perfectly.
While every team has a form slump, the Bulldogs had theirs at the worst possible time, as it cost them a spot in the top four. While many people (myself included) believed this was the death knell for their season, we all knew the Bulldogs were a top four side, and at their best, a top two side.
Time and time again they prove the experts wrong. Some believed Essendon's long finals drought would end in week one, but the Bulldogs put an end to those thoughts. They went up to the 'Gabba and stunned the Lions, before they then came down to Adelaide Oval and flattened the Power, much to the shock and horror of their fans. Bailey Smith has become Mr. September, Jack Macrae continues to rack them up, Mitch Hannan has established himself as that pseudo-second tall forward, and will now face his former side. But while the spotlight always goes to their midfield with Bontempelli, Liberatore, Treloar, Dunkley and the aforementioned Macrae and Smith, their defence has been incredibly solid all season, and absolutely stifled the Power's dynamic forwardline, even without their main man Alex Keath.
So we get to this matchup; the two best teams in the regular season, and far-and-away the two best teams in September. It is impossible to pick a winner for this.
There is a lot of talk about which team 'deserves' the flag more. I hate that word. As my father told me, "You don't 'deserve' a flag by virtue of the fact that you are a good team. You don't 'deserve' a flag just because you haven't won one for 57 years. You have to be the best team on Grand Final day."
Clearly, Melbourne are shaping up to be the favourites, and I would love to see them win for my Granddad and all the other long-suffering Demons fans, who remember the glory days in the '50s and '60s. But being the best team throughout the season can only do so much; it can get you in the door, but it can't keep you in the room. Only one minor premier has won the flag in the past ten years. Melbourne may have finished 10 points clear of the Bulldogs on the ladder, but if they don't turn up on the day, it was all for nothing.
Both of these teams keep you very honest. Neither can afford to slip up. Who will blink first? I will leave that up to you until we see it play out for ourselves in a fortnight.
The Tigers (Covid) Almanac 2020 will be published in 2021. It will have all the usual features – a game by game account of the Tigers season – and will also include some of the best Almanac writing from the Covid winter.  Pre-order HERE
To return to our Footy Almanac home page click HERE.
Our writers are independent contributors. The opinions expressed in their articles are their own. They are not the views, nor do they reflect the views, of Malarkey Publications.
Do you enjoy the Almanac concept?
And want to ensure it continues in its current form, and better? To help things keep ticking over please consider making your own contribution.
Become an Almanac (annual) member – CLICK HERE.
One-off financial contribution – CLICK HERE.
Regular financial contribution (monthly EFT) – CLICK HERE.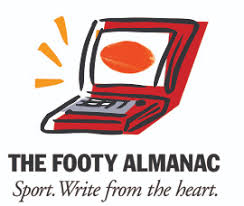 I have been an AFL fanatic and Swans supporter for most of my life, much to the dismay of those around me; they never hear the end of it! What else do you expect from New South Wales school life?