Goodbye Gary, my hero
Dear Gary,
I watched a video earlier this week on Fox Sports and it's only fitting that I begin here.
It said: "Form is temporary, but class is permanent."
For the Geelong believers, there are many names embedded into the extensive and proud 161-year history of our astonishing football club. Some fleeting, some hidden, some forgotten over time.
But there's only one name- shared by you and your father, that will forever be our permanent.
And that is you, Gary Ablett.
You see, Gary, for my family, the Geelong Football Club is fundamental and an essential chapter of our Australian story. When my Grandfather migrated from Cyprus in 1951, he chose the Cats because their hoops matched the Greek flag. My father followed his father and I followed mine and we found ourselves entrenched in the greatness of your father and you for generations.
The seamless ability your willingness and magical game had to bridge a gap of almost 70 years between my Papou and me, is something I cannot begin to thank you enough for. Your father was the reason he adored this club and YOU, Gary are the reason I carry on his Australian story within the walls of the place we call home.
You were and always will be more than a phenomenon of the wider football world. You were so generous to your Geelong admirers, from young to old. The last to leave the training track, ensuring every child had your much sought-after signature, the biggest smile for the media, the respect you showed this club and game even when the cameras weren't rolling.
You didn't have to be so gracious, so giving – you already gave your everything each week on the field. But you WERE.
You gave me, my father, my Grandfather (who sadly passed before your final season) and the Geelong Football Club so much more than just football. You gifted stories, moments oozing from the Players Stand and the Gary Ablett Terrace that will never be far from reach.
And if you stand still and listen close enough, Kardinia Park will forever whisper your name.
While you served the game until you had nothing left, there will always be so much more to adore about you. Your fierce love of your family, your faith and our football club will hold you as a role model for all people, not just the believers who have filled the stands of Kardinia Park for generations of those who came before you, like your dad.
And when my children ask adoringly, like I did of my own father about Gary Ablett Senior; 'why was Gary Ablett Junior so special?'
It will be simple.
You were destined. For Geelong and greatness and destined to change our great game in a way nobody could have predicted.
But to the Geelong faithful you are just our Gary, giving us the front row seat for a show and a career that exceeded outsider expectations and seemed never ending.
How lucky I will forever be, to have ridden the ride known as your path and a legacy etched into the walls of Kardinia Park forever.
And after all these years of cheering a little louder for you Junior, I'll never forget what all the fuss was about.
Love,
Just another believer.
To return to our Footy Almanac home page click HERE.
Our writers are independent contributors. The opinions expressed in their articles are their own. They are not the views, nor do they reflect the views, of Malarkey Publications.
Do you enjoy the Almanac concept?
And want to ensure it continues in its current form, and better? To help things keep ticking over please consider making your own contribution.
Become an Almanac (annual) member – CLICK HERE.
One-off financial contribution – CLICK HERE.
Regular financial contribution (monthly EFT) – CLICK HERE.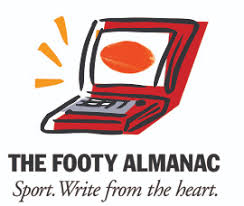 Anna 'Pav' Pavlou is a current student and a born and bred Melburnian who has a passion for sport and sharing people's stories. She is an intern journalist for AFL VICTORIA and writes for The Roar, the Victorian Amateur Football Association (VAFA Media), the Mongrel Punt and is a Melbourne Cricket Club contributor. She also appears on North West FM 98.9 radio show. Most winter weekends you'll find her down at the Ross Gregory Oval in St Kilda, supporting Power House FC, who play in Division 2 in the VAFA. She works as the Division 2 writer for the VAFA. She completed work experience with 3AW Radio and has been published in The Age as well as with Carlton FC and Geelong Cats. Check out her website below for more sport pieces!