Introduction
My brother and I are different. Not Tom-Cruise-Dustin-Hoffman-Rain-Man different, more so that he is the sensible one and as a result, the more stable one — more like Joe and Franky Roberts in Springsteen's Highway Patrolman (but without me beating a guy in a bar and making for the Canadian border). The one less likely to visit Bryce Gibbs' home after a loss to pull out all his plants.
He is also less likely to get snared in the peripheral sideshows that sometimes occupy the top few lines of the football circus poster instead of the game itself — although I suspect this has as much to do with geography (he is based in Singapore) as it does with temperament.
One example of this is football statistics.
Where I'm predisposed to write a piece exploring stats around hard-ball gets (my career stats, 0) and the percentage of AFL players that have not established their own clothing label (at last count somewhere in the 20-30 per cent range), he is more inclined to look at the fundamentals of the game — fundamentals that have not, and will not, change. That is, the object of the game is to score more than your opponent.
Points for. Points against.
So, if you want to get an idea as to how your club's been tracking, to quote Rustin Cohle from True Detective, "then start asking the right f***ing questions."
The People's Elbow
*  *  *
Statistical Analysis and the Premiership Window
Most of you will know Litza, aka The People's Elbow, aka @craigunderscore. Well I am his less (in)famous brother.
He inherited a flair for the (melo)dramatic, while I inherited a knack with numbers (well relatively anyway). Much of what I do for a living involves analysis of data and since I can't lay claims to having a the football brain that comes from a middling country and suburban football career, I'll try and use the data to make some predictions.
During the 2013 AFL Premiership Season I came across a chart via twitter (thanks to @footy_maths and @BenCuzzupe) that had plotted the form of AFL teams on a chart that I found very interesting. Unfortunately, when I tried to find this link again during the 2013 finals series I was unable to, so I instead devised my own statistical analysis, which I think for the most part mirrors that I had originally seen.
From this I devised the statistical premiership window.
How Does It Work?
From following the NHL this season I have come across the term "fancy stats", which I can tell you this is not. All I have done is looked at the average scoring for and against for each team and determined the ratio against the total league average. Therefore, all I am analysing is outcomes, not  those statistics such as inside 50s, tackle numbers etc. that my determine outcomes.
For example: Team A scores a total of 2,500 points in a season compared to the league average of 2,000. Its attacking ratio (points for) is then 2,500 divided by 2,000 to equal 1.25.  If Team A has 1,800 points scored against it compared to the league average of 2,000. Its defensive ratio (points against) is then 1,800 divided by 2,000 to equal 0.90.
I have done this for all teams over the last 14 seasons (from 2000) and then plotted them onto a chart with the Y Axis (horizontal) plotting the points against ratio (under-performing above 1 and over-performing below 1) and the X Axis (vertical) plotting the points for ratio (under-performing below 1 and over-performing above 1). A typical scattering of results should generally run from bottom left (under-performing) to top right (over-performing) and naturally the top teams sitting towards the top right hand corner.
Do You Get The Picture?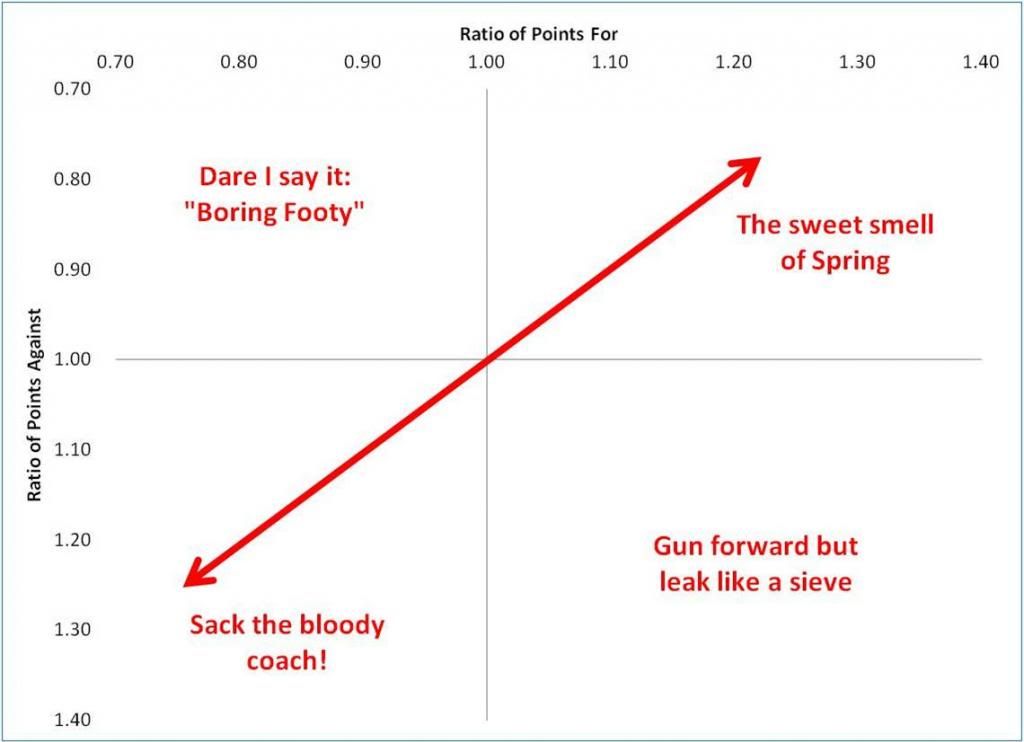 Top Performing Teams in 2013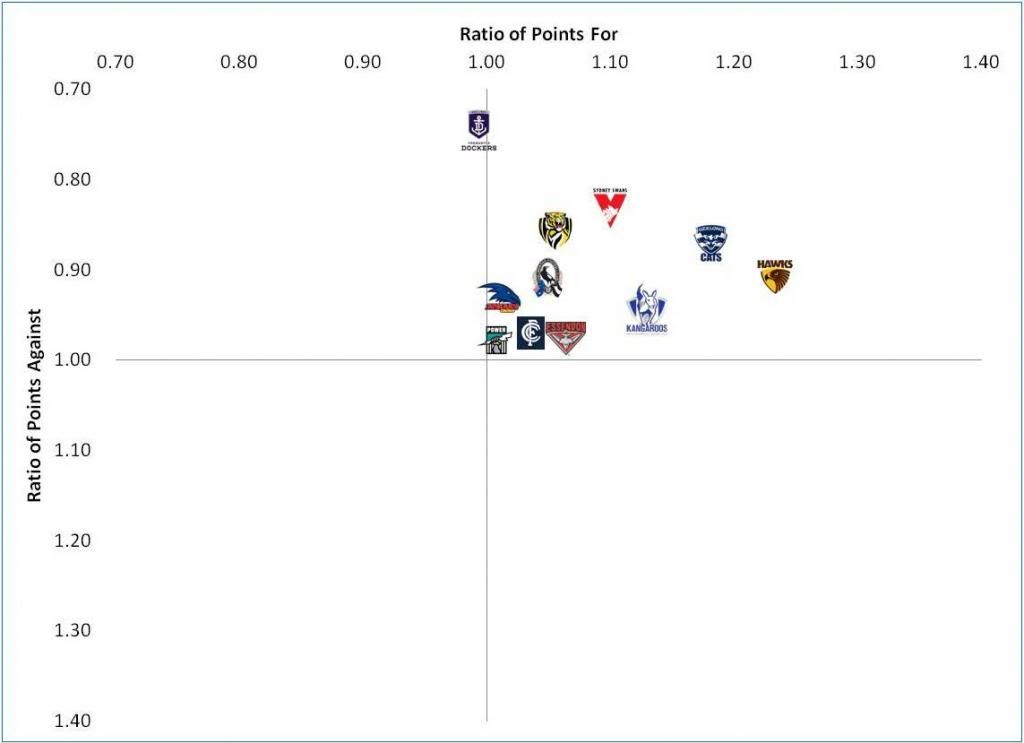 The Statistical Premiership Window
At the time I was trying to understand who might be more favoured to win the Premiership between Hawthorn's attacking game and Fremantle's defensive game. Looking at past winners and losers, I noted that since the 2000 grand final, 13 of the 14 premiership teams were clustered into what I call the statistical premiership window, with only one team (Sydney in 2005) falling outside of that area.
Performance of Premiership Teams; 2000 to 2013
Now of course I massaged the perimeter of this premiership window to fit as many teams into this as possible – so you can call me a cheat. However, if I was fudging the numbers too much to sell my story, it would be expected that the runners-up would have also fallen inside this premiership window (and a number of other finalists too). In fact only two teams, Essendon in 2001 and Brisbane in 2004 also fell inside the premiership window but lost the Grand Final (but they competed against teams that had also fallen inside the window). Other notable mentions are the Cats in 2008, Collingwood in 2011 and Hawthorn in 2012 – all falling outside the window to what would be considered the positive side (okay, consider that a fudging of numbers!).
Hitting The Wall & Not The Window; 2000 to 2013
Surprisingly, very few teams manage to finish the season inside the premiership window and those that do inevitably win the flag. The following table shows the number of teams to have fallen inside the window each season since 2000. My analysis would have suggested that Hawthorn would triumph over Fremantle in last years GF, as only Sydney had ever won outside of the window and that was in a year when its opponent, West Coast, also fell outside the window. It would seem that just being a superior defensive team wont deliver the premiership. I believe that the increase in numbers falling into the premiership window in recent years can be attributed to the introduction of the expansion teams, which has artificially inflated a lot of attacking ratios particularly. I believe numbers will again decline as the competition evens out a little more in coming years.
Teams With A View Out of The Window; 2000 to 2013
Year

Teams
In Window

Premiers

In Window

Runner-Up
In Window

2000

Essendon
Carlton

Yes

No

2001

Essendon
Brisbane
Port Adelaide

Yes

Yes

2002

Brisbane
Port Adelaide

Yes

No

2003

Brisbane

Yes

No

2004

Port Adelaide
Brisbane

Yes

Yes

2005

St Kilda

No

No

2006

West Coast
Adelaide

Yes

No

2007

Geelong

Yes

No

2008

Hawthorn

Yes

No

2009

Geelong

Yes

No

2010

Collingwood

Yes

No

2011

Geelong
Hawthorn

Yes

No

2012

Sydney
Adelaide
West Coast

Yes

No

2013

Hawthorn
Geelong
Sydney

Yes

No
Trend Lines & Making Ladder Predictions For 2014
As we approach the 2014 season, the next question to ask is which teams might be headed towards the statistical premiership window as well as which might be on the way to the top 8 (and out of it) in 2014.  Some teams that fit this category include Richmond, North Melbourne, Gold Coast, Essendon and Geelong. Let's have a look at their trend lines:
North Melbourne: Despite going backwards last year in terms of ladder positions, North Melbourne continued to show improvement in the scoring ratios pushing them very close to the premiership window with an improved defensive (ironically) performance. It would seem that the Roos have their mix of defence and attack just about right to feature strongly in September action. Based on trend lines, North Melbourne should feature heavily in top 8 predictions.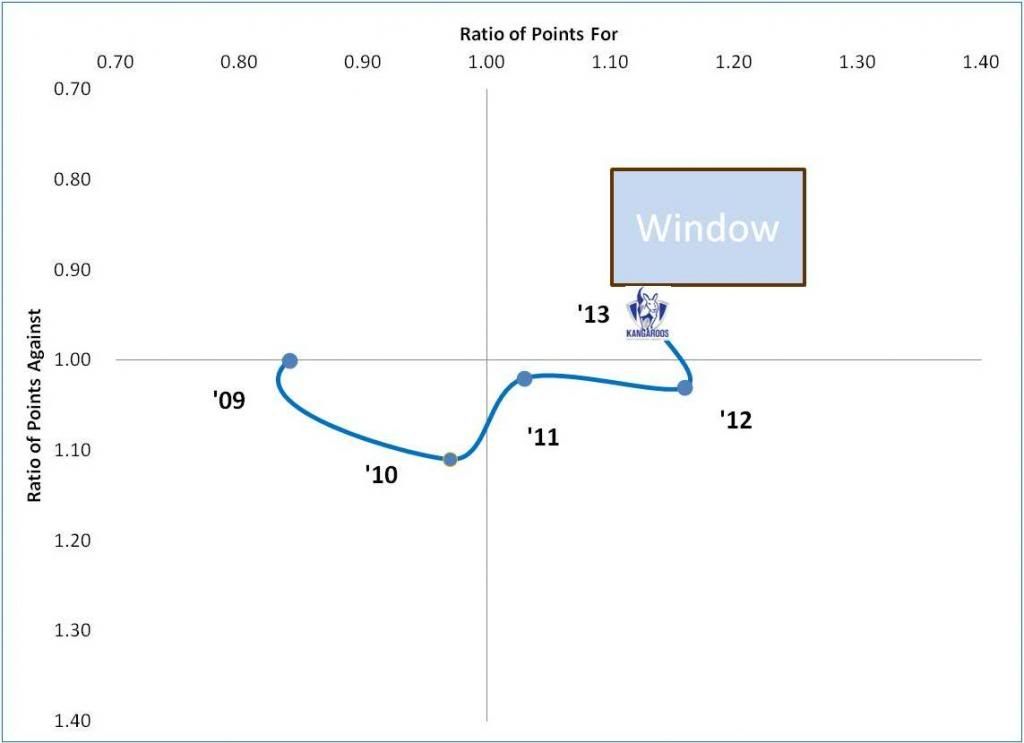 Richmond: The Tigers have made huge strides in improving their defensive performance over the last two seasons and are another team that pushed close to the premiership window (as would be expected of a top 8 team). This came marginally at the cost of their attack in 2013. If the Tiges can get their attack to click a little more, then they may just about be able to deliver for their long suffering faithful in 2014. Given the improved performance shown, Richmond are a team to keep in the top 8 (top 4?).
Gold Coast: Coming into the clubs fourth season, pressure is mounting on the Suns to make a run at the top 8. After taking a backward step in 2012 (which required an adjustment to chart to fit in), the Suns showed significant improvement in 2013, getting very close to moving their defensive ratio to average and also improving their attacking ratio significantly.  The question will be whether further improvement can come in 2014, particularly in regards to scoring ability. I am going to give them one more year of improving their attacking ratio before a make the jump and include them in my top 8.
Essendon: Technically the Bombers should have played in the 2013 finals series and as such are considered a team likely to take back one of the top 8 places in 2014. How have they charted in recent years? Other than a decline in performance in 2010 when the Bombers finished 14th on the ladder, they have been largely consistent, improving one or both of the attacking and defending ratios over the last three years. The team has become better defensively and has edged closer towards the premiership window. The big question will be whether a change in coach will disrupt their trend line and whether they can string more than just a half-a-season together in 2014. It pains me to say it, but I think they have the form to move back into the 8.
Geelong: For a number of years pundits have been writing off the Cats predicting their inevitable demise down the ladder. It hasn't happened yet. The Cats have been so consistently close to the window (4 of last 7 years) that in order to show their trend line, the glass has been busted. Based on the data, it is hard to expect that they will drop out of finals contention in 2014. Keep them in the 8 for me.
Fremantle: Can Freo win with a purely defensive game plan?  The data presented so far would suggest not. If the statistical premiership window continues to hold true in 2014, then Fremantle are going to have to become more focused on attack (probably at the expense of their defensive ratio). However, with such a strong defence, they should be featuring yet again at the pointy end of the season in 2014, but I wont be tipping them for the premiership just yet.
For those teams not mentioned (I have to admit I got a little lazy in putting them all in the article), feel free to ask me for them and I'll shoot them through to you! Good luck with all your predictions for season 2014!