Almanac (Footy) Poetry: Fred Swift
Fred Swift 
-by Bill Wootton
Fred Swift got murdered.
Two wronguns Fred had once taken fishing 
up Bendigo way
tied up Fred's family
and when he returned to his farm
he was shot with a sawn-off 22
in the heart and thigh.
But this is later, this is 1983.
Back in 1967 an eleven-year-old boy
and his younger brother
are at the VFL Grand Final at the MCG
watching Fred captain The Tigers
to their first post-war premiership.
It is Fred's first and only year as captain and only 
since the second half of the season has he played full-back.
Deep into the final quarter
Richmond are clinging to a narrow lead.
Spindly Cats rover Goggin shoots for goal
to narrow the lead to four points.
Alone at the back of the square
exhausted Fred, number 15,
with the 5 lopsided,
staring into the sun,
flies as high as his 29-year-old body can fly
and takes an overhead mark,
waits not on the whistle
and clears the ball with a looping drop-kick down the non-members flank.
The crowd, including two sub-teenage brothers,
goes wild.
But did the ball Fred clearly marked
carry over the goal-line?
Cat's captain Polly Farmer was still saying it did in 2004.
There were no instant video replays 
in the year of Sergeant Pepper. 
Field umpire Peter Sheales said later that he deferred,
as always, to the goal ump in such situations.
Play was allowed to proceed.
Bartlett's earlier goal ended up being the sealer for Richmond.
A Polinelli point for the Cats drifted through as the siren sounded.
A nine-point Tiger victory. 
That eleven-year-old was me. I saw this happen.
Didn't I?
My younger brother Dan,
says no.
Further that he was well positioned,
high in the Ladies' Stand of the Members,
and with his keen nine-year-old eyesight, 
(as opposed to my then developing myopia)
able to see that that the mark was taken 
at that end of the ground and that Fred 
did not mark the ball over the line.
Even more bizarrely, Dan claims to have caught 
the wrong train home, climbed out at Bell 
and caught the Bell Street (white and red) bus 
back to Heidelberg. Can't remember 
how he got home from there. 
May have walked, but thinks he caught the green. 
Never occurred to him to catch the train.
I have no memory of getting to or from the ground that day.
I presumed we both caught the train home from Jolimont to Ivanhoe.
Curiously, neither of us can recall if our parents were there.
But I do remember Fred Swift saving the day.
youtube has just confirmed the Swift mark
and play-on dropkick.
The jury is still out on other swaying lines.
Read more  from Almanac Poetry HERE
If you would like to receive the Almanac Music and Poetry newsletter we will add you to the list. Please email us: [email protected]
To return to our Footy Almanac home page click HERE.
Our writers are independent contributors. The opinions expressed in their articles are their own. They are not the views, nor do they reflect the views, of Malarkey Publications.
Do you enjoy the Almanac concept?
And want to ensure it continues in its current form, and better? To help things keep ticking over please consider making your own contribution.
Become an Almanac (annual) member – CLICK HERE.
One-off financial contribution – CLICK HERE.
Regular financial contribution (monthly EFT) – CLICK HERE.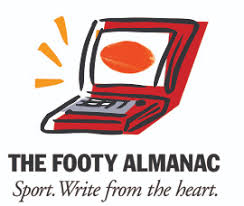 About
Bill lives in Hepburn Springs, barracks for Collingwood and organises a weekly poem to be published in The Local, either by himself or by any of the local poets, some of whom meet regularly.