Formula One: Spin! Spin! Spin! Round! Round! Round! Remembering Murray Walker
Murrayism: 'I don't make mistakes. I make prophecies which immediately turn out to be wrong.'
There are many commentators over many sports that knew their caper inside out and provided a call that educated yet also entertained. Then there is that special class of caller, one given the reassuring and rare status as 'The Voice of…'
For cricket there was Alan McGillvray or Richie Benaud, Peter Alliss for golf and Ernest Lowe for snooker. A certain kind of gravitas and knowledge mixed with humour that put them on another level entertaining casual fans and experts alike. More often than not a pioneer caller for the sport.
Very few remain, fewer now that Formula One's Murray Walker has passed away at the age of 97.
Murrayism: "There is nothing wrong with the car except that it's on fire."
Walker perhaps stood out more because of his unfiltered passion and rawness for a sport constantly questioned about being an actual sport at all. After being inspired by motorsport thanks to his father's racing at the infamous Isle of Man TT, Walker commanded a tank in combat in World War Two and worked in advertising as a career with his commentary 'hobby' being worked around his full time vocation. A cerebral deep thinker and articulate man professionally that was the opposite to his on-air mayhem.
Becoming a full time commentator for the BBC F1 coverage in 1978, his cult like status with fans only grew when he was teamed up with former F1 Champion and then current posh playboy James Hunt.
Hunt and Walker were polar opposites. Walker was the wide eyed and studious enthusiast on-air amazed by the many things that people who deride Formula One saw as boring. Hunt meanwhile was a party boy living the life that privilege that being a world champion brought. In Monaco, often coming straight from night at the casinos with old alumni, Hunt would arrive minutes before the broadcast began upsetting the micromanaging Walker. Sharing a microphone also had its issues and the two almost came to blows on more than one occasion; the reason for one microphone was to stop the two talking over each other.
When Hunt would leave the commentary position to (at times) smoke a joint Walker would cover with 'And James Hunt has just left the commentary box to look at the back of the circuit.' which betrayed Walker's earnest ways. Another white lie would be saying they couldn't see what was happening at one part of the circuit or in the pits because it was not near their commentary position when in fact they were in a studio in London watching the same vision as the viewers for most races on a TV.
Murrayism: "This car is 100% unique except for the one behind it which is exactly the same…"
Walker shared not only that vision with the viewers but the total adulation for the drama of the sport. His shock and awe at Nigel Mansell's burst rear tyre at Adelaide in 1986 (that cost Mansell the title) was unique and something that couldn't be scripted. In the panicked rush of drama Walker described it as 'colossal' to the heartbroken fans back in the UK. You could not script his concerning and low 'Oh my god…' when Gerhard Berger's Ferrari burst in to flames at Imola in 1989 or the gravity of his tone when reporting on the scenes of the crash that would kill the legendary Ayrton Senna at the same circuit and same corner five years later. He excused himself for not being professional for the only time in his career in 1996 when family friend Damon Hill finally won a world title, admitting he had a lump in his throat.
His mouth often lapping quicker than his brain meant he would come out with some bizarre and generally incorrect comments that were sometimes corrected by Walker himself, Hunt or future co-commentators. While these mistakes may have annoyed fans in some sports it only added to his charm and adoration. The mistakes were referred to as 'Murrayisms'.
As a kid in the '80s for me he bridged a sport far removed from my suburban upbringing south of Perth, mainly through the welcome contradiction of his lack of ego in a sport for the rich and powerful. This could be said for many around the world as Murray's words went hand in hand with the growth of the sport to every corner of the globe as Bernie Eccelstone built his bloated F1 empire. The sport was intoxicating when it all pulled in the same direction and provided unique drama with a Murray Walker soundtrack.
Murrayism: "With half the race gone there is still half the race to go."
When Hunt unexpectedly passed away in the early '90s Walker again forged less memorable but strong repertoires with former F1 drivers Jonathan Palmer and Martin Brundle as the drivers changed but the drama stayed the same. Even in periods of dominance that saw the sport shed fans Murray kept up his love and anticipation of what was next.
Murrayism: "..and I've got to stop…because I've got a lump in my throat."
Retiring in 2001, the sport seemed to lose something with Walker no longer calling every race much like a sport does when it loses its 'voice'. Since his passing many have said in tribute they lost interest after Walker's departure. This could also go hand in hand with getting older or just sick of seeing someone like a Schumacher or Hamilton dominate the sport. While the sport goes on with its many faults it now goes on only with many memories of Walker, a man who was behind the mic for some of the biggest moments in its history.
While the replacements of legends has led to the age of the dilettante, Walker was more than an icon. We should be grateful for his humility and passion. At 97 it isn't a shock that he is gone but more a reason to celebrate a great man and one of sports commentary's true prototypes.
To return to our Footy Almanac home page click HERE.
Our writers are independent contributors. The opinions expressed in their articles are their own. They are not the views, nor do they reflect the views, of Malarkey Publications.
Do you enjoy the Almanac concept?
And want to ensure it continues in its current form, and better? To help things keep ticking over please consider making your own contribution.
Become an Almanac (annual) member – CLICK HERE.
One-off financial contribution – CLICK HERE.
Regular financial contribution (monthly EFT) – CLICK HERE.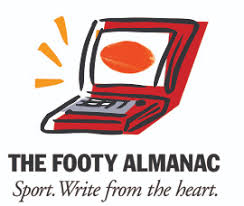 RTR FM Presenter. Glory Guerrillas Producer and Co-Host. Contributer to Football Nation Radio and Football West. Worships at the feet of the mighty Cats, Socceroos, Matildas, West Perth, Glory and Glasgow's Green and White most of the time.