Floreat Pica: The Magpie Faithful – a morning with the legendary Peter McKenna
 Magpie Faithful – Peter McKenna interview and exhibition launch – May 5, 2019
It's not often that as a middle aged man in the hectic modern age of 2019, you get transported back to your childhood.
But thanks to the magnificent Collingwood FC that's exactly what I, and a room full of Magpie Faithful, experienced today at a celebration for the legend that is Peter McKenna.  It was an event that made everyone who attended Smile All The While with so many great memories and Things To Remember.
Congratulations to the CFC Past Players' Association (led by President Andrew "Pud" Smith), the CFC Archives Committee and the wonderful Pies' Historian & Guru Michael Roberts who put on a show and an exhibition to honour the most popular Australian Rules Footballer of all time and a unique and cherished personality of the great southern land.
It was a pleasant Sunday morning where about 100 lucky devotees made the pilgrimage to the Holden Centre for an intimate experience that was the first of the new Magpie Faithful Club's celebrations of past Collingwood players. 
As we waited for the formalities to begin, we were treated to a slide show of memories from the 60s and 70s with photos of action shots, newspaper headlines and memorabilia. Macka mingled with the adoring crowd which included his great teammates Barry Price and Twiggy Dunne.  One of this other great mates, the late great Len Thompson was represented by his beautiful and elegant wife and daughter, Lady Oh Lady, who both showed the love and respect of their special bond.
The show started with a short video tribute of the Sharpshooter that was commissioned for his Hall of Fame accolade that showed his incredible skill and popularity. If only there was the same level of video footage back in the 60s and 70s as today to capture the feats of the greatest kick for goal in the game.
Michael Roberts, kicked off the formalities with an unashamed and passionate personal account of his childhood idol.  His words echoed many of us in the room.  We are all thankful for his devotion to document Collingwood's history and to establish the Magpie Faithful Club to honour our heroes – he's a Collingwood treasure, as are the other lesser known members of the Archives Committee.
The Past Players' Association have funded this exhibition and the cabinet display and the President, Pud Smith, spoke first introducing the Association's mantra and then like all of us, he told of his personal idolising of the great Peter McKenna and his fortnightly trips to Vic Park to watch his hero.
Barry Price was the only choice to speak on behalf of Macka's teammates, such was their unique and fruitful partnership over the years.  Pricey spoke with the class, polish and passion that he showed on the footy field in his 157 games.  His respect, admiration and love for his teammate and lifelong friend underpinned every word that he spoke.  What a true gift these two have together.  Macka later recounted the old Lou Richards' line that he use to go around to Pricey's house every Friday night to fluff up his pillow and tuck him to make sure he had a good night's sleep to be ready to feed him the footy all day.
It was then time for the humble star of the show to take to the stage for an interview with the MC.  Michael's encyclopedic memory, respect, reverence and calm soothing interview style set the scene for an enthralling hour of stories and memories.
The famous Number 6 was on full display through the slide show and in the exhibition, so it was fitting that Michael had 6 key items of memorabilia as the basis and structure for the interview.  But Macka was as elusive as an interviewee as he was to the hapless Full Backs of the 60s & 70s with his priceless responses and story telling.  He was like Ronnie Corbett in his big lounge chair starting to answer the question and then meandering off onto another story, then onto another one and then finding his way back after some gentle re-questioning.
He is a true gentleman is Peter McKenna, he's so humble and grateful for his lot in life and most of his off topic responses were to express his gratitude for his journey or to compliment others for the role that they played in his life.  Oh and he skilfully threw in a few cracking lines of humour that, like his goalkicking, he's perfected over the years.
The first of the six items was the match ball from the 1966 R1 v Hawthorn game where a young Peter kicked 12 goals – apparently he started the game at CHF and was moved to Full Forward at ¼ time!  We then found our way back to Peter's West Heidelberg days – his staunch devotion to his roots – and his days of playing soccer with all the local migrant kids. This is where he bought his great mate Twiggy into the show – they lived a "Peter McKenna drop punt" or "two Twiggy torpedo punts" away from each other growing up.  There was an affectionate humour between Macka and Twiggy that you could tell was from lifelong mateship and good natured ribbing.
Next on show was the famous 1970 Golden Boot where he kicked 143 goals in the season.  Michael recounted the discussion with a young Pies' staffer who saw the boot being put into the display and after realising that it was actually honouring 143 goals in one season, not a career, she was in amazement for the rest of the day – even more so after hearing of his bags of 134 and 130 in the following two seasons.
A rare piece was next to come out, the front page of the The Age from 1971 where Macka was awarded the most popular footballer award for the second year running.  Such was his dominance of the award, The Age cancelled it the following year.  Michael went on to explain that he had an unbelievable 218,000 votes.  This represented almost 10% of the Melbourne population  – yes, 10% of the 2.3 million Melbourne population of the time!!!
We then moved on to his multi-media personality as a co-host on Hey Hey It's Saturday and as a Pop Star with two hit singles (I've still got both – including an autographed version of the printed cover for Things To Remember).  We were treated to a YouTube clip of the Pop Star singing Smile All the While on the teenybopper show, Happening Hits.  It's impossible to explain to people today of his popularity, there has been no one else to have come close to his profile and the devotion from his huge number of fans.
Such was his popularity that the CFC had 1000s of pre-printed signed photos produced in the early 70s to respond to the avalanche of requests.  Michael bought along his prized photo that had a personalised message to him.  I have my own version of the same photo, personalised "To Ramon Best Wishes", hanging proudly in my Man Cave.  I received this after sending a hand painted picture of Macka that I produced in Grade 1 Art Class, I think every "free project" I had in class resulted in a Peter McKenna art work or biography of sorts!  The pre-printed autographed photo plan to relieve Macka of the time and effort of personally signing them all didn't quite play out, given Peter's love of and gratitude for his fans he personally wrote on most of them anyway.
As a devoted fan, I was one of the many hundreds of thousands who he gave great pleasure and entertainment.  He unknowingly taught me how to kick a football.  Every afternoon and weekend I was Peter McKenna kicking the winning goal for the Pies in my backyard.  I learnt the art of kicking a dead straight drop punt for goal that served me well on occasion when I had a set shot for goal.
In sport there is rarely a career of triumph without adversity, or tragedy.  We heard briefly of the heartbreaking kidney injury of 1975 and we saw the iconic Number 6 jumper from that unspeakable grand final that was held in the year between 1969 and 1971.  The story of Peter's concussion just prior to half time was the key factor that foiled our game plan, as outlined by Pricey – get the ball in quickly to the fast leading McKenna and let him do the rest.  Five goals to half time and on his way to another bag before teammate Tuddy ko'd him with friendly fire.  It Takes Time for old wounds to heal, but I think all Pies fans can attest, that this wound will never fully heal.
Once the formalities were over, nobody wanted to leave.  I think we were all enjoying being back in our youth and being back in the moment of the 60s and 70s.  As you would expect, Macka, Pricey and Twiggy all mingled and made themselves available to the Magpie Faithful.  There were autographs, selfies, handshakes and countless stories and memories shared.
I've had the great fortune to meet my boyhood idol twice before so I was happy to just watch from afar for a while.  I had a great chat to Pricey and got his autograph and a selfie – my Mum will love that as he was always a favourite.  When the crowd for Macka died down, I went up and had a quick chat to thank him and remind him of our meeting at the Floreat Pica Society event back a few years ago.  And much to my surprise and to top off a great day he remembered me, my scrapbooks and the Peter McKenna shirt I was wearing! (The classic Tshirt can be viewed at this link – http://www.reesdesign.com.au/footy-enigmas.html)
On a weekend where the Collingwood Football Club made a young boy's wish come true, with young Kyron at Friday night's game against Port Adelaide, they made a young boy from the 60s & 70's wish come true on Sunday morning.  Thank you Collingwood, you are a very special footy club.  And thank you Peter McKenna you are a very special man!!
Side by Side, Floreat Pica and Go Pies!!
For more of Ramon's Almanac contributions, CLICK HERE:
Do you really enjoy the Almanac concept?
And want to ensure it continues in its current form, and better? To help keep things ticking over please consider making your own contribution.
Become an Almanac (annual) member – CLICK HERE
One off financial contribution – CLICK HERE
Regular financial contribution (monthly EFT) – CLICK HERE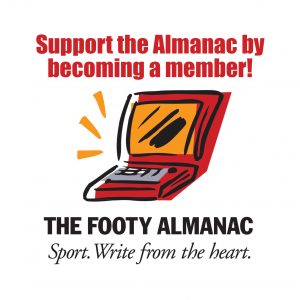 A footy and cricket fanatic. A lifelong passionate one eyed Mighty Magpie fanatic. My writing is unashamedly written with one black & white eye open only - so please don't take offence, it's nothing personal, it's just the black & white way! Also a lifelong player and member of Washington Park Cricket Club, the Mighty Sharks. My 15 minutes of fame includes regular contributions to Hot Pies, the 1999-2004 Fanzine, and regular contributor to the Coodabeen Champions weekly competition from their heady 3RRR days. Go Pies and Floreat Pica.