Finals Week 3 – Brisbane v Geelong: The Catters smash the Lions and go through to the Grand Final
It's here! The day we never even bothered dreaming of has arrived, Brisbane v Geelong in a preliminary final that caps off the single greatest season in the history of Australian Rules football in Queensland. The day is cooling into the evening, the breeze is gentle, the galahs and magpies of Pegg's Park are in full voice as they drift off to Toohey Forrest.
October is also business time in Brisbane. The jacarandas are in full bloom which means the students are in exam mode, the onshore breezes are holding off till lunchtime which means the beaches are usually brilliant and the mangoes have landed at Rocklea and they're $24 a tray. Old blokes are on the prowl to get their pensions topped up up.
"Whatta they got gold stones in 'em? Might as well drive up and pick 'em myself."
"They're early season."
"My chutney doesn't have a season."
"If you're making Chutney in October you might as well drive up and pick 'em yourself, off the ground."
"… Ok smart-arse three trays."
Packing and gardening is a big part of October. Jackets, blankets and doonas are heaved into the overhead cupboards that generally supply the only insulation in the weatherboard homes of the Southside. The debate around this is whether to go vacuum packed or box and mothball? Bunnings sorted me out. "We're out of mothballs, you'll have to go vacuum."
I'd spent the day putting the finishing touches to a dog gate for an expectant arrival. As a backyard DIY hack I had the 12 year old holding the gate while I cut out the arm-hole with a skill-saw. The five minute job was complete in just under four hours. Finally sawdust free we were ready for action
 After the fifth phone call, "Where the hell are you lot?"
Ten year old on speaker phone "Mummies stuck in traffic, it's really busy."
Me "I know, it's a Preliminary Final, we're supposed to be going to it!"
Wife "I thought it didn't start for two hours?"
Me "Are you friggen kidding me?"
They barrel into the driveway in a hustle and the kids change into their blue and whites. My eight year old is bothered.
"I need a 35 on the back of my thing!"
My wife and I look at each other knowing it was the kind of request that had to be done. She found a white board marker and started to work.
Wife "Shit! I started the 3 the wrong way, who wears 85?"
Me "There's no 85, there's no 85 in football, no 85s, none, ever!!!"
Wife "Don't give me the panicked idiot talk! Shit! I'll sort it, look here's a 35… With a fish! Paddy loves fishing"
We both grimace desperately at him and… he buys it, we're away.
The Cats start the game dominating everywhere but on the scoreboard, Charlie Cameron sets the game alight with two goals, one from a brilliant tackle on Henry in the goal square. It would be the last contest Charlie would win and last contest Henry would lose.
By quarter time my son has had enough and started whingeing to go home. This is worst possible time and moment to be a dad. I love him so much less right now. A call to mum and she comes to pick him up, even the gatekeeper is giving me heaps.
"Don't worry love, Dad will be crying just as much in a coupe of hours."
I don't have the humours.
The next two quarters are a genuine arm wrestle, or more like 22 arms v Lachie Neale. The soon to be Brownlow medallist is everywhere, the only positive plays Brisbane can string together all go through him. He kicks goals, he rockets handballs, he runs runs runs.
The Cats are racking up the scoring shots without breaking away. Rohan's spectacular effort in the 2n quarter something to write home about, but misses by Menegola and Miers keep the Lions in it.
BRISBANE    2.0    4.3    5.5    6.6 (42)
GEELONG     2.5    4.8    7.11    11.16 (82)
3 Menegola, 2 Ablett, 1 Dangerfield
To return to our Footy Almanac home page click HERE.
Our writers are independent contributors. The opinions expressed in their articles are their own. They are not the views, nor do they reflect the views, of Malarkey Publications.
Do you enjoy the Almanac concept?
And want to ensure it continues in its current form, and better? To help things keep ticking over please consider making your own contribution.
Become an Almanac (annual) member – CLICK HERE.
One-off financial contribution – CLICK HERE.
Regular financial contribution (monthly EFT) – CLICK HERE.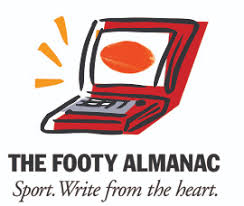 Hamish Townsend was born and raised in Geelong, supports the Cats and lives in Brisbane.