Finals Week 1 – Western Bulldogs v Essendon: Dejection again…but this time, with a sprinkle of hope and a big dollop of pride
Western Bulldogs v Essendon
3:20pm, Sunday August 29
UTAS Stadium
From my flat in St Kilda, I listen dejectedly as the final siren sounds to end yet another one of our finals campaigns before they really even get going. Another big finals loss, following embarrassing defeats in 2009, 2011, 2017, and 2019. In 2014, whilst we did lose, it was by far the closest result since 2004. But it doesn't matter how close that game against North was, nor does it matter that we lost this one by 50 against the Dogs. A loss is a loss and in finals, unlike during the home and away season, margins don't matter. In 2006, West Coast won the grand final by a point. Twelve months later, Geelong won the decider by 119. Though true the loss was probably more embarrassing for Port than for the Swans, the result is exactly the same: emptiness and disappointment. And that's exactly the two emotions that I'm feeling right now.
Four goals. Twelve behinds. Imagine if we'd kicked straighter? 12.4 maybe? We wouldn't have won but by goodness, it would have been at least entertaining in the second half. Instead, yet again, we fail dismally in an interstate final.
But, with all that being said, I am trying to look at this game with some perspective. At the end of 2020, we had just lost to the Demons after back-to-back soul-destroying defeats against Geelong and Port. We then had three of our most exciting players leave the club, and with the possibility of others like Merrett and Jake Stringer following them out the door. Sure, we suddenly had three top picks and that was exciting, but clubs have drafted duds before with high draft picks. A top 10 draft pick was no guarantee of success.
Before the season started, I thought the best we could hope for was 12th. After that loss to Hawthorn, I remember thinking to myself, as I waited for the 96 tram to take me home so I could eat my sorrows away, that we were a legitimate chance to finish bottom four. Maybe all those critics were right.
Then we started to win. Slowly at first. St Kilda by 75, then Collingwood on Anzac Day. Then we played the Roos. 72 point win. But they were still coming somewhat slowly, those wins. Then we played the Eagles in Perth, and the floodgates opened. We went from 2-6 to 11-11 to finish the season. Yeah sure, 2-6 isn't great. But since then, and before the defeat to the Dogs today, we went 9-5. And consider how many close defeats we've suffered this year. To the Giants and Swans twice each, Hawthorn in Round 1. After we lost to the Swans at the 'G, I thought that was our season done. The Dogs would roll us like they always do and we'd finish ninth or 10th. And once again, our boys proved the whole world wrong.
Our three top 10 draft picks? Yeah, they look like they all have the potential to be superstars. Players like Parish and Stringer have stepped up to another level altogether this year. And more than that, from an outsider's perspective, the club seems a happier place to be now than twelve months ago.
But beyond the on-field results, we've had a great season as a club too. Over 80,000 members signed up, which is amazing considering the financial difficulties so many people are under nowadays. We've signed key players on contracts that mean we shouldn't have to worry about the possibility of another off-season exodus for at least a few years. Before the season started, I was worried we didn't have a big-bodied midfielder again heading into the year, something I thought we'd been lacking since Jobe retired. I was devastated we didn't get Dunkley in the off-season. But now, do we even need him? And that's no knock on Josh at all. I just believe we now have the big-bodied players playing in the midfield that we so desperately needed last year. And the year before that. And, in possibly the most exciting news of all, we finally have confirmation of when our first season in the AFLW is going to be. I can't wait to watch the women Bombers play in 2022/2023 and beyond.
Did things go wrong this year? Of course, they did. The narrow losses absolutely cost us a top six birth this year and possibly even a shot for the top four. Imagine thinking that before the season started, that the only reason why we would finish eighth instead of fifth or even fourth was due to a series of close defeats. Our injuries didn't help either. I'm looking forward to seeing Jones back out there and Hurley too. And I hope that AMT is going well. Take all the time you need, mate. When you're ready, whenever that may be, the boys will be excited to have you back as will the fans. We couldn't stop opposition from getting a run-on against us. Eight goals in a row conceded against the Hawks in Round 1 was just the beginning. Almost every week we were conceding at least four goals in a row, sometimes multiple times during the same game. But you know what's exciting? We were still able to win some of those games, even if we had a bad or an awful quarter during them. And yeah, another elimination finals blowout hurts. Of course it does. But this time around, we didn't just limp into the finals like we did in 2009 or 2019. By goodness, we deserved to be here. We created our own destiny. And that is a powerful thing in sport and in life in general.
So yeah, we don't play again in a meaningful game until Round 1 next year. And yeah sure, that Twitter account that counts how many days it's been since you-know-what will continue to annoy the living daylights out of me. But I for one am hopeful of my team's future, and I am so proud of our players, coaches, and club as a whole.
Congrats Dogs, btw. My prediction is Brisbane will beat you by about 80 points. Hope I'm wrong and it's a good game.
WESTERN BULLDOGS      2.1   5.4   8.5   13.7 (85)
ESSENDON                         1.4   4.7   4.10   4.12 (36) 
GOALS
Western Bulldogs: Weightman 4, Naughton 3, Schache, Hannan 2, Vandermeer, Smith
Essendon: Stringer 2, Smith, Parish 
BEST
Western Bulldogs: Macrae, Liberatore, Weightman, Bontempelli, Naughton, Smith
Essendon: Parish, Draper, Merrett, Ridley, Heppell 
Crowd: 9,760
To return to our Footy Almanac home page click HERE.
Our writers are independent contributors. The opinions expressed in their articles are their own. They are not the views, nor do they reflect the views, of Malarkey Publications.
Do you enjoy the Almanac concept?
And want to ensure it continues in its current form, and better? To help things keep ticking over please consider making your own contribution.
Become an Almanac (annual) member – CLICK HERE.
One-off financial contribution – CLICK HERE.
Regular financial contribution (monthly EFT) – CLICK HERE.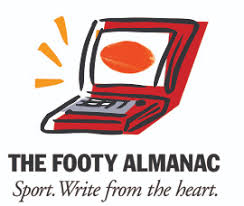 Third Culture Kid at Heart. Grew up in Asia, discovered footy at age 9. AFL has since been my burning passion. Ask me who were the winners all the grand finals between 1938 and last year's decider, and I'll be happy to tell you. I'm a footy nut with a passion for writing and acting. All though I love writing and acting, during the footy season, AFL is my true passion. Waiting ever so patiently for the day when Essendon Next win the flag.