Webby, we don't know much about each other. You're a friend of my son's and, apart from impressions gained from a few car trips here and there, everything I know about you is through him. As for me, the generations succeeding mine tend to make me anxious these days, though not so much yours. Yours is the next cab but one. You're all right. But listen to me now, Webby, I don't usually insist on being listened to but listen to me, a bit of shoosh:  don't quit the Under 16s.
Cricket is an old man's game and it doesn't bother me at all that you let that go. To be honest with you, I did the same thing at 12 and, even though I actually loved the game then and still do, I have no regrets. Cricket's not for you and I don't read anything into that whatsoever. It tells me nothing as to your character.  But football, that's a whole other kettle of chips.
I hear you're a dynamic mid with clean hands, you read the play, the playmaker at the Northern Saints. Or a stolid defender, one of the two. Either way, you drive the standards. For sure, these qualities may help your umpiring if you want to make a few dollars on Saturdays, but to sacrifice your playing career for a few dollars? Webby, don't quit the Under 16s.
You want to hear about regrets? You don't want to hear about regrets, you're too young, so I'm not going to tell you about regrets. But if I can share one thing I tried to shout from the rooftops in my coaching career at West Coburg it's this: these football years, this junior career, this may be your story.
You know how people need a story to tell about themselves? 'I got my DNA tested and found out I'm 23 per cent Northumbrian.' Fine, but remind me again why that's determinative. Wasn't eugenics thrown out of court at the Nuremberg trials? Anyway, everyone needs a story. For instance I'm a failed football coach. That's okay, don't dwell on the negative subplot there; the key word isn't failure, it's football.
Webby, I don't want to hear your stories about boundary umpiring seconds games in years to come. I want to hear about your ropey coaches, the farts in the change rooms, the bent pitch at Burnside that did for your centre-half forward's knee. I don't want to hear about all the prior opportunities, not yet. Don't quit the Under 16s.
I pinched my theory from Alex Rance circa 2016: it's not about the wins, it's the stories you forge with teammates. I wanted to say it at the coaches' pow-wow where all the coppers went on and on about their philosophies and game styles and driving of culture. Instead when it was my turn I just said, 'Sorry, guys, I don't think I've got anything more to add.' I shirked it then, again and probably for all time, but this is the stuff, the stories you forge as a living person in this world that no-one can ever take away from you.
I don't know, Webby, maybe it's because you go for North. Maybe it's because you try too hard to impress the girls on the basketball courts at lunchtime. Maybe it's something to do with the team list this season or that you're from Canberra. Or maybe it's that soccer trade news Insta you've got going. Again, Webby, I don't want to hear about the undisclosed sum Harvey Elliott's going to leave Rovers for next season. Sure, take an interest in other sports, it's got to mean something and however many subscribers you've got is definitely part of the context to your story, but it's not your story. Don't quit the EDFL. Not yet. Not now.
I can tell you with some authority that one day you stop having friends called Bear, Spud and Barrel. You don't care? Okay, how about this: do you remember your first screamer? I remember mine. I can still feel the air under my heels. I took that mark in slow motion, turned on a bit and pumped a torpedo straight through the big sticks. (Apologies if this is sounding in any way sexual.) This too was meant to form an inspirational address to my team, but it came out wrong amidst the usual cacophony of bad behaviour and merely sounded melancholic.
All right, one mark is hardly something a teenager wants to measure his life by. If I were you I'd be appalled too to think an act of your 11-year-old self would be something you still think about four decades later. You've got to move on, I get it. But that's just the first screamer. What about the next one, or the fifth one after that? Or if screamers aren't your thing, the feint or baulk in front of the canteen that everybody saw. The banana from the right pocket. Or even the stout defensive punch to kill the contest on the wing. Your closing speed, did you see that? (Remember, if selected on the wing or flanks, spend as much time on the coach's box side for the full appreciation of these efforts. See schedule 2 of my coaching guide.)
You're Crackers Keenan to retire at 14 and I'm calling it out, Webby. Going into umpiring is a retiring act. We need umpires, of course we do, and to that end we need ones who can read the game, but you've still got so much reading to get through, Webby. You've barely begun your education.
I promised I wouldn't talk about regrets, but can I just share this with you. Whenever someone asks me the age at which I walked away from the game, I feel like they're slipping a white feather into my sports jacket. Don't walk away from it, Webby. Limp away if you must, or stagger or crawl. Or burn them off, with your head down. Show them a clean pair of heels. Keep flying into packs. Do it for the lols! Don't give up on the Northern Saints. Don't drop the ball on this one, Webby. Think only of future opportunities, not prior ones, and don't quit the EDFL.
Please don't quit the Under 16s, Webby.
The Tigers (Covid) Almanac 2020 will be published in 2021. It will have all the usual features – a game by game account of the Tigers season – and will also include some of the best Almanac writing from the Covid winter.  Pre-order HERE
To return to our Footy Almanac home page click HERE.
Our writers are independent contributors. The opinions expressed in their articles are their own. They are not the views, nor do they reflect the views, of Malarkey Publications.
Do you enjoy the Almanac concept?
And want to ensure it continues in its current form, and better? To help things keep ticking over please consider making your own contribution.
Become an Almanac (annual) member – CLICK HERE.
One-off financial contribution – CLICK HERE.
Regular financial contribution (monthly EFT) – CLICK HERE.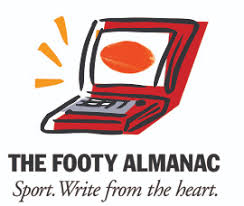 About
A Tigers fan still trying to make sense of everything.. Two kids in the EDFL, another Year of Living Vicariously. I've spent a long time weighing up social media platforms and have finally settled on the Almanac. I like loads of stuff.