Do You Remember Lying In Bed? A Radio Reminiscence
My first memory of the radio in our house was, as an early 1960s preschooler, hearing 5DN's Mel Cameron in the morning shift. If I heard the Baby Elephant Walk, A Walk In The Black Forest or Frank Ifield's I Remember You on Mum's Kriesler mantle radio once, it must have been (as they say) a thousand times. That's without mentioning the "Lawlors The Whiteant People" mini-ads or the Solomon's Carpets jingles that bobbed up every ten minutes. Why the middle of the road 5DN was chosen when Mum was Beatles-aged herself remains a mystery.
I loved that radio, the sonorous tones from its valvic innards providing my first listens to the range of footy calls that took my fancy once I started school. Rod McLeod's references to the Woodies scoreboard stand out, but 5AN, 5DN, 5KA and 5AD's array of commentators and around the grounds blokes like Horrie Nelson and Jim Slaven also spring to mind.
I eventually disgraced myself one Saturday afternoon when I grabbed an extension cord and the blue tartan Onkaparinga rug and took the radio out onto the back lawn to listen to the footy. My 8 year old temper got the better of me when Centrals got rolled on the siren and I flung my cap gun at the radio in disgust, cracking the plastic cover on left hand side of the dial, somewhere in the vicinity of 5CK.
Somehow this major transgression was forgiven. A Christmas or two later, I was given my first transistor radio. It came in a fashionable maroon and black livery, with a wafer thin plastic case, to which was attached a carry strap that lasted about a month until my penchant for chewing on things brought about its demise. The small wheel that was used to tune in to your selected stations required particular dexterity to ensure that an earful of static was avoided. The single earphone was a marvel of modern magnetism, but I explored its insides once too often and it too became less than functional. I'm still pondering the effects of many a fried tongue received via a furtive 9v battery taste test too.
What a world was opened to me. No more Mel for me as I was now free to take in whatever I wanted to. There was only one question at first – 5AD or 5KA? The weekday answer was initially 5AD, with ex-Footscray and Woodville "utility" Barry Ion's breakfast show with its regular 7:45am appearance of Peter Plus tipping the scales towards the top of the dial.
Weekends were a different story. Four out of five of the SANFL games were covered, but the extent of the live action differed between the racing (5AN, 5DN) and non-racing (5KA, 5AD) stations.
Summer weekends  meant locking in to 890 (as it was) for 5AN (the local #1 ABC station) and its cricket calling team of Malcolm McDonald, Bob Bower and co. reporting from their rickety portable scaffolding under the Moreton Bay fig trees on the exploits of Kevin McCarthy, Mike Hendricks, Barry Causby, Ian and Greg Chappell, Rowdy and briefly, Barry Richards. I wasn't the first kid to take my tranny to bed to listen to the past-my-bedtime overseas series, but the 1972 Ashes won't be forgotten.
KA and AD delivered their standard but welcome teen pop fodder and both published weekly charts in the local press and on glossy sheets that could be picked up from your local record store.
An unexpected find round age 10 or 11 was a Sunday morning show on the ABC, called 'Pop Seventies'. It featured the UK Top 10 and was my introduction to the likes of T-Rex. What made this show important was that there was usually a delay of several weeks between a single's UK release and its appearance on the radio here (and video clips were virtually non-existent). It gave curious and interested listeners a musical "heads up".
My tastes matured somewhat once high school started. I was on my second or maybe third tranny by then as they became regarded as a portable and consumable item, prone to loss or damage. 5KA had a slightly more album oriented playlist, sort of GTK-lite, thanks to Bill Page's musical directorship. (Sunday nights were still taken up with various offerings from Maughan Church thanks to the station owners, the Uniting Church).
Australia was becoming more Americanised during this period. My tranny brought me the weekly dose of Casey Kasem's American Top 40 – over the three or so hours wafted a different musical cocktail than I'd been used to, softer, perhaps blacker and often less familiar. Terry Jacks' version of 'Seasons In The Sun', 'TSOP' by MFSB or Harry Chapin's 'WOLD' stick in my mind as examples (I could certainly relate to the latter).
I was just the right age when the Oz Rock revolution began to boom, which was given a leg up by Countdown but also a big shove forward by the radio. Skyhooks and Split Enz swept me away and it was the radio's daily dose of both singles and album tracks that kept me going between weekend TV appearances, especially as my vinyl collection only consisted of the occasional 45 to that point.
The legendary and much loved John Vincent was a breakfast-time must-listen around Second Year. Such a unique take on Australian life and very very wry. My politics have changed in a big way since Graham Colman and I sent in a ditty titled 'Farewell Uncle Gough' (… we wish you'd nick off …) for Vinnie's recitation.
I had a fruitful run with radio call-in competitions during my mid-teens, swelling my bank account significantly with my $63.45 win on the Hi-Lo Game (my innate understanding of binary search techniques helping out me there) leavening a regular supply of free tickets and the occasional album.
Over the next few years my musical preferences developed into a melange of styles, informed as much by what was on offer at the local lending libraries as the airwaves. Bowie, Roxy Music and 10cc were right up there, but I also developed a likeness for King Crimson, Budgie, Alan Parsons, ELP and Yes. Of the latter quintet, they were never heard on the local stations, until 'Fanfare for the Common Man' found its way into Seven's World of Sport coverage (where it remains to this day, I suspect).
Once I was de-Prog-rammed by my life-saving discovery of The Saints, Radio Birdman, The Ramones, The Sex Pistols, Elvis Costello, Blondie, The Modern Lovers and their ilk, as only the occasional track of theirs made it onto KA or AD (I was astounded to hear Steve Whitham back-announcing The Birdmen's 'Anglo Girl Desire' late one night), radio had lost much of its appeal at that point.
It was still handy for sport – footy, races, cricket – but back then there were no weekday shows devoted to sport as such.
University came with a pleasant discovery. Adelaide Uni had it own station at the very bottom of the AM dial, 5UV on 531. Each weeknight from late until very late, Student Radio took over. It was my main source for the latest New Wave etc releases, introducing me to the Only Ones, Wire, The Flys, Dave Warner and a host of others. I still have a couple of cassettes, taped during those heady days. One pseudonymous regular compere was Vincent Wong, who turned out to be future AUFC Blacks teammate Peter Maddern.
Around this time, favourites such as Elvis Costello and the Attractions (Radio Radio), The Ramones (Do You Remember Rock n Roll Radio?) and The Sports (Who Listens To The Radio?) created memorable musical reflections on radio's past and future.
The future of radio had as its Eagles, Fleetwood Mac, er Genesis, the newly created 5SSA-FM, soon to become SA-FM. Unknowingly, this station became the world's FM radio template, with Black Thunder herbing up Greenhill Road, Anzac Highway and whatever that road near West Beach is called, handing out ice cold cans of Coke, gallons of Ambre Solaire Coconut Oil and enough Aerogard to wipe out entire insect species. Sonically, if you liked Dire Straits, you loved SA-FM, as their roster of 40-something announcers (no longer DJs) abandoned teen music for bland AOR central. They loved INXS from their early days, but didn't embrace Models until 'Barbados'. if you know what I mean.
Car Radio you say? I'm not even sure that my first car, a XP Falcon with welsh plug and fuel pump issues had a working radio. My XT was a little bit better behaved, but its entertainment was AM only. By the time I hit the big time, my TD Cortina came replete with a cassette player, so my listening was self curated.
If I did listen to the radio much in the 80s it would have been KG "Strike Me Pink" Cunningham in his surprising role as the voice of sport on 5DN then 5AA.
Come the very late 80s, Triple J came to Adelaide and became my default setting thereafter, although by then I was getting a bit long in the tooth for some of its "youth radio" leanings. I appreciated the daggier Maynard and its Top 100 Rage tie-ins. One year I was even heard on-air with Richard Kingsmill, reciting my Top 3 songs of all time (Modern Lovers, Husker Du, Ramones were on the faxed entry form) and suggesting that a new mob called Nirvana may have a future.
We moved to Melbourne in the mid-90s, sticking with the Js for a while, but I also flirted with 3AW (sorry), as a way to tap into the pulse of the new city.
Eventually I gave away the Js in the early 2000s (stopping at the Hottest 100 Volume 6, but I did buy the rarely played Eleven compilation) but shamefully I didn't replace it with the local public radio offerings RRR and PBS as I should have. 3AW was my default breakfast option, but really only to hear Sly, grabbing snatches of Gerard Healy and Hooksey on the way home.
SEN's breakfast was intermittently in the frame, as was KB's first half and hour or so, but I found it too taxing to keep up with the bland formulaic utterances from both players and pundits alike.
The one constant on the radio over the past couple of decades has been the Coodabeens, as I'm sure it is with many of you.
I eventually settled into a routine of 774 with Red in the mornings and off to bed with Finey. But those pleasures are no more. I've still got a couple of trannies for the footy, a couple of clock radios with obsolete iPod fittings and a pretty good digital radio for the kitchen. But I don't love them like I once did their 1970s equivalents.
===
It is obvious that I'd given away the radio as a source of musical sustenance some time ago. My airwaves became my own thanks to the iPod and that cassette-y converter doover that let me hear my own music and last week's Coodabeens night time shows on my pre-Bluetooth in car system, before I traded up to something built this century. Not forgetting CDs and the very occasional tape.
I'm no "Luke from Colac", that's for sure.
Become an Almanac (annual) member – CLICK HERE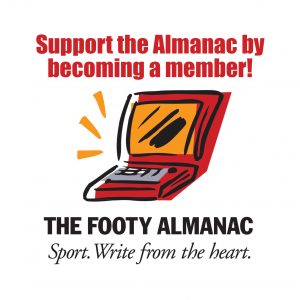 Saw my first SANFL game in 1967 - Dogs v Peckers. Have only ever seen the Dogs win 1 final in the flesh (1972 1st Semi) Mediocre forward pocket for the AUFC Blacks (1982-89) Life member - Ormond Netball Club -That's me on the right