Carlton: Trust us, we're professionals
Carlton supporters are a mixed bunch.  They reflect the diverse history of the suburb that spawned the club. Western district conservative scions have rubbed shoulders with lefty academics. Italian traders mingle with anglo lawyers. Its members come from old money, new money, but mostly from not much money at all. By inclination its followers are optimists, pessimists, perfectionists, the perennially outraged and the stoically faithful. Often, the only area of common ground is the footy team. Unsurprisingly, Carlton has had some Shakespearean stoushes through its history. On current form, we're heading toward another.
I don't know if Brendon Bolton was ever going to coach us to a premiership. Our recent history of results certainly didn't do much to support him. In any case, it is now a moot point. But I do know he was employed by Carlton to do a job. A job that by any reasonable calculation has taken at least 5-8 years at any other club that's needed to tackle the dreaded 'Rebuild'. Most of those clubs weren't the basket case that we were back in mid- 2015, when this whole 'Journey' began. So, 3 ½ years into that 5-8 year process, to sack the coach you hired is a pretty blatant admission things aren't going as planned.
I quote the official reason for the decision, as expressed by President Mark LoGiudice:
"Quite simply the lack of wins has fallen short of what our football club expects at this stage of its development. There was an expectation this season that we would start to see the benefits of that development however to this point that has not occurred to the level we expected and Carlton cannot afford to sit back and wait any longer."
The lack of wins have been plain to all for some time. It has been thus far explained as a consequence of a playing list that has got younger and less experienced with each successive year of the rebuild strategy. Last year, you could add a rotten run with injuries. I'm already on record as seeing acceptable reasons for last season's debacle. To judge from its pronouncements, so could the club.
So Bolton's demise comes down to results this season. Let's consider the year so far. Rounds 1-3 were virtual carbon copies of each other – competitive, but with enough poor patches and mistakes to prevent a win. Our Round 4 performance against the Suns was flat, but we were still in front until we butchered the last few minutes. We then bounced back next round to towel up the Doggies. At half time against the Hawks we were a rosy five goals up, before Kreuzer got hurt and we surrendered the lead with a poor 3rd term. Even then, if the siren rang one second later Harry McKay would have had a shot to win the game. So even though we sat 1-5, the sentiment among fans and media was reasonably upbeat.
The last five rounds proved Bolton's undoing. Admittedly, four out of those five performances stank. I exclude the effort against a superior Collingwood team, where we led until run down in the final ten minutes. There was a lot to disappoint in that period, but it still feels like we got from steady-as-she-goes to off-with-his-head in pretty short time. So what happened?
One thing that definitely happened was the baying crescendo of unhappiness from some Blues fans, fuelled in no small way by parts of the footy media.
Carlton fans of my vintage had it pretty good until this century. But under John Elliott's long presidency, we were constantly told that instant gratification was our birthright. We never did rebuilds. Well, we've all seen where that kind of thinking led us. But there remains to this day a section of the Carlton support base that still behaves like trust fund kiddies who've had the money tap turned off. Certain habits die hard with some, if they ever die at all.
These people aren't the majority. At the members' forum earlier this year, most of the crowd gave them pretty short shrift. But they are consistently noisy, if nothing else. They're the ones who declared Brett Ratten couldn't coach, before he'd ever coached a  game. They celebrated the arrival of Malthouse. They're probably also amongst the many now demanding we ask Ratten to coach us again. If they make little sense, they at least provide a certain grim humour in these unhappy times.
They are also the sort susceptible to the footy media's blowtorch righteousness. As the AFL  commentary field has expanded, this weekly whack-a-mole routine has become the entire stock in trade of certain pundits. Last Sunday's game against Essendon was a classic example. How could they lose? Whichever team lost, they had their headline. John Worsfold must have viewed Monday's proceedings with a sense of there-but-for-the-grace-of-God.
The genuinely striking thing about this collective of complaint is the almost total absence of any practical alternative suggestions. So much hot air, so few ideas.  And no, getting Alastair Clarkson doesn't count – unless you can actually do the deal. Any numerate six year old can count wins and losses. Serious football professionals earn their money by divining the underlying causes of those wins and losses. And providing solutions.
Which is why I am hoping against my better judgement that this week's events are based on more than an inability to withstand the heat. Because, with all respect to David Teague, for the second time in four years, half a season feels at risk of being chucked in the bin. And I'm not sure how that's going to aid the development of the young players we've gone through so much pain to acquire.
The board is insisting this is not a change in strategy, just personnel. In the circumstances, they have little choice. You can espouse all the new values you want, but if you can't live them then don't expect anyone to take you seriously. With this decision, the New Carlton has developed a very strong whiff of the Old Carlton. Which is no real shock, because some of the board actually are the Old Carlton. They'd just claimed they'd seen the light.
As things stand, the only thing saving the current administration is the absence of a credible challenge. That, and the promise made in 2015 that we would give up our increasingly deranged sense of entitlement and finally join the modern football world. But the next coaching appointment better be the right choice, or else the heat of the last few weeks will  feel like a cool summer breeze. The fear then would be that the whole club could go up in flames.
For more from John Butler, CLICK HERE:
Our writers are independent contributors. The opinions expressed in their articles are their own. They are not the views, nor do they reflect the views, of Malarkey Publications.
Do you really enjoy the Almanac concept?
And want to ensure it continues in its current form, and better? To help keep things ticking over please consider making your own contribution.
Become an Almanac (annual) member – CLICK HERE
One off financial contribution – CLICK HERE
Regular financial contribution (monthly EFT) – CLICK HERE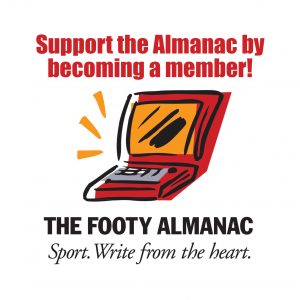 John Butler has fled the World's Most Liveable Car Park and now breathes the rarefied air of the Ballarat Plateau. For his sins, he has passed his 40th year as a Carlton member.